Sculpteo, a leading online 3D printing service, recently ran a survey of 1,300 individuals across a range of industries that asked a myriad of questions about their applications of 3D printing; the results of the survey were used to create the 5th edition of the annual State of 3D Printing report. As a provider services, Sculpteo prizes this type of feedback as it becomes significantly easier to meet the needs of customers when those customers specifically tell you what they need.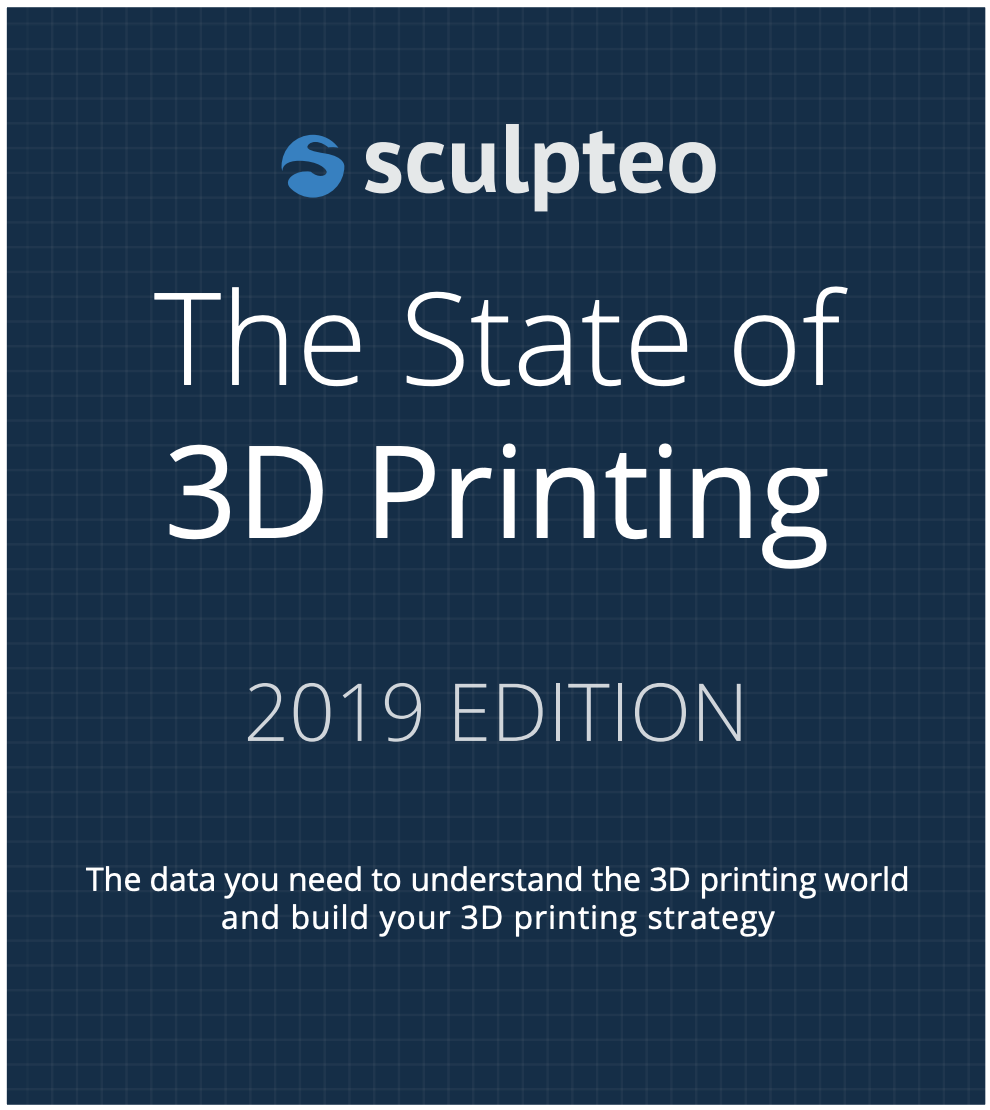 How is 3D printing used?
A primary question of the survey asked how the respondents used 3D printing. Not surprisingly, 70% of those surveyed reported using 3D printing for prototyping. And while it will come as no surprise to our readers, others may be shocked to learn that 51% said they used 3D printing for production. 3D printing will always be used heavily in prototyping, but its use in production and manufacturing is quickly catching up in adoption.
Another 63% use 3D printing for proof of concept, which allows engineers to test and demonstrate the viability/effectiveness of a product or component in a fast, cost-effective way. Nearly 50% are using 3D printing for research and development or education purposes. 40% are making on-demand spare parts while some 32% create marketing samples with 3D printing.
The benefits of using 3D printing
When asked what benefits they experience from using 3D printing, 67% pointed to the ability to fabricate complex geometries. 41% indicated that 3D printing reduced lead times on product development and manufacturing, and 43% said it enabled quick iterations. 37% reported cost reduction and 22% listed mass reduction, which is perhaps much of the same 13% that noted simplified assembly. Around 37% felt that mass customization was a benefit of 3D printing, a number that is likely to continue to grow in the future.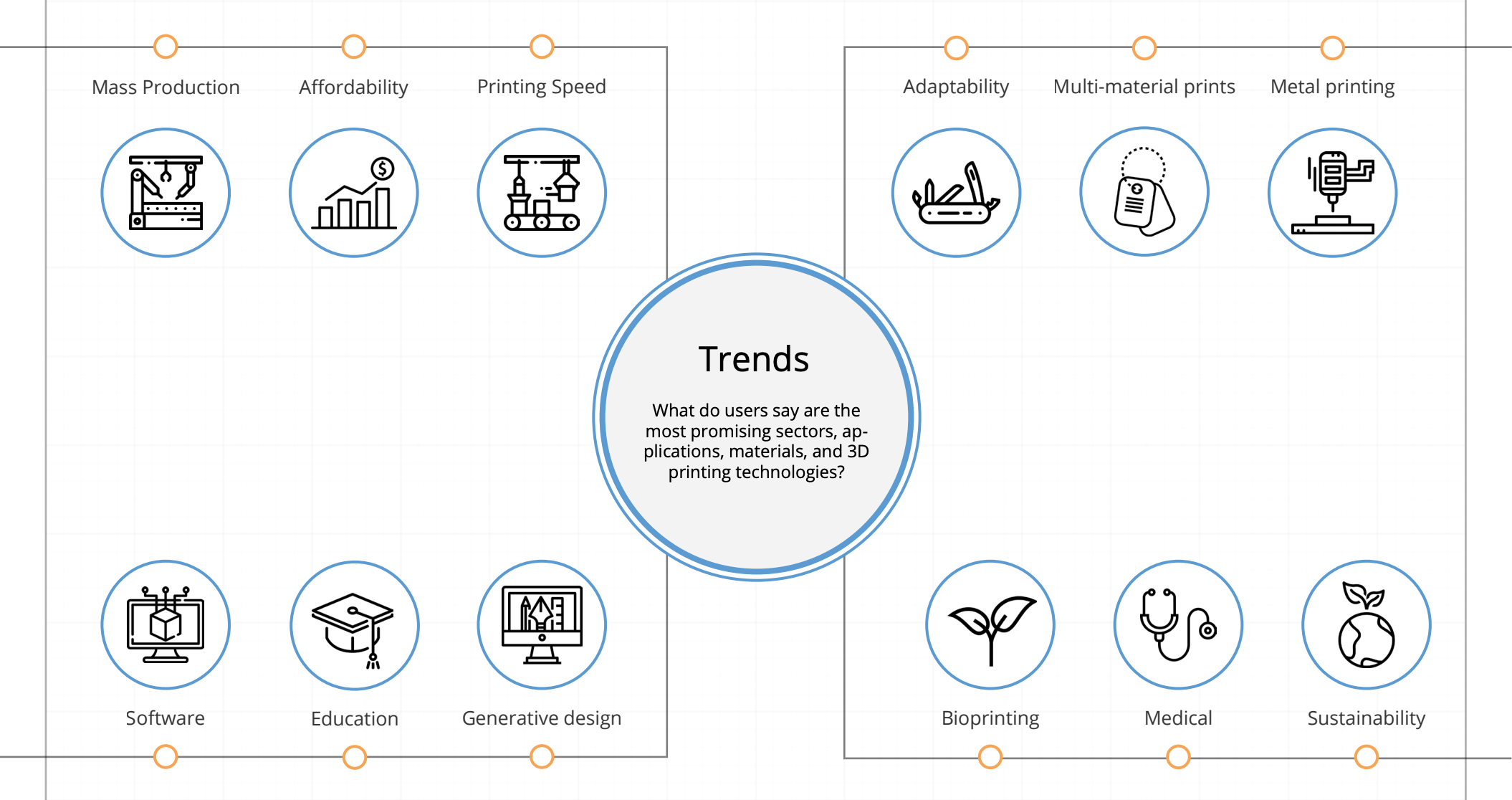 Demographics & Industries
Regionally, 59% of those surveyed live in Europe, followed by Asia with 20% and North America accounting for 17%. The great majority (39%) of users are 25 to 34 years old, indicating that 3D printing is still a relatively young technology that will be heavily adopted as the next wave of graduates enter the labor force with educations that included additive manufacturing. Speaking of education, 3D printing users are highly educated, with 41% having a Master's degree and another 11% sporting a Doctorate. 65% have a degree in engineering, though business majors use 3D printing more than science and math majors, at 10% and 8% respectively.
Use by industry breaks down as follows:
Industrial goods – 13.6%
Tech – 10.6%
Services – 10%
Consumer goods- 8.6%
Healthcare/Medical – 6.2%
Automotive – 5.7%
Aerospace – 5.5%
Education – 5%
Other – 15.6%
Plastics and resins comprise most of the material usage according to the survey, at 98% and 82%. More than 75% are using metal now. Plastics are the only category of material where more respondents report using in-house 3D printing rather than external services. There's also a large discrepancy between the percentage of individuals who use in-house FDM 3D printers, which is 74%, and that of any other AM technology, with the next-highest being SLA at only 30%.
Almost half of the respondents said that quality control is one of the top challenges of using 3D printing. Other popular responses were file preparation (33%), maintenance (27%), and price quoting (26%). Cost of entry came out as the top factor that may hinder adoption, tallying 68% of responses, and 57% believe that a knowledge gap will slow further expansion.
These insights are largely in line with other recent reports on 3D printing. Most professionals are using 3D printing for prototyping and proof of concept applications but a growing number are integrating 3D printing into end-use applications of production, manufacturing, personalization, and presentation. In fact, 53% of respondents feel that AM will have a significant role in manufacturing, business, and personal life.