While there are many ways of retrieving models of objects in the real world, they can often be inconvenient. Copying models can be messy and inaccurate but new photogrammetry technologies are showing vast improvements. In this same vein, Serbian researchers have shown that photogrammetry using relatively simple software and hardware can be very fruitful. This advent may be immensely beneficial to the fields of art restoration, sculpting and digitisation.
The researchers used Autodesk's 123D Catch as a 3D model retrieval software. The software is available on tablet and phone and can actualise a model out of photographs taken at various angles. It applies photogrammetry to convert pictures into a 3D data, even using the gyroscope in the user's phone to determine which angles are necessary.
Consequently, the researchers had to take 18 photos facing the statue from various directions and an additional 6 photos from downwards-facing angles. However, if necessary one can switch off the indicator and take even more photos just to be thorough. From this sample the software can generate a 3D model in the standard stl format. The file then needs processing, adjusting and cleaning up, so the researchers used 123D Make freeware.
Advances in 3D Model Retrieval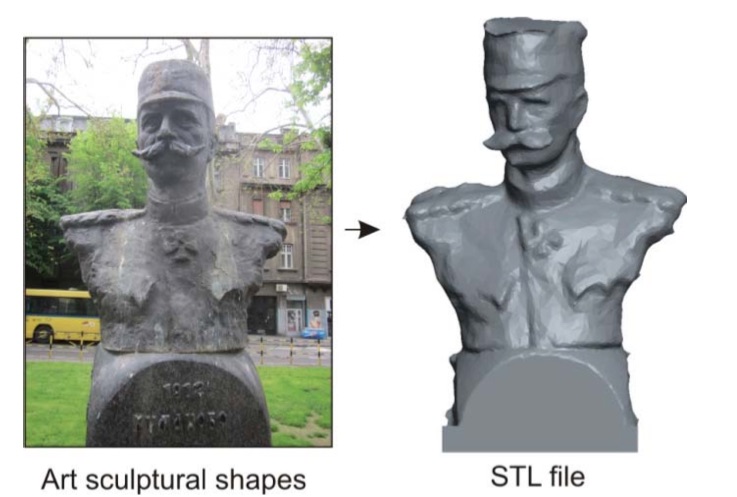 The process is relatively simple, though the initial model users retrieve may require some work. After picking the necessary layer thickness, researchers recommend using nested layers. The results are quite remarkable considering the simple technology they used. Considering this was done with a bit of freeware and some basic phone camera, it's quite advanced.
Sculpture 3D printing and model retrieval technology has come a long way. Even Apple is getting into the game. Usually these processes involve 3D scanning devices, but others have taken advantage of photography. Another idea in model retrieval was that of 3D GAN, which took simple pictures and converted them into dotted models using aggregate shapes in a sort of cloud network with competing softwares improving the 3D figure. The study here instead opts for a simpler route and shows one can still produce some pretty good results.
The researchers are already looking into future research for more complex models using 2D photos. Such retrieval methods are not just beneficial for art, but can also allow for better scanning and detection technologies. A whole range of scientific, architectural and design fields could also make use of such applications in the future. It's a growing area of research with a lot of potential.
Featured image courtesy of various authors, Sasa Zivanovic, Slobodan Tabakovic & Sasa Randjelovic. Full study available here.