It's easy to forget what computers were like in the days of Babbage. Large physical systems with gears and moving parts. While that form of mechanical computing is gone, researchers at LLNL are taking inspirational from it for novel, new technologies. By combining old-school logic gates with additive manufacturing, Lawrence Livermore National Laboratory have created "sentient materials" that can respond to changes in their surroundings. As a result, the logic gates thrive in situations where ordinary computers can't, i.e. high radiation, heat or pressure environments.
According to lead researcher Andy Pascal:
If you embedded logic gates into material, that material could sense something about its environment. It's a way of having a responsive material; we like to call it a sentient material — that could have complicated responses to temperature, pressure etc. The idea is it's beyond being smart. It's responding in a controlled, precise way.
Creating such sentient materials required a micro-additive manufacturing and intense resolutions. Each gate comprises "flexures" that behave like switches. The flexures chain together and, in reaction to certain stimuli, trigger an alteration in their configurations. These changes are programmable in such a way that they perform mechanical logic calculations without external power.
The gates operate due to displacement. The signals they receive are in binary, which beam in from a transducer. This can be a pressure pulse or light pulse from a fiber optic cable, which will cause them to perform a calculation. They interpret the results as movement and the chain continues throughout all the gates, thus physically changing the shape of the device.
Creating Meta-material Mechanical Computers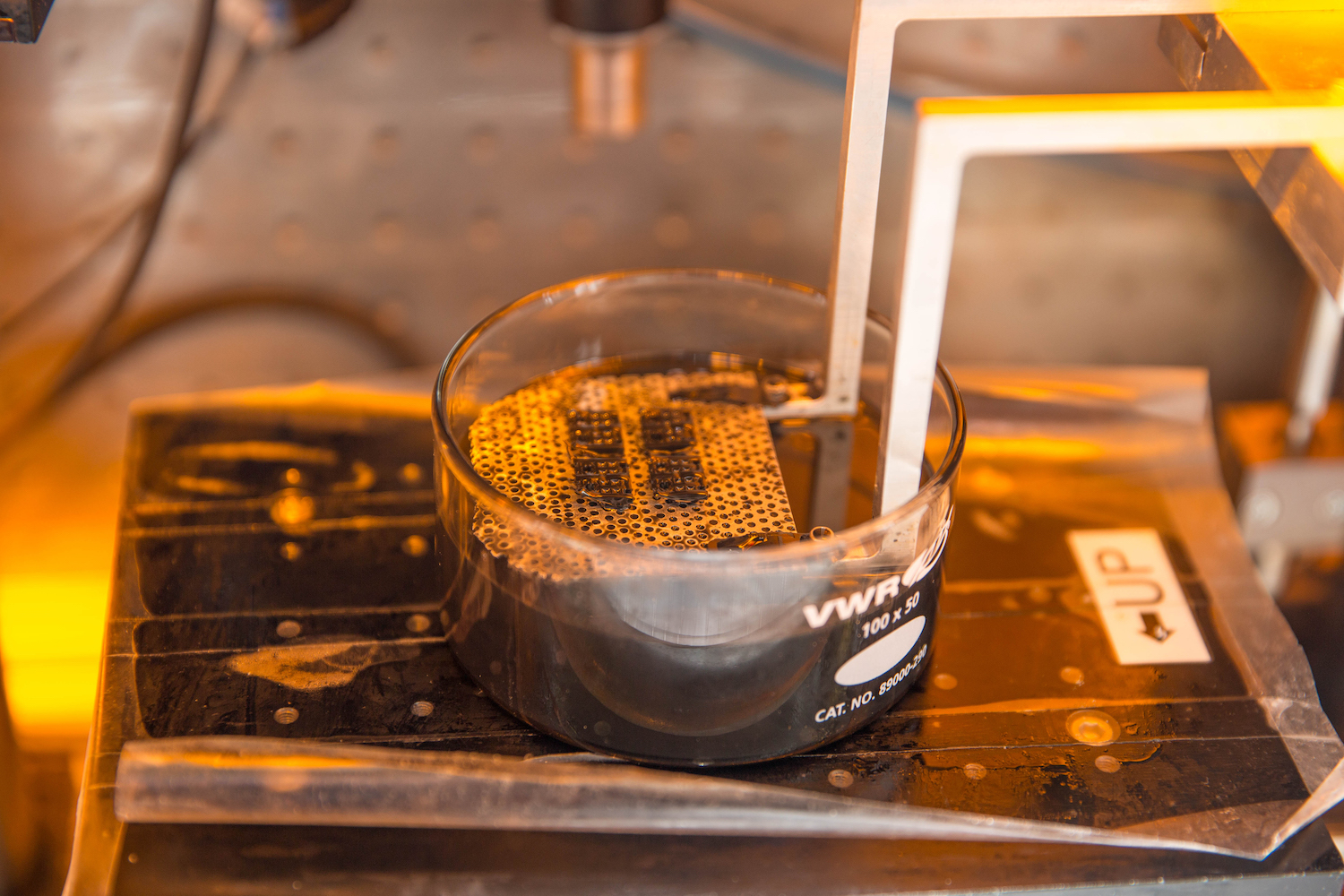 The researchers were able to fine-tune the reactions of the sentient materials through adjusting the flextures. Although, it is surprising that they used relatively simple thermoplastic materials, i.e. ABS. They even used Solidworks to make the models and printed them with Stratasys F370 in ABS (ABS-M30).
The idea of these sentient materials is analogous to that of 4D printing, which has similar applications. While 4D printing has seen interesting uses, rarely are they this complex. Further research with these sentient materials could help create very interesting constructs. Mechanical logic gates, while not as powerful as typical computers, could prove useful in rovers sent to outer space. They could also serve as low-power computers with the ability to survive nuclear or electromagnetic interferences. Normally, computers would not be able to survive under these conditions. However, not only would the logic gates survive, they could even use the stimuli to their advantage.
"The nice thing about our design is it's not limited in scale," Pascall said. "We can go down to order of several microns up to as big as you need it to be, and it can be rapidly prototyped. This would be a difficult task without 3D printing."
Featured image courtesy of Lawrence Livermore National Laboratory.