China-based Shining 3D are collaborating with AGE Solutions to further develop their digital dental solution. They are lending their 3D scanning and printer capabilities to the aid of the Maestro 3D Ortho Studio orthodontics design software. The purpose of the collaboration is to accelerate and add to the software's capabilities.
We've previously covered one of Shining 3D's other projects, where they helped develop a brainwave research helmet. Their work with scanning has earned them quite a reputation among other companies and they use it to bolster all sorts of collaborative efforts. AGE Solutions is a professional dental design software solution provider, so it's clear where their work crosses over.
The Ortho studio software is software package used for the inspection, editing and analysis of patient's dental profiles. It also allows healthcare technicians to manage 3D models, clinics, doctors, patients and cases. The Maestro 3D Ortho Studio has no mandatory annual fees, and no mandatory updates required. SHINING 3D will be looking aid AGE in fully integrating the orthodontic solutions to both printing and scanning. This will make it the complete package for dental appliance providers and dentists.
Digital Dental Solutions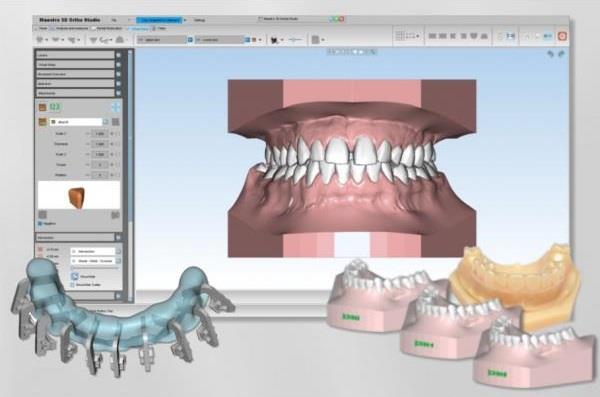 "We are excited to team up with AGE Solutions," said Oscar Meza, VP of Global Sales at SHINING 3D. "Because our respective organizations follow the same principle of empowering the users by providing a powerful solution integrating both hardware and software, which is straightforward, cost-effective and user-friendly."
The Ortho studio software comprises of two main macro mudules: Ortho Studio (orthodontic module) and Dental CAD / Dental Restoration (dental restoration module). Additionally, it offers other modules sub-modules such as Virtual Setup, Brackets placement, a Model Builder, PDF3D module and Clear Aligner module.
The Maestro 3D Ortho Studio allows users to manage all their cases and models through a vast database. It features an intuitive and integrated workflow and can perform all analysis in just a few minutes. With Shining's help, they may give a major boost to their scanning and printing solutions.
Featured image courtesy of AGE Solution/ Maestro3D.