China-based Shining 3D has long been one of China's premier providers of 3D scanning and 3D printing systems. They've made great strides in the industry but they also engage in many side projects. One of these has been their work with Prod-lab to build a helmet for brainwave research. The company has been involved in multiple stages of the process, using their scanning and printing tech.
Prod-lab's project was conducted at the request of a science academy. Prod-lab is China's first manufacturing laboratory and they specialise in personalized manufacturing. While they have sufficient expertise in this sort of research and tech they needed to employ Shining's scanning technology.
Scanning brainwaves and neural activity is a standard part of neuro-biological research. However, as with most areas of medical technology, the helmet had to fit the exact specifications of the patient. This is where the EinScan came in. The team used the scanner to get the exact model of the eventual patient by moving it around them in a 360° rotation. It then displayed and computed the scans of the head in real time, which were crucial for 3D modeling the helmet.
Scanning & Printing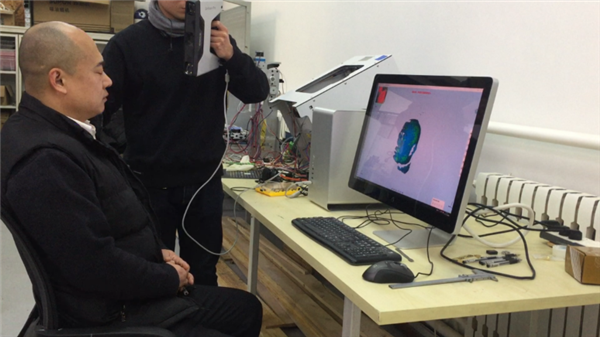 With workable 3D data, the engineers began Fusion 360 software to extract the cloud data. This was the process of turning the scan point cloud data into a workable model, with rough measurements and proper positioning of the sensors. This model became a test helmet that would provide crucial data for the next one. Similarly, they collected new data and worked out the integration of the helmet jack.
This new data was the final step from model to printing. Then, they printed the eventual helmet with a photo-sensitive resin and an SLA printer using high-strength materials. The helmet fit and the client was happy with the results, so the project was a success.
Scanning and 3D printing allow for a plethora of new applications within additive manufacturing. While traditional manufacturing may have more clout, the ability to convert a 3D model and make it with additive methods provides unique opportunities for companies and clients.
Featured image courtesy of Prod-lab.