This is a guestpost written by Anatoly Berezkin, co-founder of StoneFlower
While some early adopters explore in-house 3d printing with different materials, such as chocolate, clay, or silicone, most enthusiasts of additive manufacturing mainly use FDM printing with thermoplastics. Printing of pastes and viscous liquids is still challenging, and much less affordable. Munich startup StoneFlower is going to change this situation. Last week they launched on Kickstarter their Ceramic 3D Printing Kit: "robust, precise, and user-friendly add-on for your desktop 3D printer that lets you print ceramics, porcelain and other materials."
After burning in a kiln, 3D printed ceramics and porcelain are perfect for everyday use, and small serial production in handicraft, art and design. They are durable, food safe, heat resistant, strong, and sustainable. The raw material itself is about 10 times cheaper than plastic. Non-burned ceramics is reusable that is convenient for prototyping in architecture. The kit can also print "different viscous liquids and pastes, such as a glaze, metal clay, soldering paste, paint or even food".
The ceramic 3D printing kit includes a print head and a ram extruder that is powerful enough to dispense thick – slightly diluted – clay. Less viscous pastes can easily be extruded. The capacity of the extruder is 500ml, but the user can pause the printing, upload more material and continue the print. Thus, the size of the object is not limited. The print head deposits material in layers as thin as 0.3 mm, which is comparable to the accuracy of FDM 3d printing. Now the kit is available at Kickstarter for only 430EUR that is at least 5 times cheaper than existing ceramic 3d printers. Delivery is planned in April 2018.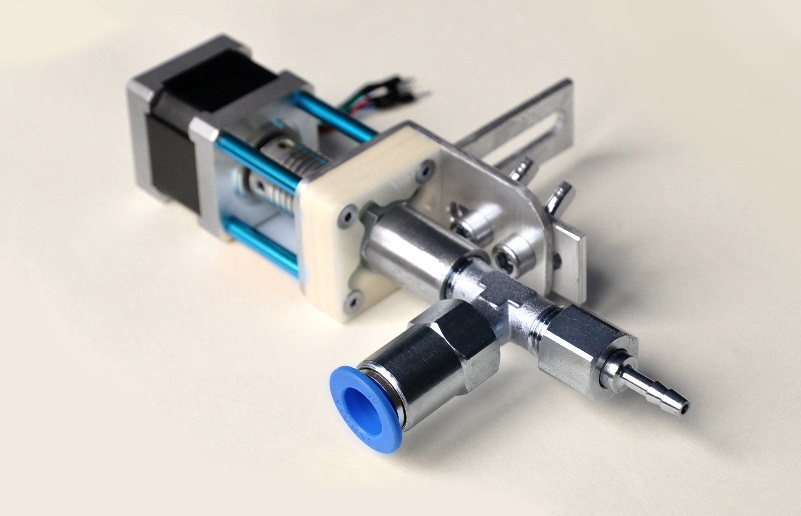 What is special about the StoneFlower Ceramic 3D Printing Kit?
The specialized clay printers are relatively large and expensive for those who just want to try clay printing in small scale. And this is not the only limitation. The technology is not quite mature yet. The most precise and reproducible clay feeding with the ram extruder now is implemented only in a few commercial clay printers. Other printers exploit air pressure that requires compressor, tweaking the feed rate according to the clay viscosity, creates additional safety risks, and has low reproducibility of printing experience.
The print head with the screw extruder removes air bubbles and non-homogeneities from manually prepared clay, emulating an industrial pug mill. Those two elements of the kit work synchronously, providing a constant high quality output of prints.
More than ceramics
Strong ram extruder of the kit can dispense many different materials besides clay. Possible examples include glazes for ceramics, paints for artwork, metal clay for sophisticated jewelry, soldering paste for PCB projects, water- or UV-curable resins, wax, pulp, chocolate etc. To deposit small amounts of expensive materials charily and conveniently, StoneFlower team has developed a Micro Printing set. This is a small upgrade of the kit that is built around easily available, disposable and food-safe syringes. This set lets the users to experiment with new materials outside the narrow range of commercially available thermoplastics, and literally invent new fields and applications of 3D printing.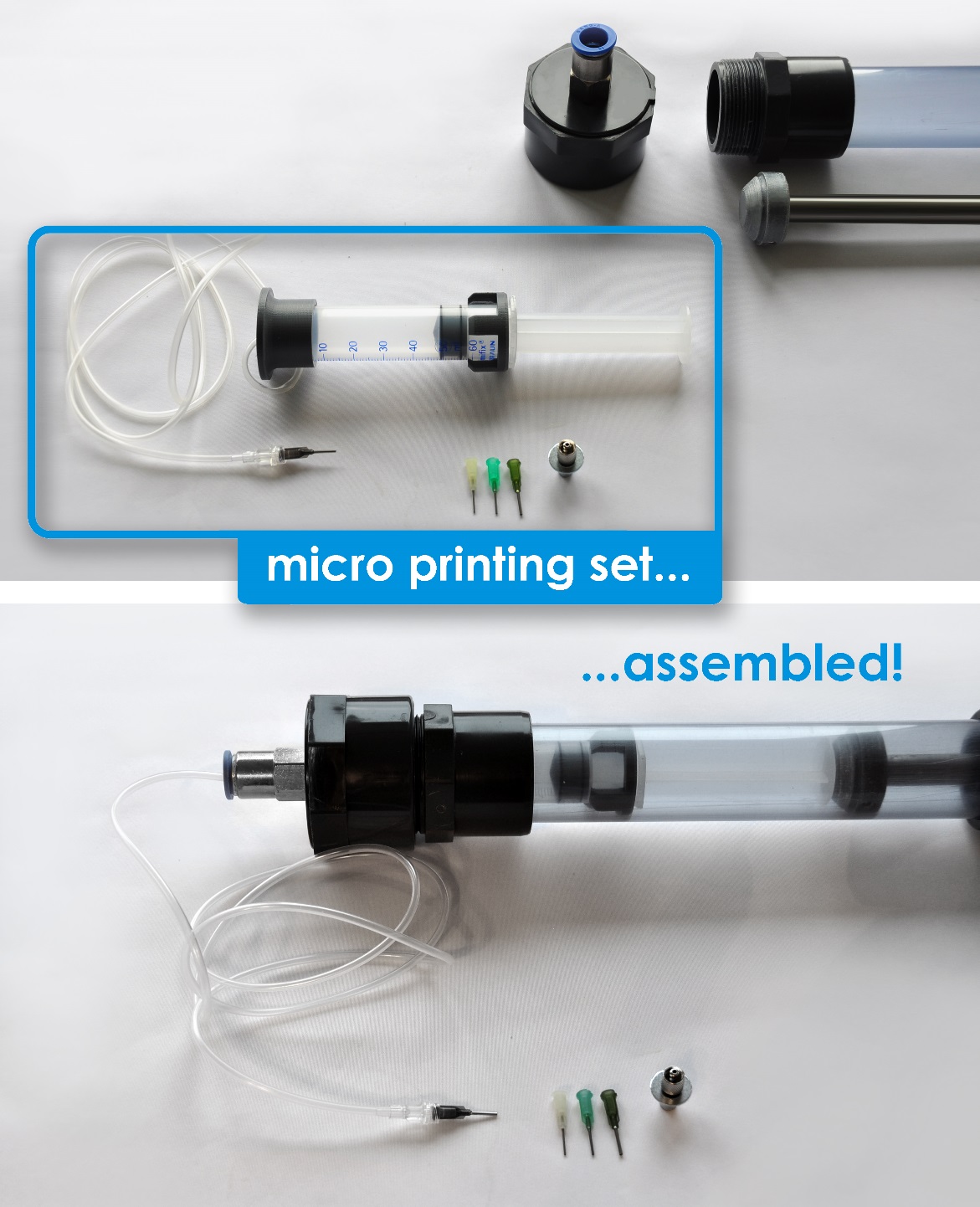 Open Source
According to the best engineering practices, the kit is designed as a modular product, assembled from standard components to simplify maintenance, service, upgrades and custom extensions. These features make the kit attractive for makers. The startup StoneFlower actively contributes to the Open Source movement to rapidly convert feedback from the community into improved designs. The blue prints of the prototype of the clay extruder are freely available at the project web site (https://stoneflower3d.com). In the future, the startup is planning to keep posting free designs in parallel with the product development. The founders share their engineering experience with the communities, growing around this technology of 3d printing.
Startup and Founders
Project StoneFlower is founded in early 2017 in Munich by Russian engineers Anatoly Berezkin and Stanislav Mironov. They spent over 6 month to optimize mechanics, hydrodynamics and electronics of their product. The ceramic 3d printing kit is only the first step of the team towards development of professional 3d printing equipment for highly viscous pseudoplastic liquids: clays, glazes, pastes, paints, curable resins etc.
Dipl. Eng. Dr. Anatoly Berezkin, being a researcher at the Max-Planck Institute in Düsseldorf, got acquainted with 3d printing of resins from viscous components in the year 2013. During his collaboration with the German company Covestro AG he published a couple of research papers about the principles of this process. In the next few years at Technical University of Munich, he gained a hands-on experience in the development of automated equipment for synchrotron experiments, building CNC routers and 3d printers in a free time. He spent most of the year 2017 studying Business Management, developing Ceramic 3D Printing kit, and preparing to launch the start up around it. In StoneFlower team Anatoly is responsible for the product development, general business management and certification.
Dipl. Eng. Stanislav Mironov has graduated from Technical University of Munich, and joined the project after internship at Electro Optical Systems GmbH. In the startup Stanislav takes care about PR, marketing, and supply chain.