California-based nano3Dprint is known for being the company with the highest resolution 3D printer on the market, with their D4200S machine being capable of printing at nano scales.
But the company also has a variety of other multi-material systems perfect for printing functional electronics, such as the A2200, which we have covered before, and their B3300 Dual-Dispensing 3D Printer, which we will be taking a look at in more detail in this article.
Read on for more information about how the B3300 can help level-up your electronic printing game.
Dual Dispensing
The B3300 Dual-Dispensing 3D Printer is designed to produce objects such as medical devices, wearables, batteries, solar, and other functional electronics with embedded circuitry.
It does so thanks to its unique, dual-material dispensing system capable of printing two different materials together to build combined material prints. Compatible materials include conductive inks (Au, Ag, Cu, etc.), medical-grade silicone, polyurethane rubber and plastics, rigid and flexible urethane foams, epoxies, and UV-curable polymers.
You can see the B3300 in the image below.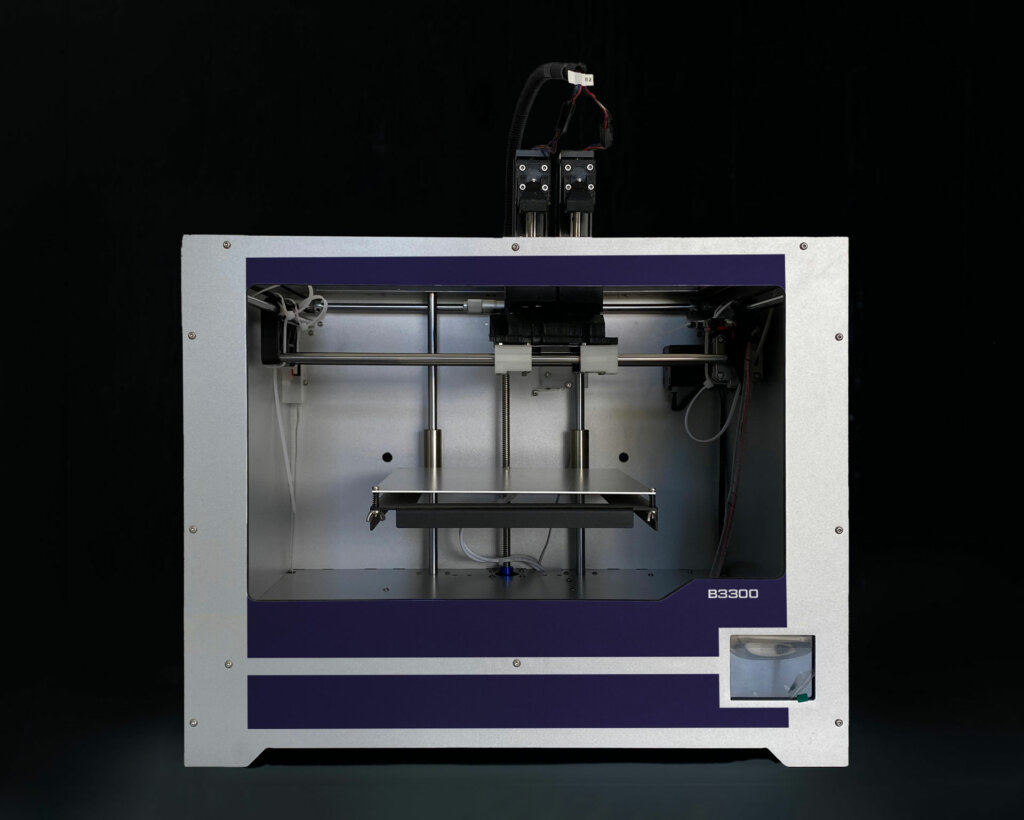 The B3300 can print materials in a wide range of viscosities (1mPa·s to 54000 mPa·s) which enables the use of highly conductive inks. Functional inks and pastes may be printed down to 0.20mm trace width, making it perfect for printing circuits. The printer can also quickly print thick layers (0.5mm) with high-viscosity multi-materials in a single pass, resulting in turnkey electronic items ready for use.
Accurate 3D Prints
The printer comes equipped with a camera to help to see what is being printed, so users can fine-tune the design according to their needs.
For a smooth user experience, the B3300 is compatible with SD cards and flash drives, enabling seamless direct printing without the need for additional transfer steps. This convenience allows users to effortlessly transfer their design files and initiate the printing process directly from these storage devices. It is compatible with most CAD or slicer software solutions.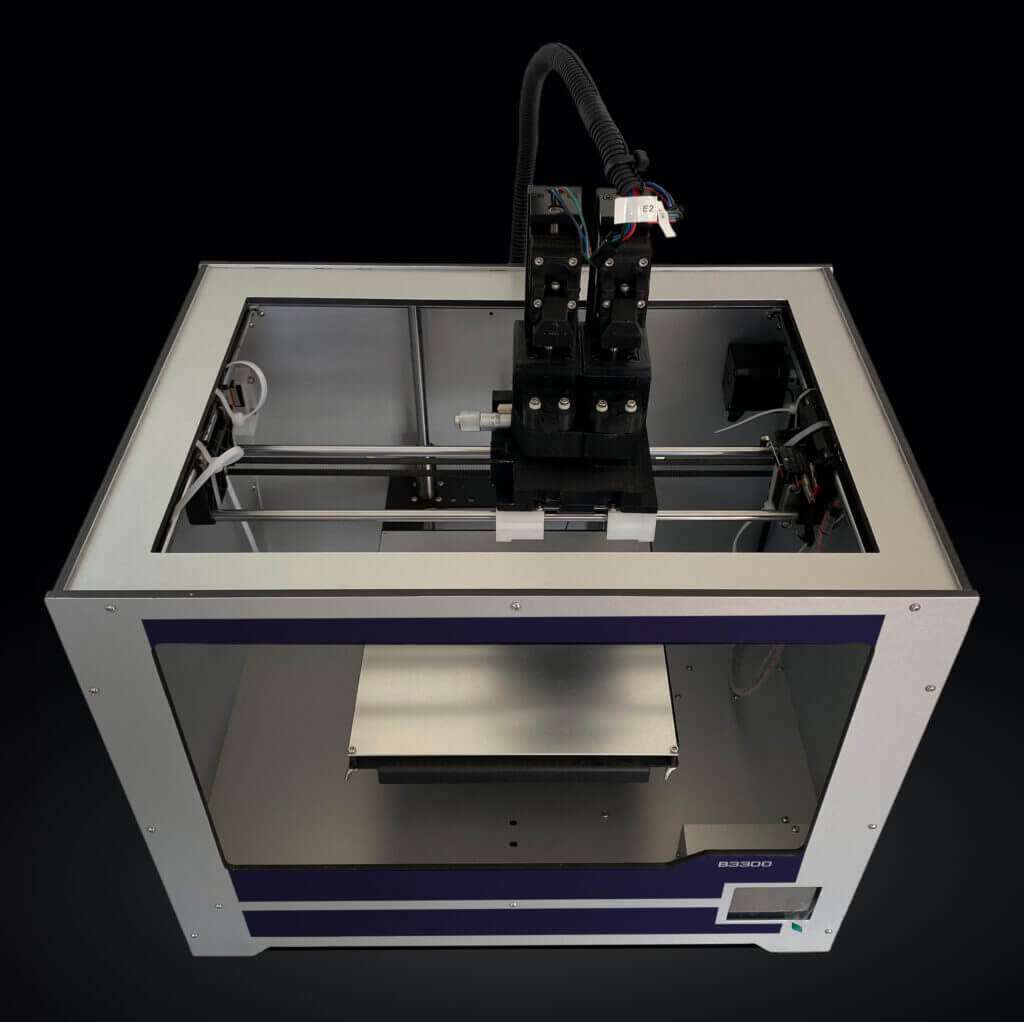 In addition to the B3300's accurate printing and usability, its compact size and sleek design make it a perfect fit for desktop use, optimizing space utilization in any workspace or studio environment.
"The B3300 3D printer is a great solution for a wide range of applications. It can print wearables with embedded conductors, cell phone parts with internal antennas and electronic devices with internal sensors," said Ramsey Stevens, CEO at nano3Dprint.
"It allows for incorporating sensors, strain gauges, heaters, complex antenna geometries and optical components in a 3D print and provides manufacturing solutions for the medical, agriculture and solar industries, as well as in general consumer electronics."
Use Case Example
Direct-write technology has already been put to good use via collaborations with the Luskin Orthopaedic Institute for Children and Billi Research Lab (both based in Los Angeles), who have collectively been working on the development of medical devices containing embedded electronics, such as smart casts.
The Billi Research Lab has been developing a smart cast that provides real-time information on fracture healing and detects when blood flow is restricted in a cast. To achieve this, they utilize nano3Dprint direct-write technology to print the electronic package of the smart cast. The sensors were directly printed on supports that can be easily embedded in the cast structure. This integration enables efficient battery and wiring distribution, eliminating external wiring and bulky components. The embedded circuit allows for the connection of multiple sensors as required.
"Monitoring mechanical and physiological parameters directly on the tissue would allow our team to significantly advance our understanding of health status and tissue response to treatment," said Dr. Billi, founder of the Billi Research Lab.
"More importantly, they will be able to obtain the necessary biofeedback to move from developing therapeutic devices to developing theranostic devices."
Similar electronics could be integrated into the "ribs" of an advanced scoliosis brace to help patients served by the Luskin Orthopaedic Institute for Children.
B3300 Specifications
Machine dimensions:
467 mm x 357 mm x 374 mm
Machine weight:
13 kg. (28.66 lbs.)
Maximum heat bed temperature:
100°C
Maximum axis moving speed:
125 mm/s
Positional accuracy XY axis:
0.11 mm, Z axis: 0.0025 mm
Resolution:
200 microns, and print down to 100 microns or less with specialty nozzles
Stage material:
removable glass heated bed
Compatible with:
Repetier-Host, Cura, Makerware, Simplify3D, etc., and uses STL, and GCODE file format
Availability
The B3300 retails for $6,000. For additional information on the B3300, or to purchase a machine, visit the B3300 product webpage right here. To learn more about their other printing solutions, visit the nano3Dprint home page at this link.
Come and let us know your thoughts on our Facebook, Twitter, and LinkedIn pages, and don't forget to sign up for our weekly additive manufacturing newsletter to get all the latest stories delivered right to your inbox.