A Seattle-based engineering company with a reassuring name has announced that they will be manufacturing 3D printed components for a new generation of low-cost modular nuclear reactors.
Low cost nuclear? We know what you are thinking, and don't worry, because the Ultra Safe Nuclear Corp (USNC) wants you to know that reduced cost doesn't equal reduced safety.
Using a binder-jetting method developed by (and licenced from) Oak Ridge National Laboratories, USNC plans to utilize printed silicon carbide in the fabrication of their modular fission reactors which will help reduce the costs associated with commissioning reactors from billions down to mere tens of millions.
Their main product is the Micro Modular Reactor (MMR) which is ostensibly some kind of fission battery, which can also be linked up to other MMRs to produce more power produced, just like super-chonky AA batteries.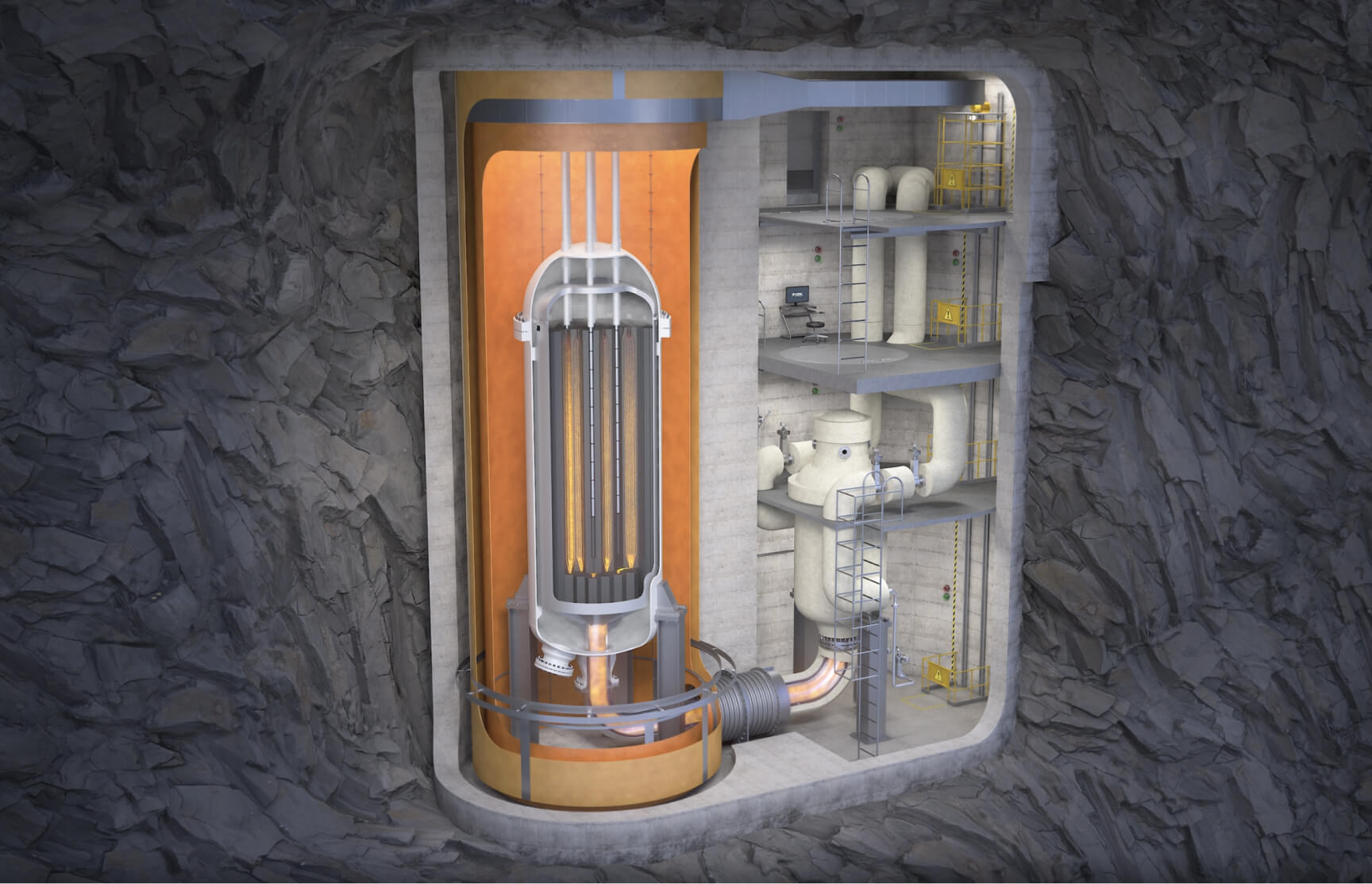 The MMRs can be installed in any location because unlike traditional nuclear reactors, these ones don't need existing electrical infrastructure or even water to operate. There will be multiple printed components in the MMR.
The other tech that will benefit from the ORNL printing process is the FCM Fuel. FCM stands for "Fully Ceramic Micro-encapsulated", and it works by encapsulating the Industry standard TRISO fuel, which contains the radioactive byproducts of fission within the layered printed ceramic coatings.
This results in an extremely rugged and stable fuel with extraordinary high temperature stability.
"USNC's value proposition is summarized in two points[…] designing inherently safe and highly advanced nuclear-energy systems that are fueled with highly safe and temperature-resistant materials," said Kurt Terrani, executive vice president of USNC's Core division.
"Silicon carbide 3D printing is a new technology that offers new possibilities, but it will also require thorough vetting to ensure the resulting materials and their performance meet strict nuclear licensing and regulatory requirements."
The entire system (in broad strokes) works like this:
A uranium fuel kernel measuring just 1mm across is encased in 3 layers of different materials to trap the fission byproducts. This small nugget is now called a "TRISO particle" (TRi-structural ISOtropic particle)" and this is the common industry standard used for making safe nuclear fuels.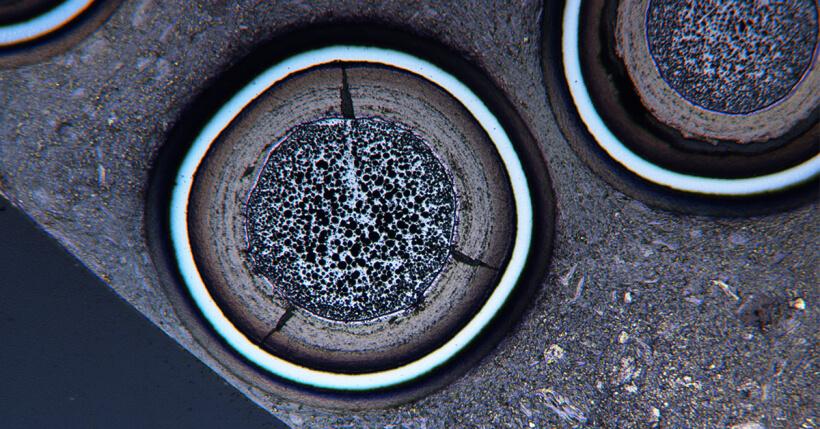 Next, many hundreds/thousands of these TRISO particles are embedded a the silicon carbide matrix cylinder measuring 2cm in diameter. This is the FCM part which is where USNC holds the intellectual property (16 patents in fact). This permits the high temperature stability enabling temperatures of over 2000 degrees Celcius.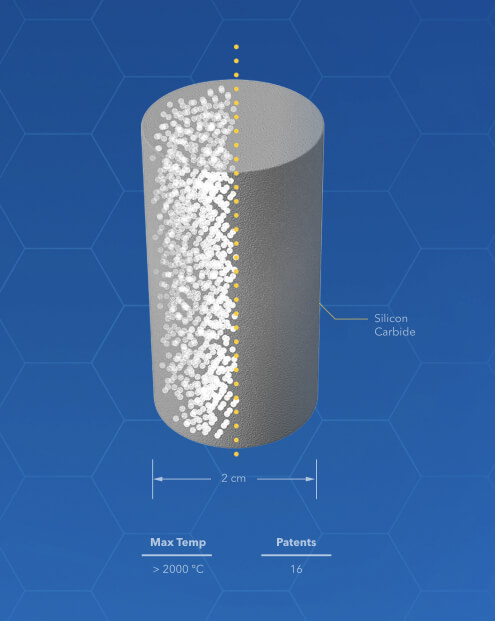 These little cylinders are then stacked like Pez, and placed into graphite blocks, which act as a moderator, slowing down the neutrons and increasing the likelihood of fission reactions within the fuel. As you can see in the image below, the FCMs are stacked and the temperature is managed via liquid helium cooling channels running alongside the cylinders.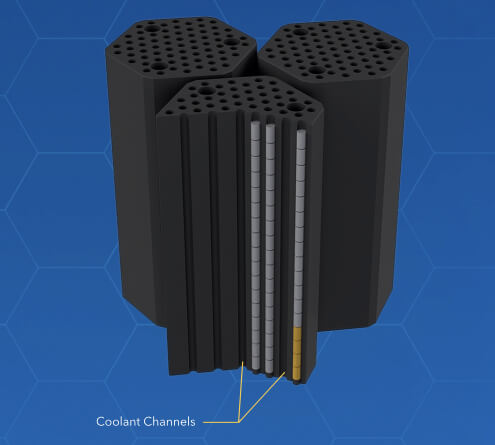 Hundreds of these graphite blocks are then slacked into what is called the Reactor Core Cartridge. This cartridge contains several tons of nuclear material, and you can see that with a human for scale, below.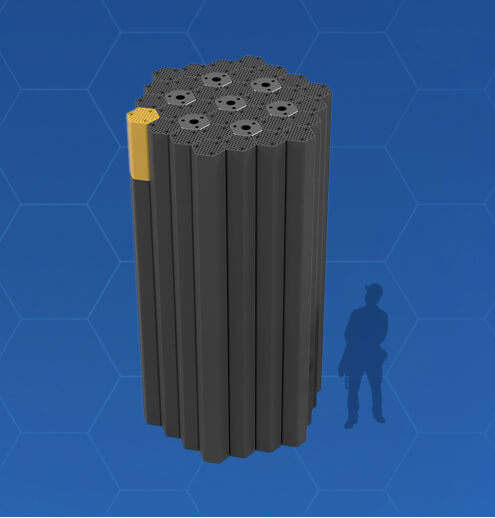 This core is then placed inside a ceramic vessel which forms the heart of the Micro Modular Reactor. This is the part which according to USNC you can just "stick anywhere" to generate electricity, free from the geographic restrictions imposed by infrastructure and water needs.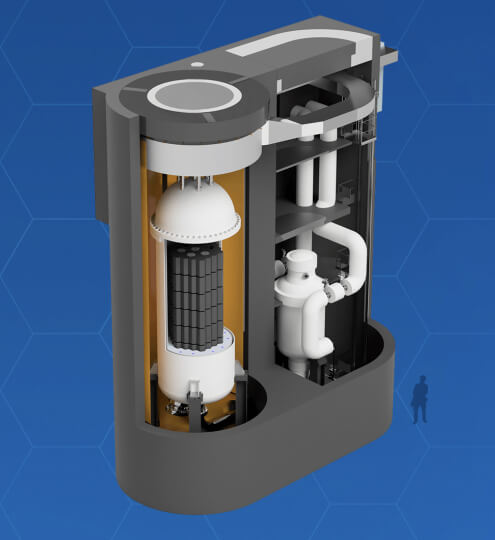 The Micro Modular Reactor is being described as the first commercially available fission battery, and the company hopes to demonstrate their ultra safe nuclear skills very soon when they begin to roll out their MMRs sometime in 2026.
If you'd like to know more about the tech, then you can check out their very informative and interesting website over at this link.