As countries around the world grapple with the spread of the coronavirus (COVID-19), there have been several 3D printing-related occurrences worth reporting. Last month we told you about Polytechnic University 3D printing hundreds of face shields to protect healthcare workers who have to interact with infected individuals. The rapid design and prototyping timeline made a significant dent in the mask shortage. But there have been more recent developments. We will update this page regularly with the most interesting news and development in the fight against COVID-19.
Quick jump to:
Update 4/23
In our last update we covered the PPE crowdsourcing initiative Operation Shields Up and how they're organizing countless volunteers to 3D print, disinfect, assemble, and deliver face shields to doctors, nurses, and first responders in the Sacramento area. Each face shield takes about three hours to 3D print on a standard FDM printer, which is why it takes many volunteers constantly printing at their homes to produce enough shields to be worthwhile. They've donated over ten thousand face shields so far. Nexa3D, a liquid resin 3D printer manufacturer that specializes in ultrafast commercial printing, is churning out that number of face shields every week.
Leadership at Nexa3D made the responsible decision to dedicate their entire printing capacity to producing PPE and nasal test swabs. They're offering two models of Class 1 face shields, the Xshield and Xshield Pro, at discounted prices to hospitals through their Campaign To Protect Frontline Workers. Additional printers were added to the Ventura, CA facility in order to produce 10,000 face shields per week and 500,000 test swabs per week. It's easy for Nexa3D to make so many units because their machines are capable of printing one vertical centimeter per minute, no matter how many objects are on the build plate, thanks to the proprietary Lubricant Sublayer Photo-curing (LSPc) technology combined with a patented Structured Light Matrix. One of their printers can produce over a dozen face shields in less than half an hour.
We believe that the additive manufacturing industry is uniquely positioned to deliver practical, urgent and scalable solutions during this unprecedented crisis that address the severely broken supply-chain. We are extremely proud of the innovative, hard-working members of our team that are applying themselves to deliver much needed parts and services during this unprecedented period. Avi Reichental, Nexa3D CEO
Originally, the company was providing face shields to healthcare workers at the Cottage Health system in Santa Barbara County as well as the Santa Barbara Bucket Brigade but they were asked to scale up production. We need more responses like this to make it through this pandemic.
Update 4/15
In our previous COVID-19 coverage, we've provided links to useful files that can be printed to combat the pandemic, like no-contact door openers and face shields. Getting those face shields to hospital workers where they're needed most is another task entirely. There are various organizations around the world working to solve that problem and the one I (Cameron Naramore) am sending printed parts to is Operation Shields Up (OSU).
There are many steps that need to be taken to get 3D printed face shields to the frontlines of the pandemic. First, a specific design must be chosen so that there's some ability to standardize workflow and implement quality control measures. That's impossible to do if the printing community is sending different models of face shields. Then methods of receiving the printed parts have to be put in place, including through the mail and drop-off. The parts have to be sterilized, dried, and assembled. Finally, they have to be delivered to those who actually need them.
Alan Puccinelli, known as Pooch around the Hacker Lab, has put together a team of software engineers and makers to tackle each of those steps. OSU is working out of the Sacramento area so they're a partner of the Sierra Sacramento Valley Medical Society, which puts them in communication with the doctors and nurses requesting more PPE (personal protection equipment).
We're fighting an invisible enemy and with that people are stressed and there's anxiety because you can't see it. These shields are wonderful, they're just a layer of protection that we all need. John Wiesenfarth, MD, President of the Sierra Sacramento Valley Medical Society
Alan has a disinfection process in place that employs stringent soak and dwell times, followed by a rinse and fan-dry process. Every printed part is potentially infected with COVID-19 so these are critical steps. Of course, OSU also has to acquire the clear plastic sheets and elastic bands required to assemble the face shields and they rely on donations to make those purchases. After assembly, they are packed in sterile bags and hand delivered to local hospitals.
OSU is working with the Validated Prusa Face Shield developed by Prusa Research. The design was prototyped over dozens of iterations and verified by the Czech Ministry of Health. There are many face shield designs out there, some of which take much less time to print, but if you're going to send parts to OSU they need to be this design. It's what the doctors want and it's what OSU is set up to handle.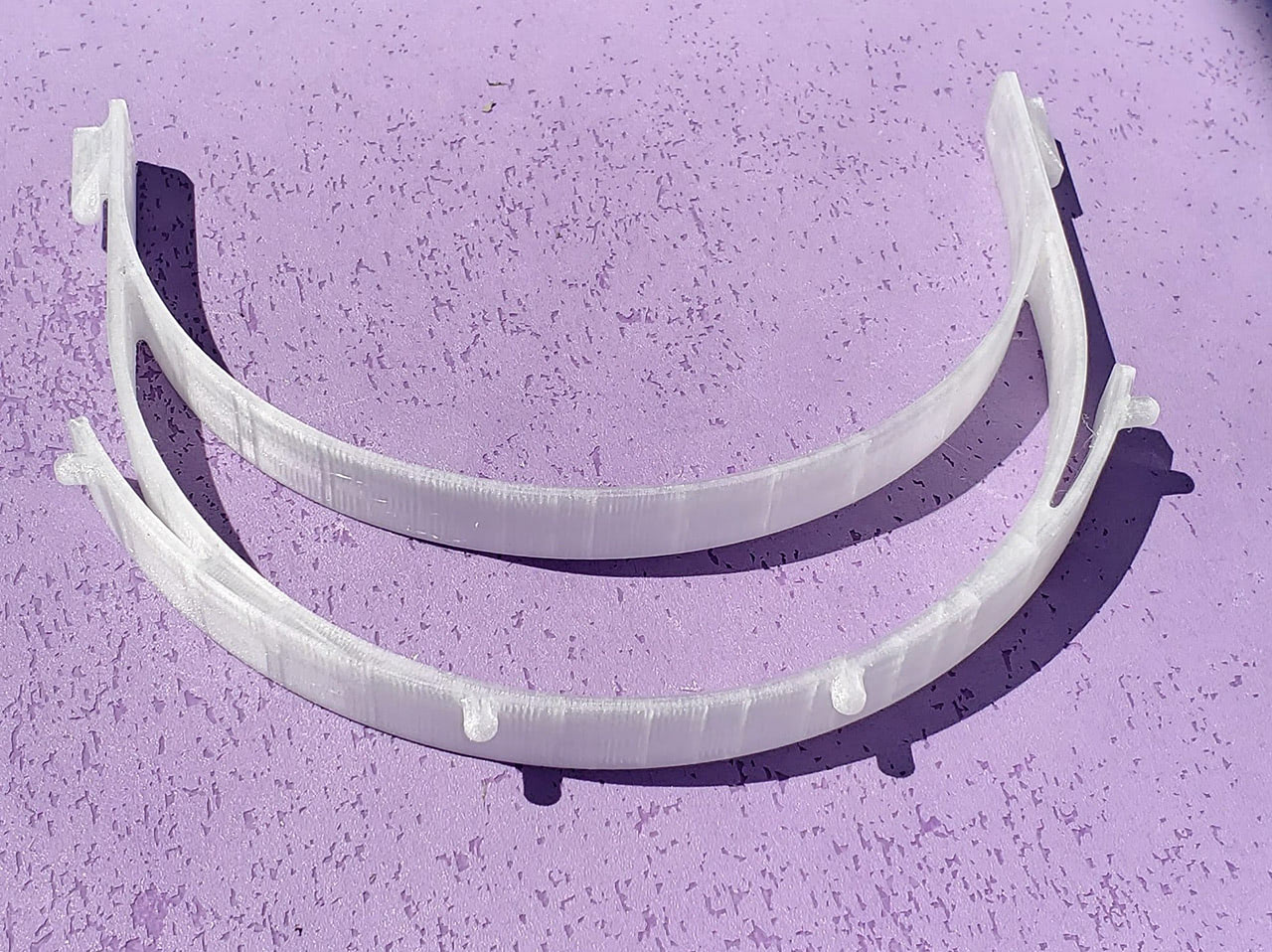 Volunteers can instantly begin printing shields and sending them to the address on OSU's website. PETG is the preferred material as it's already heavily used in the food and healthcare industries due to its ability to hold up to bleach as well as high temperatures. If you don't have PETG, PLA is their secondary preference. Do not use ABS and please label parts with the material used. Also, don't forget to print the lower chin piece!
The situation is bleak but try to reflect on these encouraging words from Pooch, "I get emotional about it because it's like everyday when the postman gets here I get letters and just hundreds of these printed parts that we process and that's made it very much a 'many hands makes light work' effort."
Update 4/07
3D Printed Oxygen PEEP Masks
In order to address the shortage of ventilators, the Belgium 3D company Materialise just announced that they have developed a 3D printed oxygen PEEP mask. This solution will be brought to hospitals quickly and in full compliance with safety regulations. They call it the Materialise NIP Connector. It's a device to convert standard equipment available in most hospitals, into a mask to facilitate breathing for patients by creating positive pressure in the lungs. These assembled masks allow clinicians to reduce the time patients need access to mechanical ventilators, which helps to reduce the strain on ventilator supplies.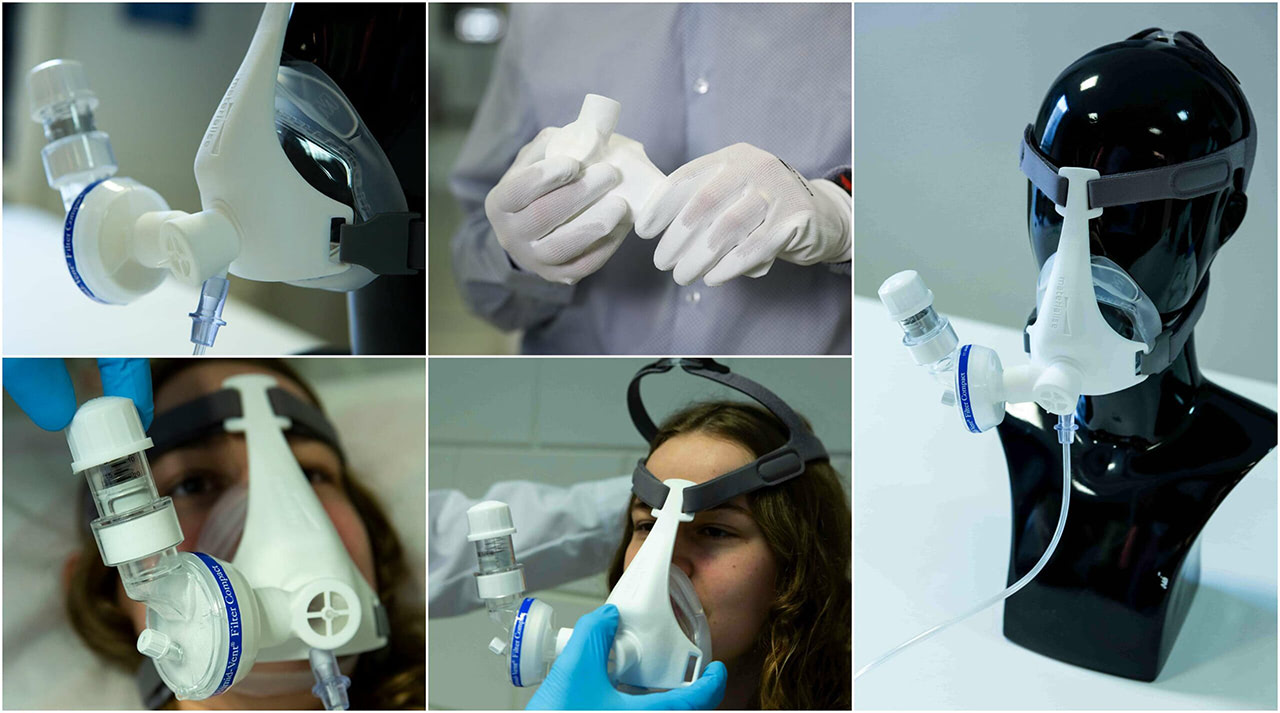 With the help of this mask, a high positive pressure can be created without the use of a ventilator. The 3D printed add-on can convert standard equipment that is already available in most hospitals into a non-invasive PEEP mask (NIP) that can be connected to the oxygen supply. This device facilitates breathing for coronavirus patients and  it gives them an extended period of time before mechanical ventilators are required for treatment. It also helps patients transition off ventilators earlier, thus freeing up the devices for patients in critical need.
Because Materialise is a leading additive manufacturer in the medical sector, they are very experienced in certified medical 3D printing. This helps them to fast-track the regulatory registrations that are crucial to ensure the safety of patients and caregivers. The company expects to have the device broadly available for hospitals by mid-April.
Update 4/02
3D printed test swabs
What seems to be the biggest immediate need to fight COVID-19 is to identify infected people. When testing is done at a large scale, there is a better oversight on who is infected, where spreads are coming from and who needs to be quarantined in order to stop or slow down the spread. Also, healthcare professionals and other essential workers need to be be tested regularly. They rely heavily on PPE's in order to safely maintain their own health.
To perform COVID-19 tests successfully, nasopharyngeal (NP) swabs are needed to collect samples. These NP swabs are basically flexible sticks with a bristled end that are inserted into the nose of a person and by doing so, collecting a sample that can be used for testing. The NP with residue on it is placed in a vial that contains a culture medium where the virus can grow so it can be identified. All parts in this proces are medical devices that are currently low in stock everywhere around the world. Fortunately, these NP swabs can be 3D printed using DLP 3d printing.
EnvisionTEC, a leading DLP 3D printer manufacturer, is stopping all regular production and will fully dedicate their production line to 3D printing these NP swabs. EnvisionTEC's CEO Al Siblani said "We need a coronavirus swab for every test that we do, So we basically need about 350 million. We will open 24 hours a day."

EnvisionTEC engineers have designed a collection tip for a flexible nasal swab.  Brian Nilson, of Nilson Laboratories, 3D printed the final design for testing.  He was able to print 400 of the swabs in Class 1 approved material E-Guide on his Envision One cDLM in two hours.  E-Guide has passed some of these tests and is awaiting final IRB testing and approval. Under FDA regulations, an IRB group that has been formally designated to review and monitor biomedical research involving human subjects has the authority to determine that E-Guide is suitable for the mass production of the NP swabs for COVID-19 testing.
Formlabs is also offering 3D printed NP swaps. A team from the USF Health's 3D Clinical Applications Devision created an initial design, working with Northwell Health and collaborating with Formlabs to develop prototypes and secure materials for a 3D printed alternative. The clinical validation is already complete, in a record time of two weeks (!) and 3D printers at USF Health and Northwell Health will produce the swabs and provide them to their patients.

These swabs are Class I medical devices exempted from premarket notification requirements and require manufacturers to register and list the products. Formlabs will produce swabs in its FDA-registered, ISO 13485 certified facility in the United States.
Update 3/27
The ventilator shortage
As the global 3D printing community puts its collective nose to the grindstone to help hospitals around the world deal with supply shortages, more and more initiatives to create 3D printable ventilators are popping up. We previously mentioned that most 3D printers aren't suitable for making such objects due to the porosity of printed parts. But some high-end printers can produce parts that can be sterilized, and more importantly, the ventilator shortage is predicted to be dangerously large. The CDC calculates the shortage will be 300,000 to 700,000 units in the US alone, and certain cities like New York are already feeling the pains of the shortage. Everyone with desktop 3D printers should continue to print masks, face shields, and hands-free door openers but the market leaders in 3D printing are pivoting to printing medically-approved ventilators.
HP has delivered over 1,000 printed parts to local hospitals around Barcelona, Spain; Corvallis, Oregon; San Diego, California; and Vancouver, Washington, including mask adjusters and face shields. HP engineers are currently testing and validating printed parts for a field ventilator and FFP3 face masks.
"HP and our digital manufacturing partners are working non-stop in the battle against this unprecedented virus. We are collaborating across borders and industries to identify the parts most in need, validate the designs, and begin 3D printing them. Our deepest appreciation goes to our employees, partners, customers, and members of our community for their tireless efforts to support the medical professionals making a difference on the front lines." – Enrique Lores, President and CEO, HP Inc
One way to get around the sanitation problems associated with printing ventilators is to rely on a piece of breathing equipment that hospitals have an abundance of: the Ambu-Bag manual resuscitator that hangs by nearly every hospital bed. By printing a device that can automatically pump an Ambu-Bag, a basic ventilator can be fashioned. The printed parts don't come in contact with the patient or the air they're breathing so sterility is much less of a concern. That's the path taken by the consortium out of Spain.
A consortium made up of HP, Consorci de la Zona Franca (CZFB), Leitat, SEAT, Consorci Sanitari de Terrassa (CST), and the Parc Taulí Hospital in Sabadell recently had their printed respirator approved by medical experts. The respirator, called Leitat 1, was designed by the Leitat Technology Centre and medically validated by Dr. Lluís Blanch, Director of Innovation at the Parc Taulí Hospital. It's approved as an emergency device intended only for short-term use, but that could make a huge difference in the pandemic, especially considering that 50 to 100 units could be printed per day. "This is an emergency respirator, for an emergency situation, designed with 3D technologies and incorporating other parts found on the market. Assembly is very fast, so we can produce about 100 of them per day, and I hope many more in the days to come," said Manel Balcells, Health Commissioner at the Leitat Technology Centre. While some members of the project such as Navantia and Airbus are already producing the respirator, others are working on Leitat 2, which will follow more of the regulations of the Spanish Agency for Medicines and Medical Devices.
The Code Life Ventilator Challenge is an initiative organized by the McGill University Health Centre Research Institute and the Montréal General Hospital Foundation to "design a low-cost, simple, easy-to-use and easy-to-build ventilator that can serve the COVID patients, in an emergency timeframe." Designs can rely on 3D printing, CNC machines, and smartphones and Arduino, and entries will be accepted until March 31. The winning team will be awarded CAD200,000. So save some lives and make some money at the same time.
The open-source E-Vent Emergency Ventilator Project out of MIT will be releasing design files soon that also make use of the Ambu-Bag as a makeshift ventilator. "We are releasing this material with the intent to provide those with the ability to make or manufacture ventilators, the tools needed to do so in a manner that seeks to ensure patient safety. Clinicians viewing this site can provide input and expertise and report on their efforts to help their patients."
All of these projects will likely deliver worthwhile results, which could open the door to everyone with a desktop printer being able to produce ventilator components. Stay tuned and stay safe.
Update 3/24
There have been further developments in the COVID-19 pandemic that relate to 3D printing so we'll be updating this article as necessary to include new information.
Additionally, it's pertinent to explain why 3D printing is needed in this crisis. Governments around the world have issued various levels of 'stay at home' orders to slow the spread of the disease, and that interrupts supply chains as factories shut down, warehouses close, and freight drivers stay home. Just like all manufactured goods, medical supplies and equipment only get to where they're needed with functional supply chains. There's currently an increased demand for specific medical products and manufacturers are making less of them while an even smaller percentage are being delivered. To compound matters, hospitals keep inventories based on historical need so many hospitals depleted their supplies of masks and ventilators only days into the pandemic.
According to a BCG survey, as of March 19 approximately 90% of automotive plants are closed across Europe and 65% are closed in the US. Only China, Japan, and South Korea are past the peak of the infection curve as they have 80% of their plants open again. For most of the world, the situation will get worse before it gets better and that includes supply chains.
A global network of decentralized 3D printers can help to carry some of that burden, especially when it comes to items like face masks that are easy to print and in dire need. While it is possible to print more complex devices like the valve we previously covered, those devices should be sourced from original manufacturers whenever possible because they're made with materials that can be sterilized with heat and pressure in autoclaves. Nearly all 3D printed goods are porous, which means microbes can linger and grow into secondary problems. It's important that we don't further harm people in our attempts to help them. For more on that, read the Open Source COVID19 Medical Supplies document.
Update 3/20
Italy is the second-hardest hit country when it comes to the pandemic, right behind China. Their hospitals are overloaded and when one hospital in Brescia ran out of valves for their Venturi Oxygen masks, a critical medical device for respiratory diseases like coronavirus, they reached out to the manufacturer for more. But the manufacturer could not supply them due to supply chain issues. The hospital immediately put out a call for help through a local newspaper, looking for someone who could 3D print the valves. The call was answered by Cristian Fracassi and Alessandro Ramaioli; their tech startup Isinnova has 3D printers at its headquarters.
They contacted the manufacturer requesting blueprints so they could quickly reproduce the valve but the manufacturer declined to provide them. Fracassi and Ramaioli were undeterred and went on to reverse engineer the valve, creating three different versions to test in only a few hours. After testing them at the hospital and choosing the best design, they printed 100 valves and delivered them to the hospital. As of March 14th, the printed valves have been successfully used on 10 patients.
There were people in danger of life, and we acted. Period. Now, with a cold mind, let's think. Firstly, don't call us, as some have, heroes. Sure, people were about to die, but we only did our duty. Refusing would not have been a cowardly act, but murderous. But now let us also silence words that are flying beyond our intentions, and beyond our control: we have no intention of profit on this situation, we are not going to use the designs or product beyond the strict need for us forced to act, we are not going to spread the drawing. Cristian Fracassi, CEO Isinnova
There have been reports that the manufacturer threatened to sue for patent infringement but Fracassi says that's untrue. "I talked to an operator who told me he couldn't give me the files, but after that we didn't receive anything from the original company. So I can assure you we didn't get any threat. They said they couldn't give us the file because it's company property, but that's all."
The first printed valves came off of FDM (fused deposition modeling) 3D printers but after the story broke, another local company called Lonati SpA used their SLS (selective laser sintering) machine to make higher-quality versions. Of course, all of the printed valves are disposable as they aren't rated for sterilization. They're working just fine in an emergency, though.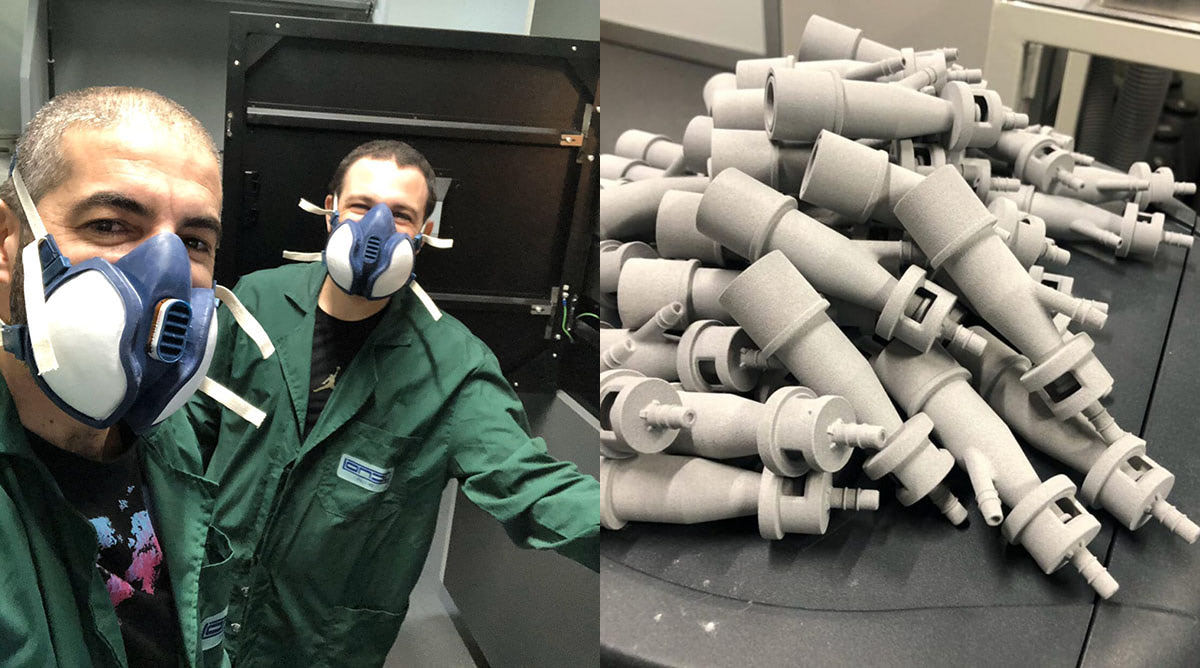 Files
There are things you can print to help! Here are some files that anyone can download and print to help with the COVID-19 pandemic:
Surgical mask strap that improves the comfort of NHS staff and uses 57% less material.
Hands-Free Door Openers – These can go a long way in reducing the spread of infection in businesses and offices that must remain open. They can fit on a variety of doors and allow users to open doors with their forearm rather than their hand. Bonus: Leave them on after the crisis and people can open doors while carrying coffee and documents.
'Savegrabber' Door Opener – While the previous door opener mounts to the door handle, this one is portable and can be used on most lever door handles.
Reusable Filter Mask – This simple mask allows users to change the filter material out regularly and it works with HEPA filters, coffee filters, and paper towels.
Face Shield – This was designed by Canadian ER worker Dr. Tarek Loubani. All that's needed is some elastic strap and Mylar sheet.
For those with proper hardware and materials, here are the more complex files designed by the Isinnova team:
The Venturi valve – The original that started it all.
Respirator Adapter for Decathlon Mask – With these files, a recreational mask can be converted into a respirator.
Other 3D printing organizations have put out responses to the pandemic detailing their own efforts to help. Fathom is working to design printable nasopharyngeal swabs for COVID-19 test kits as well as ventilators. The CoVent-19 Challenge was founded by residents at Massachusetts General Hospital as "An Open Innovation Effort to Design a Rapidly Deployable Mechanical Ventilator" using additive manufacturing.