The medical industry's adoption of 3D printing is well documented and widespread. There are printed hips, trachea, bladders, cranial implants, and much more. With the ongoing spread of the coronavirus, 3D printing is proving useful in yet another medical application as an emergency response tool. Polytechnic University in Hong Kong is 3D printing face shields for hospital workers who are running low on supplies.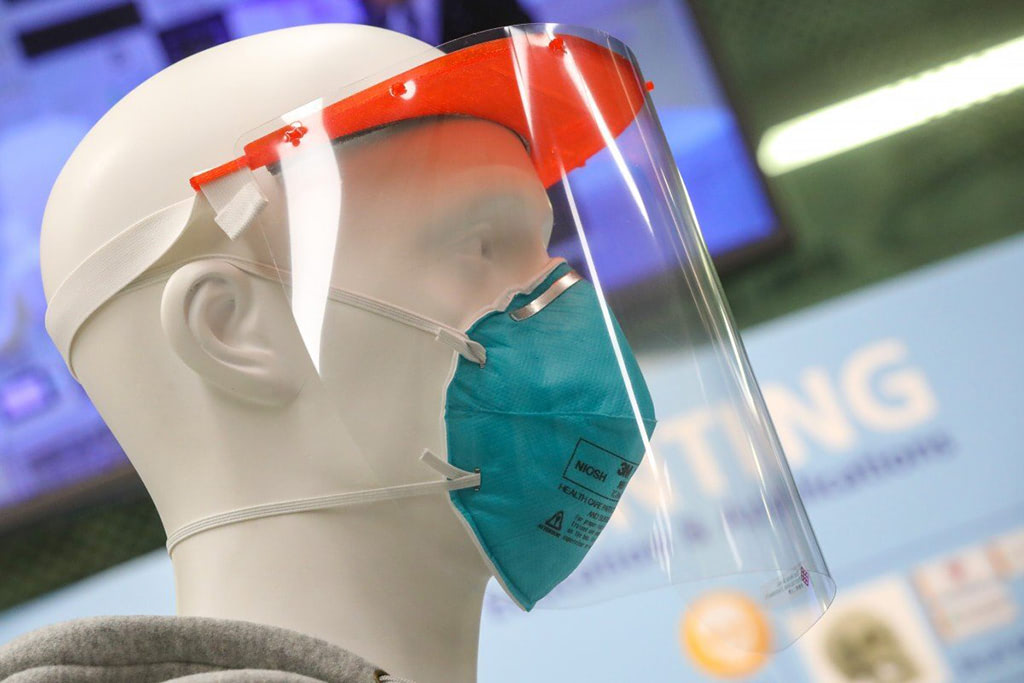 We have worked with hospitals before to produce equipment for training purposes, but never for something so practical. Sidney Wong Wing-fai, engineering manager at the PolyU printing lab.
When battling highly infectious diseases, sterilization is critically important. One of the most effective measures of maintaining a sterile environment is to work with single-use items, such as syringes, bandages, and face masks. In this case, the Hospital Authority estimated that hospitals had only 450,000 medical face shields in stock. That may sound like a lot but since they're single-use, it's only about a month's worth.
The Hospital Authority reached out to the university in early February. Alexander Wai Ping-kong, the university's vice president for research development, said "The face shield is very simple to produce." It consists of a clear plastic sheet attached to a frame that fits onto the forehead and is held in place by an elastic band. The researchers in Polytechnic University's 3D printing lab designed and prototyped the frames in only a week, which includes optimizing the final design based on direct feedback from hospital employees who tested the prototypes. For two weeks, six lab technicians managed 30 3D printers that were churning out frames; the techs also assembled the frames into face shields as they came off the printers.
A first run of 800 face shields was produced by PolyU but future batches will be produced by local manufacturers, with a goal of making 30,000 per day by late March. Man Hau-chung, dean of the engineering department that oversees the printing lab, emphasized the importance of making the face shields locally: "PolyU is doing technology transfer to the industry, and for industry to help the Hospital Authority and society. The most important thing is to make it in Hong Kong, and that we can have our own adequate supply."
If the coronavirus is to be contained, a rapid response from a variety of industries and agencies is necessary. Let's hope they can all provide solutions as quickly as the PolyU 3D printing lab.
Image source: scmp.com. Photos: K.Y. Cheng