The sand casting process involves creating a mold from casting sand and filling it with liquid metal to create a solid part. It is an ancient process that has been improved in recent years due to advancements in 3D printing.
This is especially true when using a hybrid subtractive / additive approach, which 3D Systems has been discussing recently.
Read on to learn about the future of sand casting.
Hybrid Manufacturing
One of the key benefits of incorporating 3D printing into the sand casting process is that it allows for greater design flexibility. Traditional sand casting has always been good for creating complex geometry (and internal channels), which is why it has been used for manufacturing engine blocks for years.
Now thanks to AM, the final part geometry can benefit from even more complexity, and when combined with subtractive methods such as milling, the dimensional accuracy and surface finish can be greatly enhanced.
You can see the AM-assisted sand casting workflow, along with some pictures of the cast parts in the graphic below.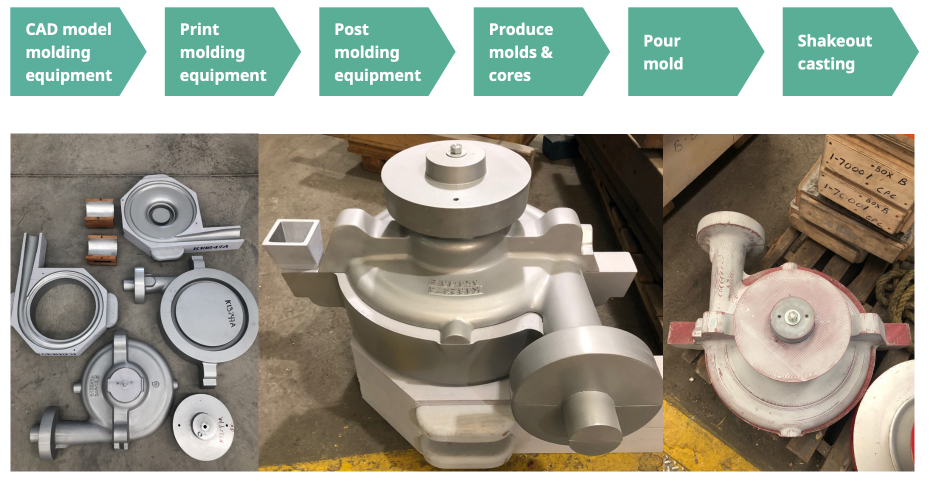 Despite the integration of 3D printing technology, the traditional sand casting methodology remains largely unchanged.
The process still involves using a replica or pattern of the intended final part, which is then placed within a two-part mold and cores to create internal passages when needed. Specialized molding sand is still compacted within the core and around the pattern, and an in-gate, sprue and pouring basin are still required. The final step, pouring in the molten metal, remains unchanged.
What has changed is the fabrication of the pattern itself. Using AM to produce the pattern provides the ability to create more complex and intricate designs, with greater surface finish and dimensional accuracy. The pattern fabrication process is also accelerated thanks to AM, and as a result, use of a hybrid approach can significantly reduce lead time and cost associated with sand casting.
Pellet Printing
When 3D Systems acquired Colorado-based Titan Robotics last year, they gained the benefits of the large format pellet printing / hybrid CNC system that the company had on offer.
In particular, Titan Robotics has a printer named the Atlas HS, which features dual print heads for both pellet and filament extrusion, plus a CNC controlled spindle for milling, drilling, boring and threading. This allows the rapid deposition of a number of low-cost thermoplastics, plus a significantly higher quality of surface finish that can be provided by 3D printing alone.
This makes the Atlas an ideal solution for tasks such as the manufacturer of a variety of toolings, including sand casting patterns.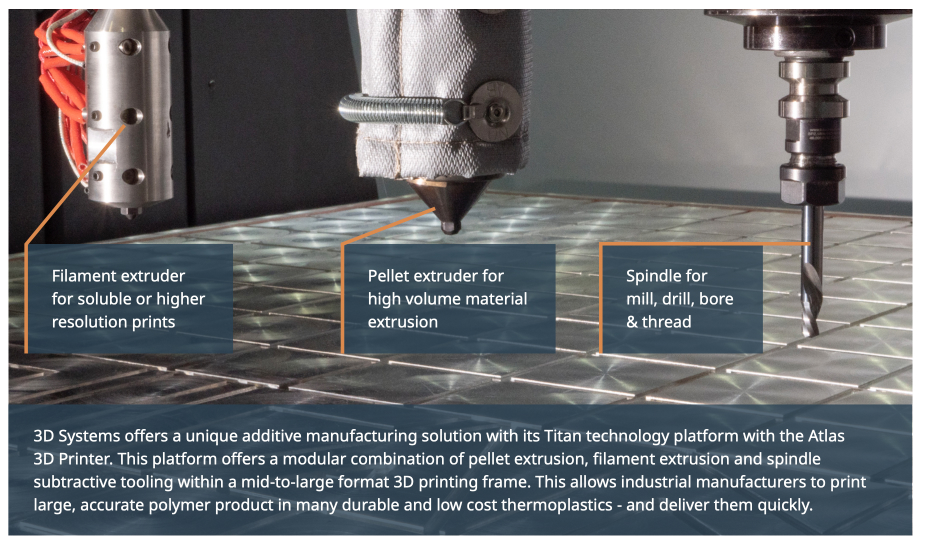 Tips for Sand Casting with AM
Not all plastics are created equally, and 3D Systems has some guidelines on helping you to select the best plastic for your sand casting needs.
To get sand casting with a superior surface finish, it is recommended to use high-performance polymers like glass or carbon fiber-filled ABS, PC, Nylon or PEKK. They're way more durable and can be sanded or machined much better than lower temperature polymers like PLA and PETG.
Also it is worth noting that most primers and paints stick well to high-performance polymers except for polyolefins (PP, PE).
The company also advises that using stronger polymers can result in higher throughputs, thanks to the higher wear resistance offered by such plastics. One report states that using such polymers can result in up to 30,000 cycles with almost no visible or measurable wear.
For extra value, 3D Systems recommends printing patterns in segments for certain applications.
This reduces print issue impact and produces tools in parallel over multiple printers rather than serial. It is also beneficial if there is to be excessive wearing on specific parts of the pattern. For larger patterns, a well-worn pattern section can be replaced, rather than having to print the entire pattern again.
Conclusion
As you can see, the integration of 3D printing technology into the sand casting process has brought about a multitude of benefits, including greater design flexibility, improved efficiency, cost savings, and enhanced geometric features.
If you would like to know more about the Atlas HS hybrid system from Titan Robotics, head on over to this link.
And if you would like to see the deep dive into how hybrid manufacturing can help your company with sand casting, then you can download the paper from 3D Systems right here.