SmarTech Analysis, a market research firm that specializes in additive manufacturing, recently released the fifth edition of its Additive Manufacturing in Dentistry report. The report includes an analysis of the technologies, processes, and materials used by dental labs and clinics as well as coverage of the shift in the dental industry to 3D printing solutions and corporate structures, and their relationship. SmarTech forecasts that the dental additive manufacturing market value will reach $2.7 billion in 2019 and climb to $9 billion by 2028.
Scott Dunham, VP of Research at SmarTech Analysis, wrote the report and points to clear aligners as one of the most dramatic shifts in dentistry, stating "Clear dental aligners, like those marketed by Align Technologies under the Invisalign brand, have grown by leaps and bounds over the last several years. The vast, overwhelming majority of these devices are produced via a combination of 3D printing and traditional thermoforming, and are perhaps the single highest volume application for 3D printing technologies in the world today. Clearly, this is an area of great interest to the 3D printing industry at large, but also the dental industry." Clearly. We appreciate the insight and the pun, Mr. Dunham.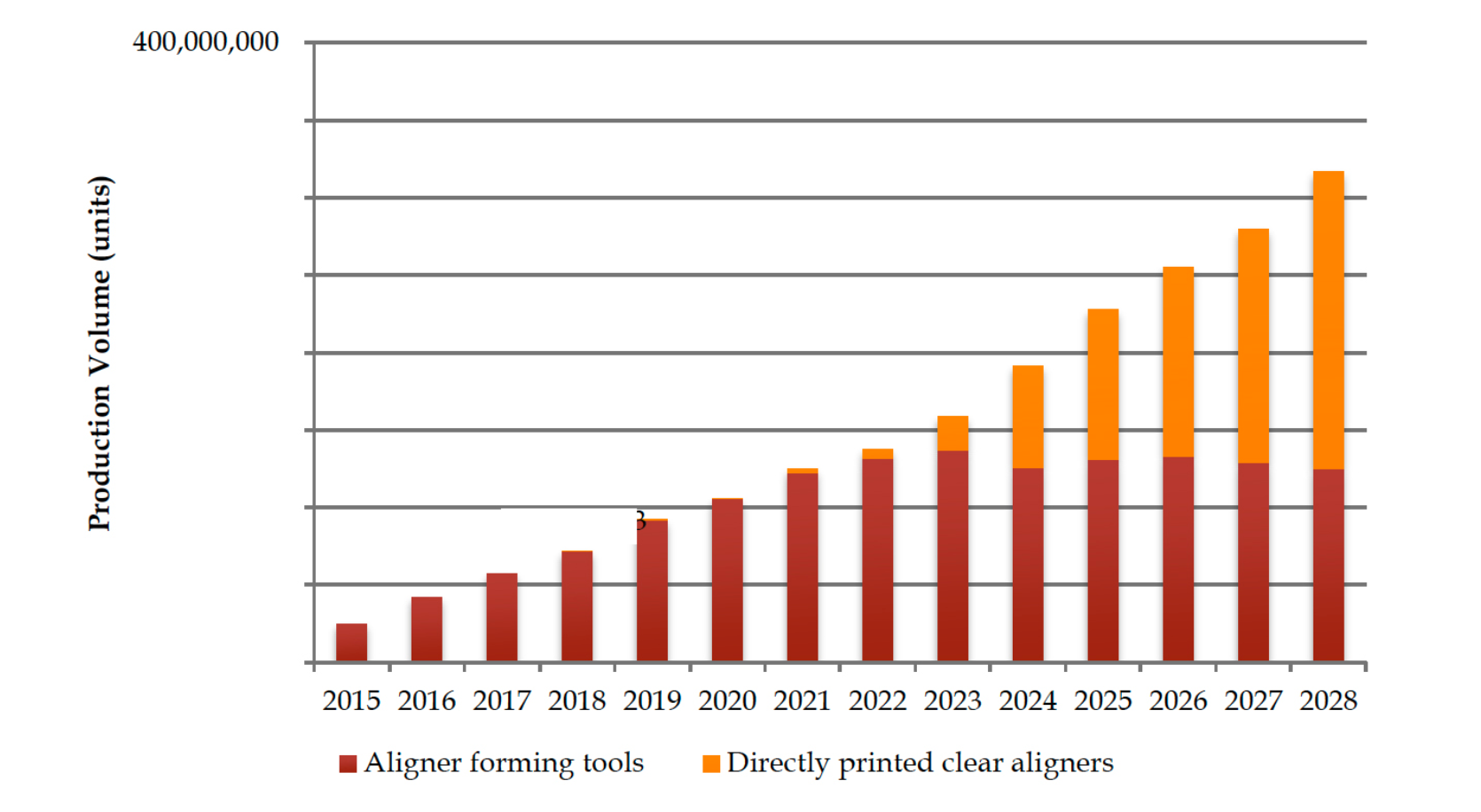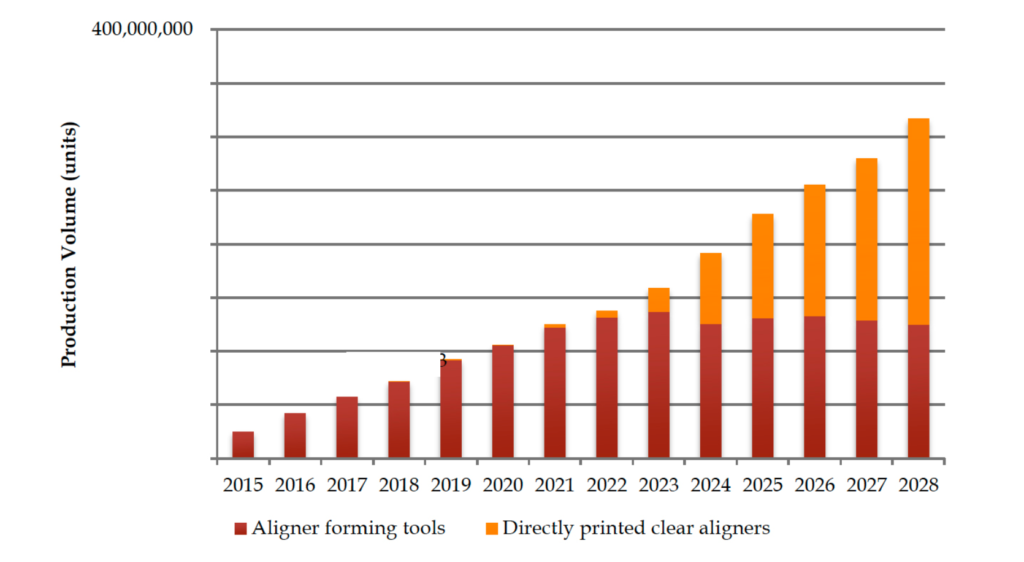 Additive Manufacturing in Dentistry
Access to increasingly more affordable dental 3D printers is also responsible for the shift to additive manufacturing as smaller labs can better afford to expand their offerings. There is another driver of adoption of AM, though, and that's the corporate buyouts and office consolidations that have been occurring in recent years. As companies and offices merge, their budgets increase, which makes room for larger purchases of equipment like 3D printers.
Presently, software accounts for the largest share of revenue at around $65%, but that's expected to drop in the coming years as labs and offices exit the current modernization cycle. Materials make up the next largest chunk of revenue at around 25%. Due to access to the technologies and their aging populations, Western regions use the most AM dental solutions, but use in Asia, South America, and the Middle East is growing more rapidly.
While the standard AM process used in dentistry is vat photopolymerization, Dunham predicts that material jetting technologies will soon put pressure on those legacy systems thanks to increased automation and the ability to fabricate temporary and permanent dental composites in different shades. As such, more solutions will be directly 3D printed rather than being formed from a 3D print.
That streamlined process will allow clinics to provide more chair-side services without even bothering the lab, or as Dunham put it: "We anticipate a future of dental care in which 3D printing technologies are at the center of the industry, producing the vast majority of dental devices and restorations, in an increasingly distributed manner and increasingly closer to the point of care. This same trend –producing parts closer to the point of use – is an unstoppable, yet slow-moving, trend in additive manufacturing in the age of Industry 4.0."