The technologies of 3D printing are getting more and more fascinating. Today we look at metal-related 3D Printing.  The type of materials used in metal 3D Printing are increasing everyday. The inputmaterials that can be used in 3D printing have grown from Metals, to Stainless Steel, Titanium and for example Aluminium.
Suppliers 3D Metal Printers
Several companies have been making3D printers for printing metals for some years now, from the pioneering 3D Systems in South Carolina, to leading US firm Stratasys in Minneapolis. They are reaching broad client bases — think aerospace to academe. And two European companies — EOS of Germany and Arcam of Sweden — are at the forefront of building machines that print metal end-use products, and not just prototypes, which used to be the majority of 3D-printed results.
Arcam started with the Electron Beam Melting, or EBM. During the EBM process, the electron beam melts metal powder in a layer-by-layer process to build the physical part. The Arcam EBM machines use a powder bed configuration and are capable of producing multiple parts in the same build. Arcam has two main metal-sintering machine systems (the A1 for smaller applications, and the A2 for larger ones, such as airplane parts) that make use of fusing metal powders together with an electron-beam melter.
EOS rolled out their flagship EOSINT M 280 system that came out a couple years ago to replace its 270 model, which was already a market leader in metal additive manufacturing. Both EOS and Stratasys, which uses primarily employ plastic-deposition technology, use their own machines to print parts that are, in turn, used to build more printers.
According to several reports, it is clear that European design and manufacturing firms are more advanced at both creating and utilizing additive technologies than their US counterparts (especially in the medical and dental arenas). And firms such as Boeing, Airbus, and even NASA are already using systems from the likes of EOS and Arcam.
Metal Materials in 3D Printing
As written in the introduction, the range of metals suitable for 3D Printing keep growing every month.
MaragingSteel for example is used for series tooling. The EOS MaragingSteel MS1 for example is a martensite-hardenable steel. Its chemical composition corresponds to US classification 18% Ni Maraging 300, European 1.2709 and German X3NiCoMoTi 18-9-5. This kind of steel is characterized by having excellent strength combined with high toughness. The parts are easily machinable after the building process and can be easily post-hardened to more then 50 HRC. They also have excellent polishability.
Those kinds of steel are used for products in serie injection molding and other tooling applications, e.g. aluminium die casting
Titanium is increasingly used. This well-known light alloy is characterized by having excellent mechanical properties and corrosion resistance combined with low specific weight and biocompatibility. This makes it very suitable for Biomedical implants.
Products in  Metal 3D Printing
Medical products
With more and more metal materials that can be used in the 3D printer, the range of products that can be manufactured keep growing as well. 3D printing is used in the medical industry for the creation of surgical and diagnostic aids, the development of prosthetics and medical products, tissue engineering, and the design of medical tools and equipment. So more and more medical products can be made. A customized knee implant for example….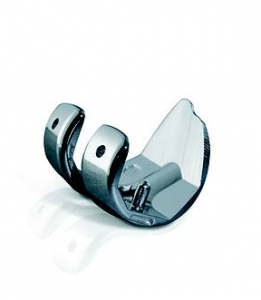 The above knee implant was built by Direct Metal Laser-Sintering (DMLS®) using a bio-compatible Cobalt-Chrome alloy. Several such parts can be built fully automatically overnight, even patient-specific, by Stryker Orthopaedics. Source: EOS
3D printing technology probably is one of the most effective means of physically realising medical models. 3D imaging technology used in the medical field (for instance CT data) is today commonly used with CAD / CAM technology to assist surgeons with customised solutions. Because of the complexity of CT data, the automated production provided by 3D printing technology makes it an excellent choice for generating models based on actual patient data.
3d Printed Automotive products
Automotive industry is a leading user and consumes 17.5% of total commercial 3D printing services,  second to consumer products/electronics. Present application by auto companies is limited to large size 3D printers for rapid prototyping in Product Development. However, with dropping prices (personal 3D printers costing around few thousand dollars) and maturing ecosystem (Machine builders, CAD S/W providers, Designers, Makers, Aggregators & users), 3D printing is poised to become more mainstream.
Objet Ltd.,  showcased a full-size, 3D printed car dashboard from StreetScooter at this year's SolidWorks World in San Diego from February 12-15.  
Shown for the first time in the United States, the five-foot wide fully-assembled dashboard prototype was created with multi-material printing, including Objet's ABS-like Digital Material, and features a display screen and other fine details that simulate a dashboard's look, feel and function.
3d Print your bike
We already wrote on 3d Printing your bike. Here you can see the prove that metal 3d printing is resulting in your own bike!