Metal 3D printing is maturing into a market that's full of options. There are now metal AM solutions across a range of price points, and hybrid machines that can add & subtract metal to existing objects to repair or improve them.
It's becoming harder and harder for metal AM companies to really differentiate themselves among all of the offerings, but Holo has done just that. Their patented PureForm technology can produce parts with incredibly fine details at a cost that's hard to beat.
About PureForm Technology
PureForm technology is a resin-based, indirect metal printing process where metal powder is mixed into the photosensitive resin. That slurry is cured one layer at a time with a lightsource in a similar manner as other resin printers. The completed print is in a 'green' state as the photopolymer resin that acts as a binding agent is still mixed in with the metal particles. A debinding process removes the polymer, taking the part to a 'brown' state. A sintering process in an oven solidifies the object into a fully dense part that's 99.99% pure, hence the name. You may remember the debinding and sintering process from our review of BASF Ultrafuse 316L, which has to go through the same post-processing after printing. Of course, liquid vat printing achieves much higher resolutions than FDM printing.
That's why Holo parts can have features and gaps as small as 150 microns, or about the width of a strand of hair. It's that level of detail combined with the geometric freedom enabled by 3D printing that has made them focus on the production of semiconductor cooling parts.
Holo can produce cooling features like micro-lattices and looping heat pipes that others just can't. And that's a good way to differentiate yourself.

Holo's Co-Founder Arian Aghababaie, PhD was kind enough to do a remote interview with me to tell me more about the company and technology. The questions and responses were lightly edited for clarity and brevity.
CN: What got you started down this path, why did you start Holo?
AA: We started Holo to lower the barriers of adoption, and to achieve the true promise of additive manufacturing. Through our time at Autodesk and with Ember, we realized we needed to develop a low-cost, high-resolution AM technology that could scale to volume manufacturing. We also found that customers wanted parts, not to own or operate printers. We are able to provide access to technology that wasn't previously possible; by leveraging our own technology [we are] designing and producing parts that haven't been available any other way.
CN: Can you briefly explain what differentiates Holo's PureForm technology from other metal AM processes?
AA: Holo PureForm is a high-speed metal printing platform that forms an entire layer in seconds with a single pulse of light. Leveraging HD imaging technology, 8 million pixels are exposed in a flash. Combined with a metal injection molding (MIM) sintering backend, PureForm is the lowest-cost, highest-resolution, scalable AM platform for volume production. Compatible with many difficult to print materials, Holo is using PureForm to print pure copper.
We leverage our design for additive manufacturing (DfAM) expertise, our low-cost printing, and scalable backend to design and produce at volume, high performance production parts.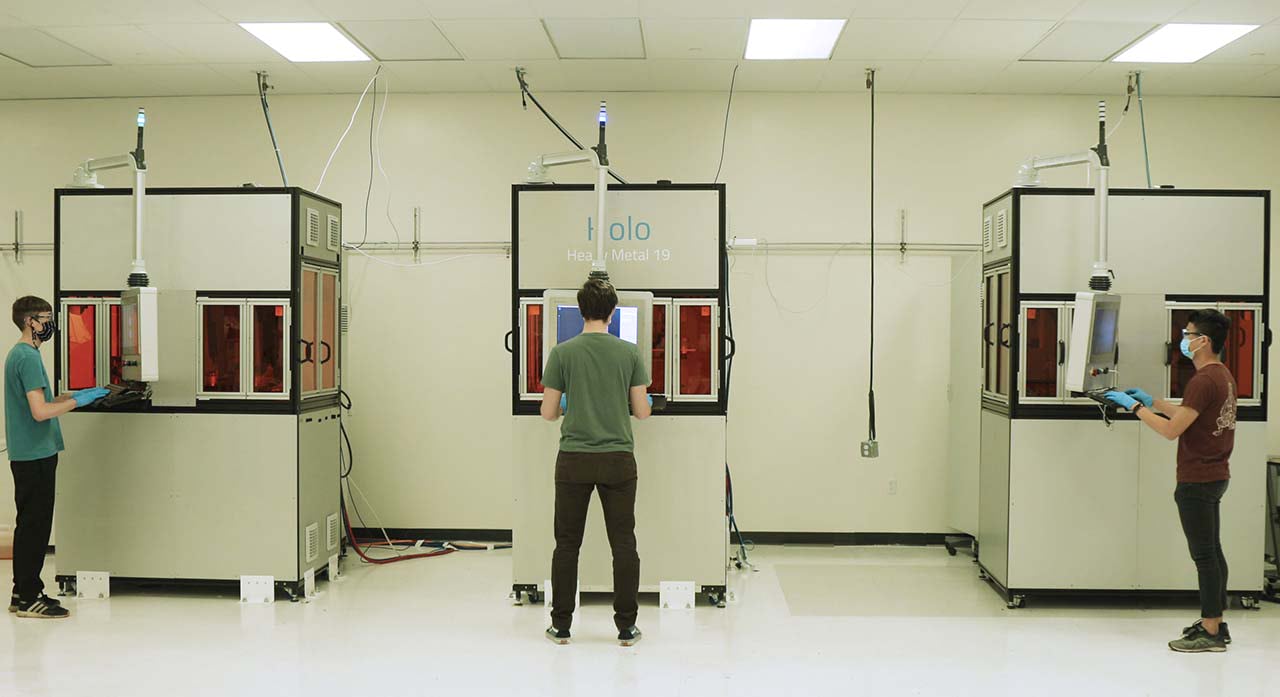 CN: I see that one of your verticals is cooling solutions. Could you provide an example of one of your cooling solutions and describe some of the benefits?
AA: Holo is creating unique designs for liquid cooling of high-powered semiconductor devices. These DfAM parts made in Holo's pure copper double the heat transfer coefficient as compared to traditionally designed and manufactured devices. They do this by removing heat from processors in a way unmatched by any other direct cooling technique [with traditional geometric limitations].
CN: What other markets do you plan to enter into?
AA: Copper is the first material we are using to enable thermal and electrical conductivity applications. This has us focused on the cooling of semiconductors, which is a $4 billion-dollar market. Initial targets are high-end processors and high-powered inverters for electric vehicles. Complex copper parts in electric motors are also an exciting area. As Holo releases new materials, we will leverage these materials into the same markets, as well as additional verticals.