Researchers at Purdue University have developed a super tough mantis shrimp-inspired material. The researchers took inspiration from one of nature's most fascinating creatures, particularly its club limb. As a result, they've managed to replicate certain mechanisms that allows it to twist a crack in the structure for additional force. The resultant material can apply deadly levels of force without rupturing itself in the process.
"This mechanism has never been studied in detail before," engineer Pablo Zavattieri said. "What we are finding is that as a crack twists the driving force to grow the crack progressively decreases, promoting the formation of other similar mechanisms, which prevent the material from falling apart catastrophically. I think we can finally explain why the material is so tough."
The astonishing ocean creature has some incredible power behind its fists and may strike as rapidly as a 22-caliber bullet. Naturally, this provided the researchers with a great framework to work off of. This crack twisting is reproduced through the chitin fibers of the material, exactly the same substance present in many marine crustacean shells and bug exoskeletons. The researchers basically arranged it in a helicoidal architecture that resembles a spiral.
3D Printed Bio-mimicry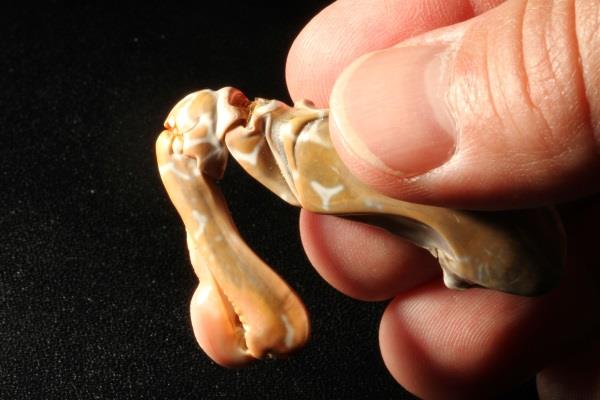 Bio-mimicry and 3D printing are both revolutionising materials development in ways designers never imagined. Particularly in aquatically inspired ideas like this and Jun Kamei's work with 3D printed gills. These unconventional ideas are far easier to develop now due to the immense control granted by additive manufacturing. The mantis shrimp-inspired material gives researchers crucial information about the force application in chitlin fibers.
Due to these findings, researchers were able to home in on how exactly the structure of the club adds such force. Especially in how the club doesn't break upon retraction considering how much force it expends. New images taken by an electron microscope at UC Riverside reveal that rather than merely one crack developing, numerous smaller sized cracks form, dissipating the power absorbed through the material upon impact.
It has potential implications for lots of industries. It has tonnes of applications in force resistant materials as applied to aerospace and automotive concepts. The by-product could even be used for material breaking or even in weapons development.
Featured images and video courtesy of Purdue University.