Back in April 2021 we took a look at Chinese printer company Cerambot's ceramic printer the Eazao, which enabled the printing of ceramics that could be fired inside a standard home microwave oven thanks to their nifty little microwave kiln gizmo.
Now the company is back with a bigger offering, with a bunch of new improvements, and it's available on Kickstarter.
Let's take a look in more detail at the new Cerambot Eazao Matrix.
Bigger & Better
First up, the new Cerambot Eazao Matrix is significantly bigger than the previous model.
The Matrix comes in three different sizes which are the M500, M600, and M700. The largest is the M700 which provides the maximum printing volume at 500 x 500 x 700mm.
That's big enough to print your own bathroom sink or other bathroom ceramics!
Imagine printing your own bidet! Mmmmm… custom freshness!
The new Matrix is also capable of printing a wide range of viscous fluid materials including paper pulp from paper waste, recycled eggshells, ground sea shells, and plant fibers from waste food products, so it's good for recycling trash also.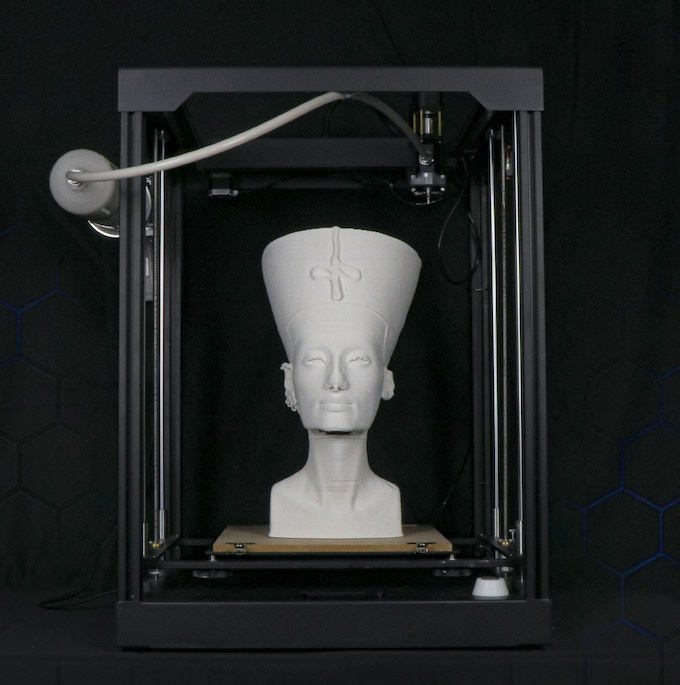 If the idea of rummaging through your garbage to find feedstock to recycle isn't your thing, then it also prints a variety of technical ceramics too including alumina, zirconium oxide, silicon carbide, and sodium silicate.
It seems like the Eazao Matrix can print pretty much anything, as long as it can be converted into a slurry-like form.
The Eazao Matrix is a Core-XY design, and like previous models the slurry is extruded via a pump syringe system capable of printing to 0.4mm accuracy. It comes in a pre-assembled modular design that doesn't require too much tinkering to get set up.
The Matrix comes with intuitive and simple controls thanks to a 3.5-inch full-color touch screen with support for SD card and USB reading.
ACE
The Eazao Matrix comes with one more significant improvement over the company's previous iterations – an Air Chamber Extruder.
"Ceramic 3D printing is one of the most exciting new developments in prototyping and creative arts," said Cerambot CEO Jony Liu.
"But users often struggle with air bubbles trapped in the material that can ruin prints. By listening and working with our worldwide loyal users, we identified this troubling issue and designed a new more advanced extruder to eliminate this problem. We call this new component the Air Chamber Extruder — ACE for short."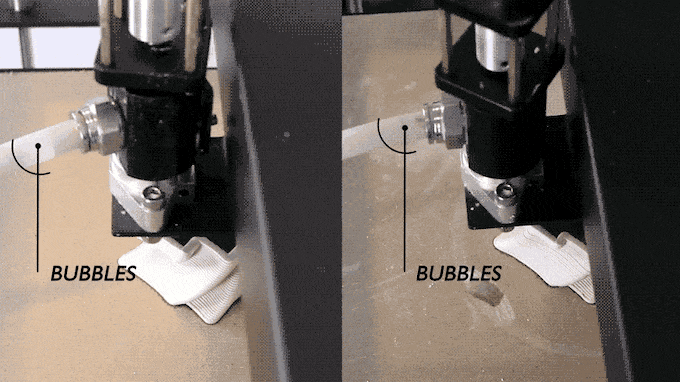 "With the Matrix ACE, air bubbles are absorbed by the Air Chamber as they enter the extruder, completely solving the problem of ruined models caused by air ejecting from the extruder nozzle, greatly improving the success rate of the print," added Liu.
Price and Availability
If you get your printer from Kickstarter, there are Early Bird deals available to those who are quick on the draw. They are as follows:
Matrix M500 Super Early Bird
The Matrix M500 is available in limited stocks at the Super Early Bird Price of only $799, which is 47% off the MSRP. The M500 comes with the 2 liter cartridge as standard.
Matrix M600 Super Early Bird
The Matrix M600 is also offered at the limited Super Early Bird Price of only $1199 (33% OFF MSRP) and comes with the 5 liter cartridge.
Matrix M700 Super Early Bird
The biggest of the bunch, the Matrix M700 is available at the limited Super Early Bird Price of $1799, which is 28% off the MSRP. This comes with the 5 liter cartridge also, but like all other printers, you can add a bigger one if you wish. They do offer a 20 liter cartridge at extra cost.
All printers are expected to be shipped in January 2023.
If you want to know more about the Cerambot Eazao Matrix, or you want to get your hands on one, you can head on over to the Kickstarter page at this link.