EnvisionTEC will be launching their latest Envision One line cDLM (Continuous Digital Light Manufacturing) machines. The line will feature their end-to-end solution comprising brand new, easy-to-use design software and a lot more.
The new line comes in two particular flavors: the Envision One cDLM Dental and the Envision One cDLM Mechanical. While they cater to two different industries, they have similar benefits and hardware. Both systems feature a 93 µm native XY resolution and a dynamic Z resolution ranging from 25 to 150 µm.
It also brings in EnvisionTEC's Contour Gray Scaling technology, achieving 60 µm XY resolution capability in both systems. The Envision One line boasts the ability to print large, flat surfaces quickly with high accuracy and high reliability, something that many resin 3D printers often struggle with. They solved this particular issue by eliminating separation forces.
cDLM Technology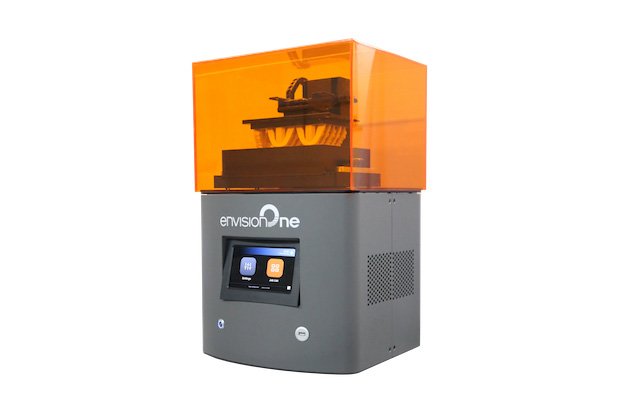 These features come down to the Continuous Digital Light Manufacturing process. cDLM adds a layer of oxygen below a piece of oxygen-permeable film covering the build area. The permeable film allows oxygen to penetrate and create a dead zone on which to free-print. However, this has its own downsides. The presence of oxygen causes a mild dome effect, causing the print to manifest on a less flat surface.
EnvisionTEC developed a material tray to compensate for this dome effect, thus controlling the pressure of oxygen. This way the build area experiences an even distribution of oxygen. The material tray thus allows the Envision One and other cDLM 3D printers to achieve that 1 µm accuracy in the Z direction. The tray has an average life of 250-300 jobs and is currently still patent-pending.
Featured image courtesy of EnvisionTEC.