Recently, hybrid machines have been making waves in the additive and subtractive manufacturing industries. It's easy to see why, as both technologies in unison often cover for the drawbacks of the other. As with 3D printing, hybridisation is also growing in size and scale as it heads towards industrial grade machining. Enter: the LASIMM hybrid machine, offering metal parts, large prints and structures for construction. This device is one of the largest hybrid manufacturing rigs available.
Funded by European Union's Horizon 2020 research and innovation programme, the LASIMM (Large Additive Subtractive Integrated Modular Machine) is a collaborative effort including Autodesk and nine other partners. The project spans companies, universities and research institutions, housing the LASIMM at Loxin's facilities in Pamplona, Spain.
The machine is a modular configuration of an industrial robot arms and a specialised milling robot. It can print out parts and construction structures up to 6 meters by 2 meters in diameter and up to 2000 kilograms in weight. It offers capabilities additive manufacturing, machining, cold-work, metrology and inspection. The firms have projected 20% reduction in time and cost expenditure, targeting 15% increases in productivity for high-volume additive manufacturing production.
Large-Scale Hybrid Metal Printing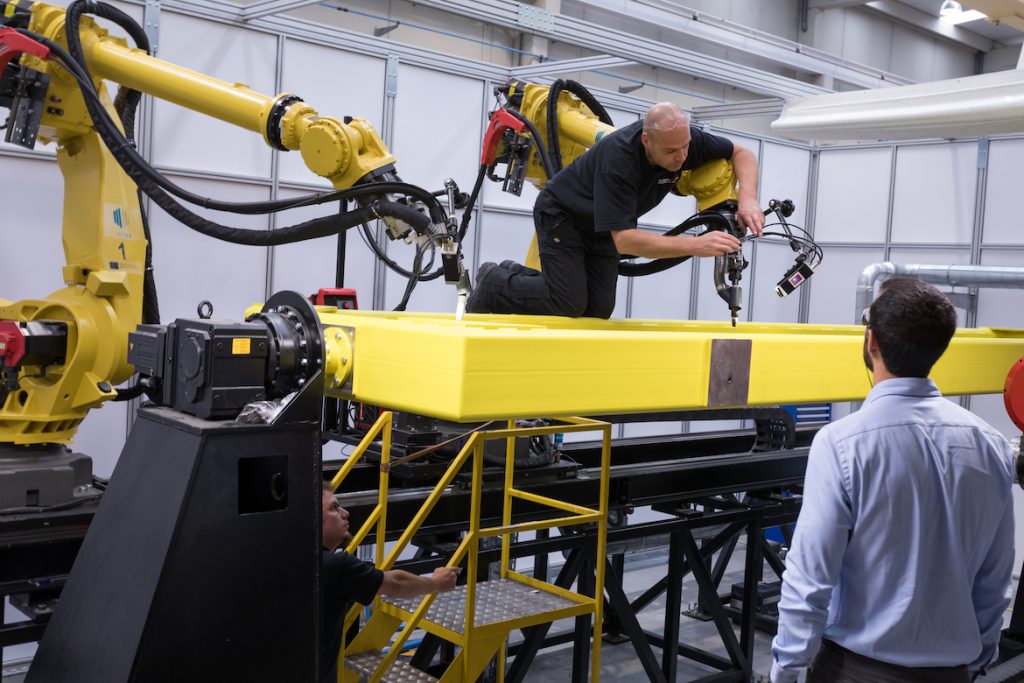 The full project is the result of years of work by Autodesk (serving as lead software designer), five other companies, two universities and two research institutes from  all over the world (Belgium, the UK, Denmark, Spain, Germany and Portugal) all collaborating on the LASIMM. The idea of the project is to improve Europe's industrial competitiveness by improving efficiency, cost-cutting and flexibility.
They will be testing the production large cantilever beam structures, airplane panels and wind turbine parts. The companies that modelled eventual prints planned their designs so as to test the limits of the hybrid rig. Autodesk has also upped the ante in their software design focus, as well. The company has shifted from single-machine-single-process CAM towards a multi-machine-multi-process CAM system that works for hybrid manufacturing.
The benefits of the LASIMM hybrid machine are many. According to projections it can reduce time and cost by 20%  as compared to the current additive and subtractive processes. It will also boost
productivity by 15% for high-volume additive manufacturing production with more flexibile and robust machines. While the machine itself is large, it combines so many processes in one package that it economises work space. It may also lead to localisation for manufacturing spaces creating better opportunities for smaller factories. Of course, the LASIMM also represents a massive leap forward for hybrid processes.
Featured image courtesy of Autodesk.