US-based manufacturer M3D has just released their Crane Quad desktop FFF/FDM machine. The printer is reportedly able to mix and print just over 50,000 colors. The colorful capabilities of the Crane Quad are due to the advent of a specifically designed printhead, the QuadFusion. The printer is capable of blending the CMYK pallet and types of 3D printer filament, all with a single output.
M3D have designed the QuadFusion to be ideal for both new users and professionals. By pricing it at an initial rate of $399, M3D have also made it one of the most cost-effective color printing systems on the market.
Michael Armani, co-founder and CEO of M3D states "Our new Crane Quad desktop 3D color printer is a real breakthrough in 3D printing capability and affordability." "Its ability to print multiple colors and multiple material simultaneously is a first, and it takes us one step closer to 3D printers being able to produce real-world objects that outperform traditional manufacturing, both in cost and performance."
QuadFusion & Other Color Printing Projects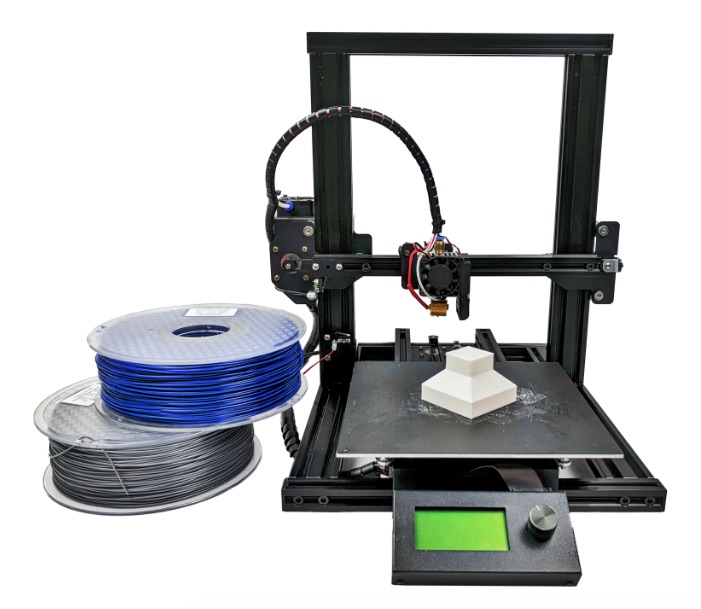 The QuadFusion goes along with M3D's work on GitHub, where they are making various helpful data packages available. The QuadFusion blends the colours/filament material with different percentage, e.g. 50% red 50% blue, giving users different color gradients. To assist in coloring and 3D printing abilities, M3D intends to make many different mixing profiles available via GitHub.
Experts and prosumers, along with the RepRap community are also exploring the possibilities of single extruder color systems. Previously in 2015, RepRap successfully funded their 3 color diamond extruder.
Michael Armani states "for M3D, this launch is not just about introducing groundbreaking innovation – it represents our company's commitment to the full-color 3D printing movement, and our dedication to providing consumers with the tools to get closer to the widespread on-demand use of 3D printed products that we know is the future."
The M3D Crane Quad is available for preorder on FitForLaunch at prices beginning at $399. It is also part of a series of Crane 3D printers. First shipments from the Crane Quad begin August 2018.