Austrian start-up PrintStones has just revealed their latest design for automated construction in additive manufacturing. Their mobile concrete printer autonomously prints various constructs in different colors and textures on the move. As a result, it can severely reduce installation costs and need for manual labor, providing advanced construction options, particularly for pressure-stressed components in the civil engineering segment.
Originally a spin-off from Vienna University of Technology, PrintStones aims to "transform the future of construction". The company is looking at concepts to advance the state of architecture and construction with a focus on on the development of 3D printing processes for concrete and other cementitious materials. They have gained some notice considering that they receive funding and PreSeed financing from BMWFW/BMVIT. The PrintStones X1 beta is the result of the companies efforts.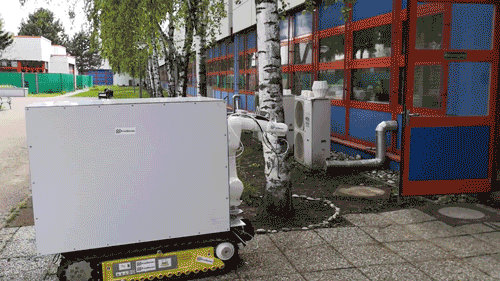 The idea for the printer originally arose from the development of simulation tools for stress and strain analysis. According to the company the challenge main challenge was "in the optimization of the system parameter, as it is an interplay of machine components, environmental conditions, materials and 3-D models".
Automated Construction Printing
Unlike other construction 3D printers, PrintStones' mobile concrete printer operate on the move thanks to tire tracks. It's similar to Cazza construction's concept for a construction robot. However, PrintStones' machines bring in a lot more complexity with a wider choice of colors and textures. It also employs a moving XYZ printhead on a robotic arm mechanism. The tires also house a giant cube structure that processes the concrete, runs the 3D model and operates the motion of the arm and wheels.
While the printer is great for building traditional concrete structures, it could also find use in laying pavements. Currently, it operates at printing speeds of about 15 centimetres per second, although it appears PrintStones are looking to improve on this in subsequent versions.
PrintStones mobile concrete printer could revolutionise construction and road renovation. The company has shown that the concept works openly, so it's only a matter of time before they test how a fleet of such devices operate in tandem for construction printing jobs.
Featured image and video courtesy of PrintStones.