Underdeveloped regions often become grounds for the proliferation of diseases. While it's hard enough to treat diseases with limited resources, it can be just as tough to simply detect them. In an effort to identify one particular virulent disease, researchers from South Australia, Texas and Ethiopia are using 3D printing technology to locate deadly parasites. As a result, they've come up with a field test kit that allows doctors to diagnose and treat it before it becomes deadly.
The disease in question is leishmaniasis. The WHO estimates that it causes nearly 1 million new cases and 30,000 deaths every year. Luckily, it is curable if doctors can detect it early but there are difficulties in testing it. Particularly, one problem was that of storage, as it requires a costly testing medium. The test tubes for keeping reagent are extremely fragile and getting microscopes on hands to see the samples is tough. It can even take a whole week to get the results out.
To remedy this problem, Dr. Gardisa created a prototype test tube that required less reagent. The new test tube needed 10 microliters as opposed to the original 25 millilitres. It could even provide results in about 3 days. However, producing the test tube in Addis Ababa, Ethiopia proved difficult. This is when Andrew Nerlinger, director of PandemicTech in Austin, stepped in.
Combatting Disease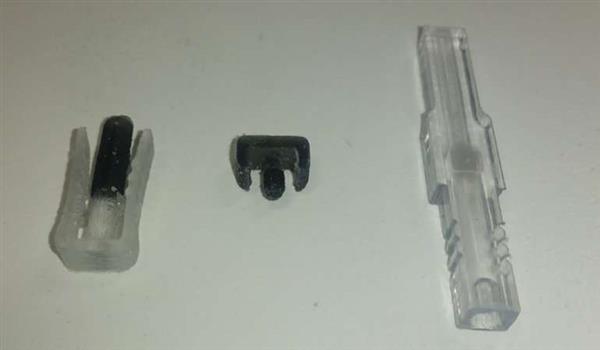 Nerlinger then introduced the problem to Matt Salier, director of Flinders University's Startup Company Institute in South Australia. With the aid of Raphael Garcia from the New Venture Institute in South Australia, the crew began working on the prototype. Using the Stratasys Objet Connex 3D printer, it took less than four months to get the part done.
The finished package cost a total of 5,000 Australian dollars. As seen in the image above, the print consisted of three primary parts: a primary body that can contain the fluid, a cork on the top to plug the culture tube along with a bottom plug that is removable for cleaning. Further designs improved the clarity to make it better for microscope inspections. Accordingly, it comes with a package loaded with multiple types microscopes for on-field inspection.
The new field test kit makes inspection and diagnosis far faster. It has the potential to save lives and cure diseases before they cause exorbitant harm. It's also a great example of how a worldwide collaboration can solve problems in a matter of months. The medical benefits of the kit will surely make life easier for many Ethiopians, among others around the world.
Featured image courtesy of Flinders University.