Having acquired the world's largest polymer 3D printer, University of Maine is already putting it to record-breaking use. The University's Advanced Structures and Composites Center has just created the world's largest 3D printed boat out of a combination of cellulosic nano and micro fibers with thermoplastic materials. The ground-breaking research has shattered multiple Guinness World Records and received notice from public officials, researchers and military personnel.
UMaine's Advanced Structures and Composites Center shattered 3 different records with one print on October 10th. In one fell swoop, they acquired the records for world's largest polymer 3D printer, largest solid 3D printed object and largest 3D printed boat. The unveiling of the boat brought in more than 250 federal and state officials, business executives, University of Maine System leaders and community members. The ceremony was also a major milestone for 15 years of research in advanced materials and composite 3D printing.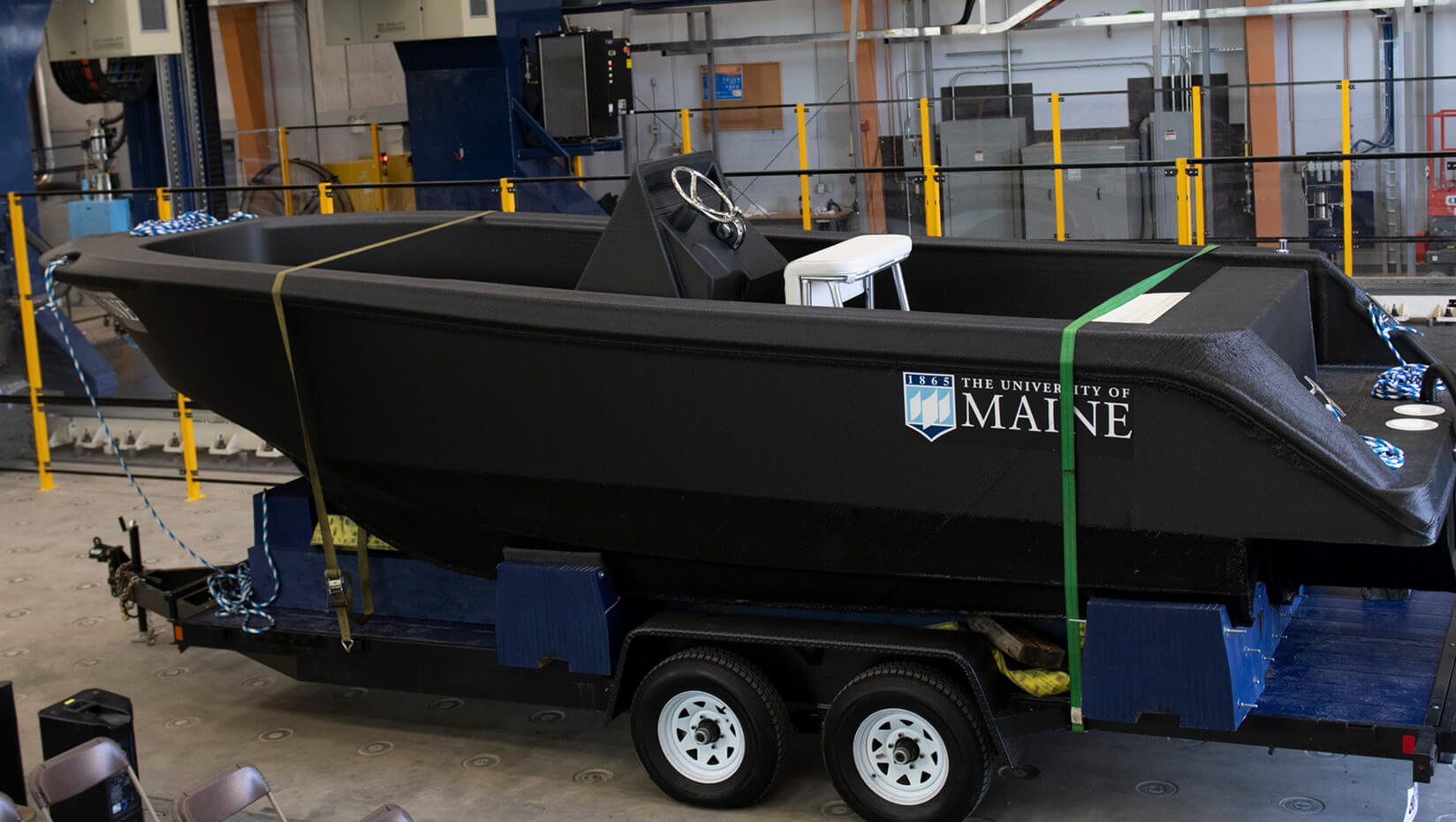 This boat was partially a test for UMaine's new additive manufacturing set-up. The new 3D printer can print objects as long as 100 feet by 22 feet wide by 10 feet high. It also offers print speeds of about 500 pounds per hour. This unique printer is slated for several ambitious initiatives, including development of biobased feedstocks using cellulose derived from wood resources. It is also a major tool in rapid prototyping of civilian, defense and infrastructure applications.
Given the name 3Dirigo, this 25-foot and 5,000-pound 3D-printed boat underwent testing at the Alfond W2 Ocean Engineering Laboratory. It managed to pass with flying colors at the offshore model testing facility hosting a high-performance wind machine over a multidirectional wave basin. However, the boat isn't just a big deal due to its size or performance. It also marks a major achievement in applications of environmentally friendly materials and sustainable production.
Advanced Materials Research & Boat Printing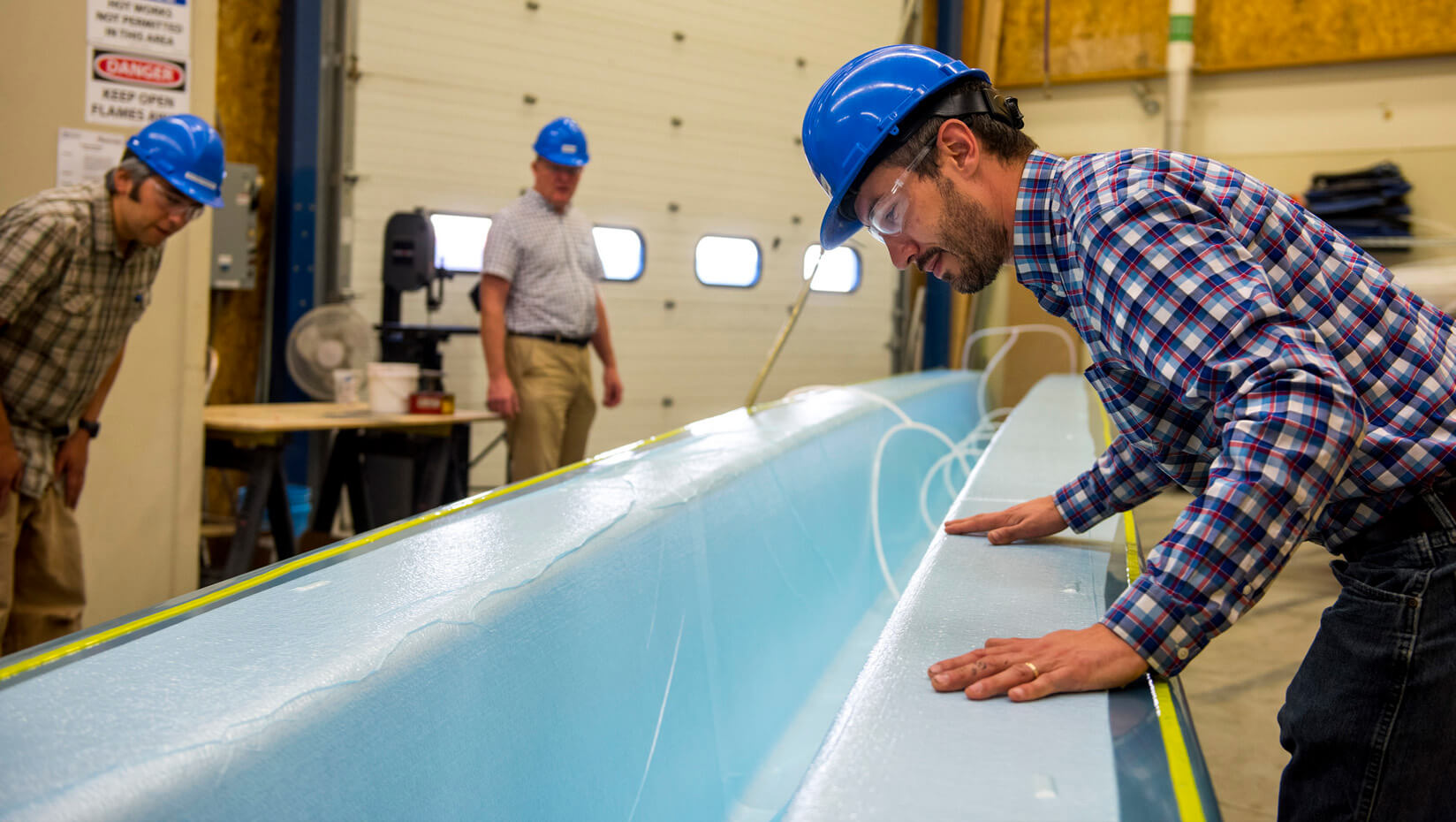 UMaine 3D printed the 25-foot boat with a hull form developed by Navatek, a leader in ship design and a UMaine Composites Center industrial partner. Using plastics with 50% wood, the boat molds and components are much faster to produce, while also being more economical compared to today's traditional subtractive methods.
Since Maine boatbuilders cannot undertake the costs of acquiring a large-scale 3D printer and testing new feedstock materials, the UMaine Composites Center and the Maine boatbuilding industry take over for them by testing new materials with their designs. These new techniques help Maine boatbuilders increase productivity and reduce costs.
Biobased feedstocks are recyclable and economical, providing competitive advantages for Maine's manufacturing industries. Moe Khaleel, associate laboratory director for Energy and Environmental Sciences at ORNL states that the new equipment will accelerate application and integration of our fundamental materials science, plant genomics and manufacturing research to the development of new sustainable bio-derived composites, creating economic opportunity for Maine's forest products industry.
The combination of additive manufacturing and cost-effective, bio-filled materials is a potential game-changer for Maine's boatbuilding industry by reducing the cost of marine tooling by as much as 50 percent. James Anderson, senior research and development program manager at the UMaine Composites Center
Further Applications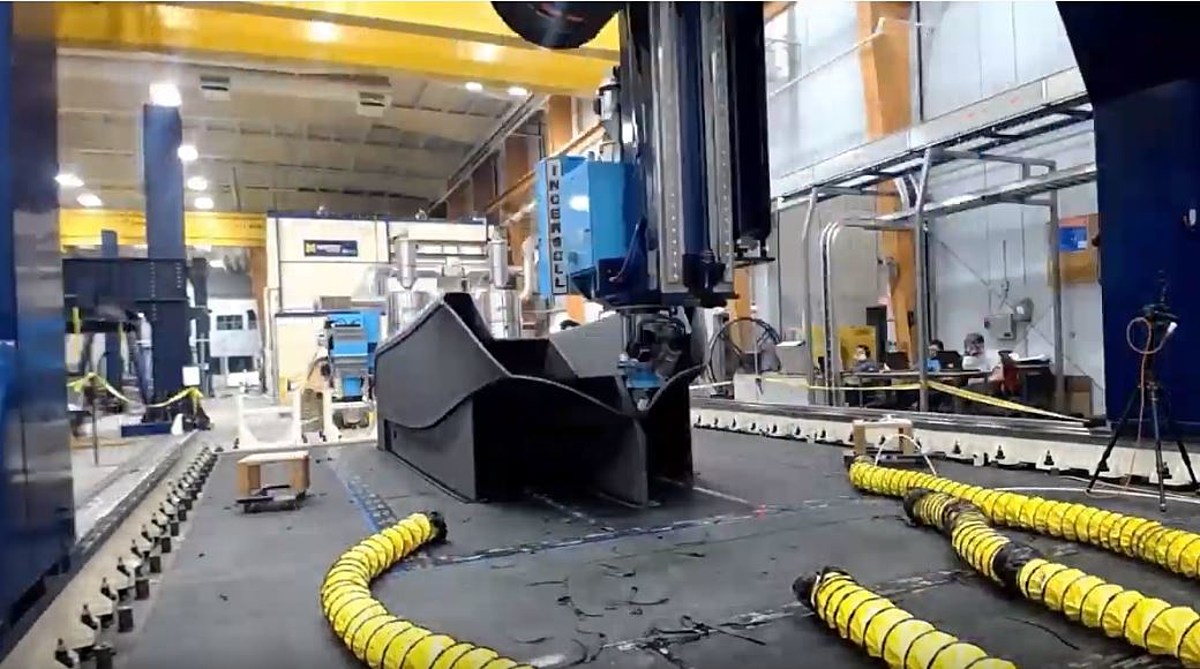 As previously mentioned, the boat has attracted the interest of many different industries outside of just boatbuilding. Various senators and military officials were also present at the event and have praised the design. This included Senator Susan Collins, a senior member of the Senate Appropriations Committee, who helped secure $20 million for this collaboration, along with an additional $20 million in the committee-approved energy funding bill.
"I was delighted to join UMaine's celebration unveiling the world's largest 3D printer and largest 3D-printed object," said Sen. Susan Collins. "The future of the [UMaine] Composites Center is bright, thanks to the excellent working relationship between UMaine, Oak Ridge National Laboratory and many other federal agencies, which will support next-generation, large-scale additive manufacturing with biobased thermoplastics."
The research in question focuses on cellulose nanofiber (CNF) production, drying, functionalization and compounding with thermoplastics. According to UMaine, by placing CNF from wood into thermoplastics, bioderived recyclable material systems can be developed with properties that may rival traditional materials, possibly including metals. Military officials also noted that the method has definite applications in their various departments.
The U.S. Army Corps of Engineers will be working with the 3D printer in developing low-logistics infrastructure systems. This includes a 5,000-pound, 21-foot-long 3D-printed mold for a new 76-foot-long composites bridge girder. The girder has been licensed to a UMaine spinoff company, Advanced Infrastructure Technology
"The innovation that we have witnessed here at the University of Maine will revolutionize how the Army prototypes and manufactures shelters, vehicles and other large systems," said Col. Frank Moore, military deputy for the CCDC Soldier Center. "The lighter yet stronger 3D printed systems will advance the state of the art in additive manufacturing, forging the future of expeditionary equipment IAW with the Army's new policy on advanced manufacturing."
Featured image courtesy of University of Maine.