The sports equipment manufacturing industry and its ancillary arms is annually worth around $300 billion worldwide. Additive manufacturing sporting goods has distinct advantages compared to traditional manufacturing methods.
3D Printed Sports Equipment
While many might be familiar with the various 3D printed sneakers by Adidas and New Balance, there are many applications outside of just wearables. Recent cases have propelled the technology towards more important developments within sports equipment manufacturing. In fact, the technology takes on some more complex goods and accessories, providing designs that would be otherwise impossible.
Here are some of the most interesting ways 3D printing is providing new possibilities for athletes and manufacturers:
Lighter Equipment
Just like with racing-grade vehicles, what would seem like pedantic weight changes can be the difference between 1st and second place. This is especially the case with metal parts like bicycle frames, which is why Sir Bradley Wiggins and Sheffield University opted for a more novel approach. Using an Arcam DMLS system to sinter titanium handle bars, they were able to give the bicycle a perfect balance of durability and weight. This made the difference and allowed Wiggins to easily beat the UCI Hour record, which measures the furthest distance a rider can cycle within an hour.
It wasn't just a case of lighter material density. The design also allowed them to give it a shape with better aerodynamics. "The key is to manage the airflow around the bike so the different components of the bike disrupt that flow as little as possible," said James Hunt, a University of Sheffield Mercury Centre research associate and one of the developers of the 3D printed handlebars. "Because the handlebars hit the airflow first it's absolutely critical to perfect that part of the design. 3D printing allows us to make shapes that optimise this aspect that would be very hard to achieve using other manufacturing techniques."
Lighter footwear and guards are also increasingly common, allowing athletes to sprint faster. These not only improve speed but can also reduce the strain the body puts on itself while maintaining a standard of safety. It also benefits manufacturers because it can severely reduce material wastage and improve production times.
Enhanced Customization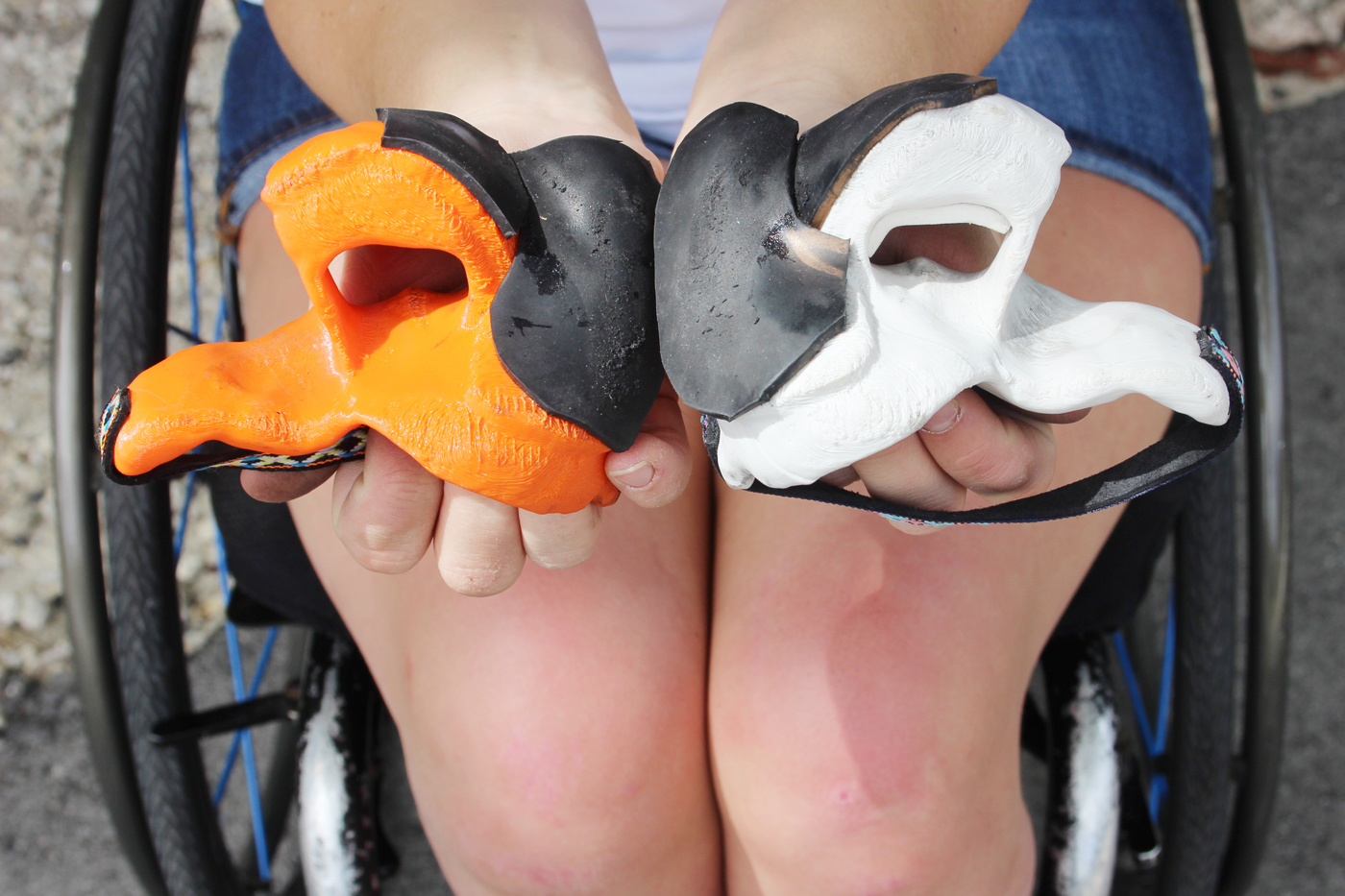 Looking to put a personal twist on your equipment? Companies like French brand Grismont can customize 3D printed sporting goods to your exact specs. They provide unique and tailor-made golf clubs in all sorts of colors with insignias and casings. Of course, while this is more of a luxury concept, customization can also be crucial. Nowhere is this more apparent than with athletes who have disabilities.
Similar to the bicycle case mentioned previously, the paralympic athlete Florian Jouanny also utilized lighter 3D printed handle bars although with certain difference. Aside from being lighter, they also made using the bicycle easier for use, tailoring it to his specifications. The team at Athletic 3D scanned and measured the level of force he was applying and adapted the design accordingly.
The 2012 Paralympic games also used 3D printed seats for wheelchair basketball, individually customizing each for the athletes so that they are optimised for their body shape and movement. The Great Britain wheelchair basket ball team used these products and managed to reach fourth position. Another case comes from Arielle Rausin, who designs and prints her own set of wheelchair racing gloves. She scans her hand as a digital file and printing custom fit 3D printed plastic racing gloves. In both cases customization decreases discomfort and caters to exact body specifications, which can be crucial for disabled athletes. The same goes for wheelchairs and prosthetics, which are also more economically efficient to print.
Better Safeguards & Accessories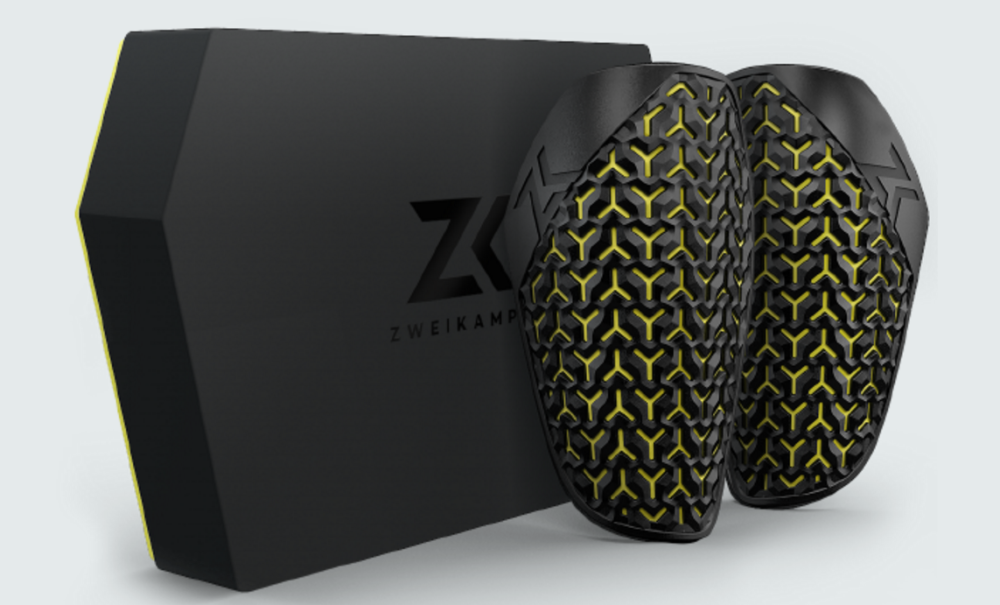 Companies like Austrian startup Zweikampf have carved out a niche for themselves with 3D printed sports equipment. The company provides shin guards for soccer players, most famously supplying these protective products to Austrian players. Similarly, Cavendish Imaging aided multiple English soccer players in building more comfortable protective masks for training and safer play. These sorts of measures are more robust and severely save the downtime players have to undergo due to injury or strain.
3D Printing Safer NFL Headgear
The NFL has had quite some discussion pertaining to player injuries and how best to diminish these with better equipment. Nowhere is this more pronounced than protective headwear, with a lot of research into combatting head injuries. By scanning the precise geometries of a player's physique, they can customize the equipment to optimize protection. The precise measurements aid to fill in the exact space between the helmet shell and head.
The image above displays the 3D printed lattice structures inside Riddel's helmet which were developed by Carbon. What makes 3D printed lattices so great is that the material can be soft and squishy at one end and inflexible on the other. Additionally, the lattice structure helps maintain a lightweight yet force absorbent design.
The NFL and its partners will convene at Youngstown for the the league's Helmet Challenge symposium from Nov. 13 through 15 2019. At the event, the league will showcase the latest in sports equipment and safety research, hoping to make the country's most popular sport safer.
The Helmet Challenge is looking to award up to $2 million in grants for a prototype 3D printed helmet. The companies are also looking to give out a $1 million award to further develop the final 3D printed helmet design the NFL will use. The grants will go out to the winners in March, with the deadline for submissions May 2021. Currently, over 250 entrants have registered for the symposium. There are many other offerings at the symposium as well. The NFL has awarded grants cumulatively worth more than $1.6 million for various projects including padding on the outside of helmets developed by VyaTek Sports and an experimental playing surface created by FieldTurf.
Simulation & Scanning Equipment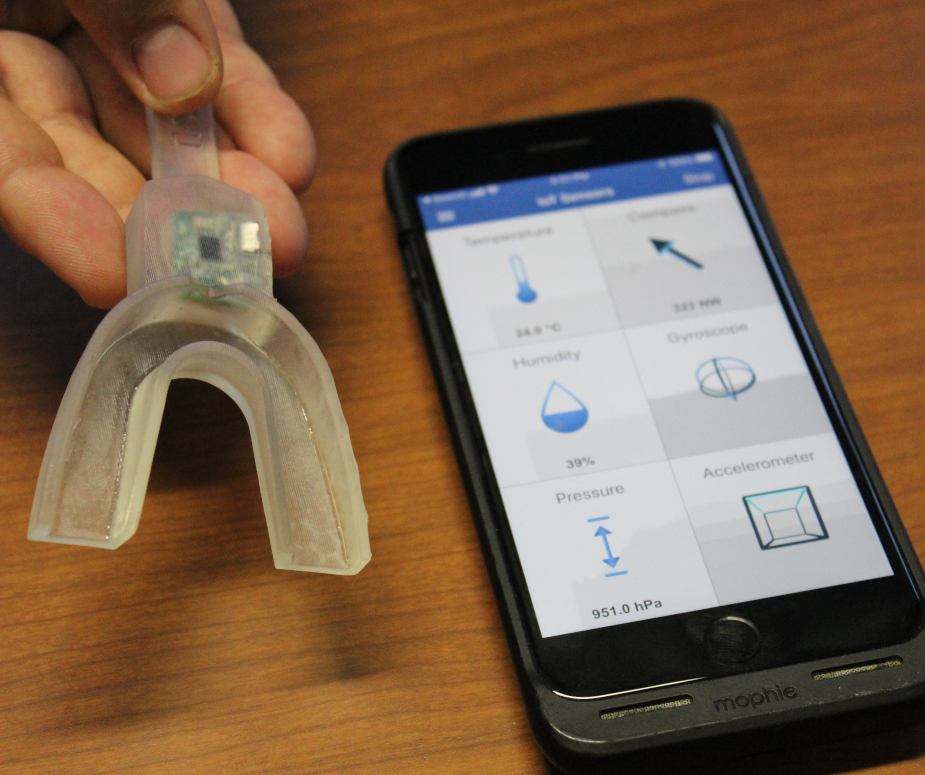 A large part of 3D printing and developing new equipment is collecting data and simulating its effectiveness. One of the key pieces of equipment that could aid in these efforts is a smart mouthguard fitted with a sensor that measures movement, acceleration and other metrics that help calculate force and impact.
Engineer Eric MacDonald has been working on the aforementioned mouthguard. The sensor within the device provides crucial data so that researchers can gauge the impact of hits on players. This allows them to create new models based on the impact data, simulating how best to develop new safety equipment. This data can factor in greatly to the design of future 3D printed components.
Another use of simulations that massively benefits NFL players came courtesy of the 3D printing experts at Cardiff University. The team used complex computer simulations to design "C3", a multi-layered, elastic liner for protective wear with high energy absorbency. They now propose to combine their energy-absorbing structures with their emerging knowledge of visco-elastic material behaviour to create a helmet liner that is effective over a greater spectrum of impact energies.
Computational modelling allows us to analyse the performance of a wide range of geometries, to identify that which has the potential to protect the head against a greater breadth of collision speeds than current helmets. Our skills in additive manufacturing now enable us to build these complex designs, making these high-performance materials a reality. Dr Peter Theobald, Project leader and Senior Lecturer at Cardiff University
From running to football to fencing, 3D printing is innovating the manufacturing of sporting goods. The convenience, customization and quality is drawing more and more companies towards it. As the technology gains more traction, we expect to see more athletes sporting additively manufactured accessories.
Featured images courtesy of Zweikampf, University of Sheffield, Pinarello & Arielle Rausin, the NFL & Business Journal.