In a collaboration between automation company Tradiebot Industries, automotive aftercare firm AMA Group, and the Swinburne University of Technology, a lug was 3D printed directly onto an automotive headlamp. The "Repairbot" project is backed by the non-profit Innovative Manufacturing Cooperative Research Centre (IMCRC) that seeks to lift Australian companies into the global spotlight.
The goal of the project is to develop a 3D printing workflow that can provide same-day, low-cost automotive repair services and be rolled out commercially. Dr. Mats Isaksson is the lead engineer of the Swinburne robotics team and responsible for the design of the system. Unlike most industrial 3D printers that have an extruder attached to the end of a robotic arm, the Repairbot is arranged the other way around; a robotic arm holds the headlamp and moves it under a fixed extruder. This allows the headlamp to be twisted and rotated by the robotic arm, meaning the system can 3D print walls at any angle without the need for support material.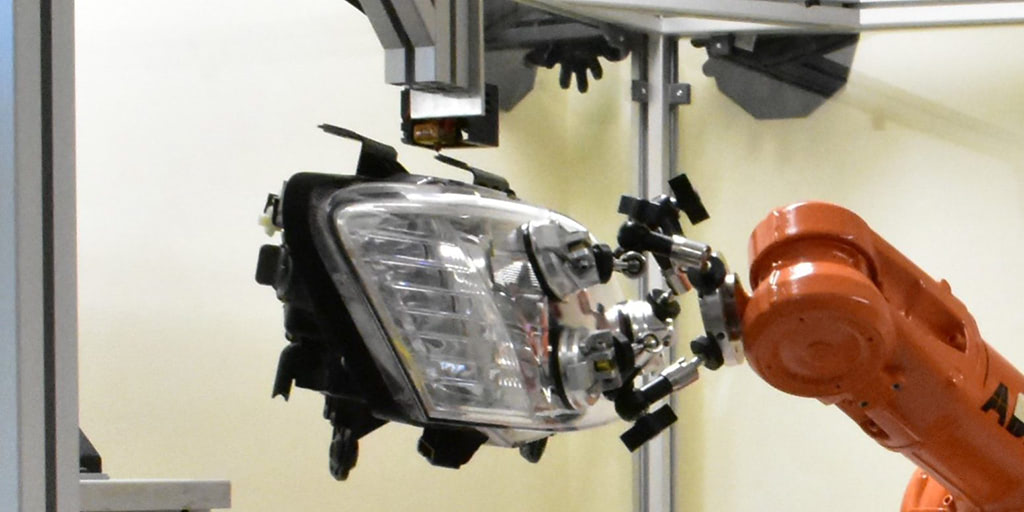 New Materials for New Applications
Dr. Mostafa Nikzad, a materials scientist at Swinburne, developed a polypropylene composite that has ideal 3D printing traits and is compatible with automotive-grade injection molded plastic. As such, complex geometries can also be 3D printed on and around the existing contours of an automotive component. "The truly cross-disciplinary nature of this project has made it possible to develop new materials and methodologies hand-in-hand with the novel robotic solutions," said Dr. Isaksson.
Theoretically, using 3D scanning, the Repairbot system could compare a damaged part with a 3D model of the original part and then automatically 3D print on the part to make it perfectly match the 3D model, affecting repairs with little to no human intervention. A fully automated automotive repair 3D printer would greatly reduce material and labor costs while also reducing downtimes of the damaged vehicles.
Repair and Reuse with 3D printing
Mario Dimovski, founder of Tradiebot, explained the potential of the project, "The Repairbot will allow repairs to be conducted on damaged automotive plastic parts not currently repairable by technicians. The benefits will affect repair shops, consumers, and flow on to the environment, diverting these damaged parts from landfill. It's a win-win for everyone."