DLP printing has opened up a ton of usages for photopolymer-based 3D printing, providing highly accurate models and medical appliances. DLP, however, is only as good as the resolution on it's light array or projector. This has led to a bit of an arms race in achieving the highest control per pixel on printers. As a result, EnvisionTEC is upping the ante with a true 4K DLP printer with AI controls in its arsenal. Their Perfactory P4K is on display at formnext, in Frankfurt, Germany running from November 11-13, 2018.
While EnvisionTEC has been making complex DLP machines for a while, this appears to be the next level. It's the world's first DLP machine with a 4K projector, giving it a higher resolution for processing photopolymers. Additionally, the AI controls allow for the creation of high-resolution prints through precise pixel control.
"The P4K is the highest resolution advanced DLP printer with the largest build envelope and deploys artificial intelligence in pixel modulation to deliver the highest accuracy parts with the smoothest available surface finish in the 3D printing space," remarked EnvisionTEC CEO Al Siblani, "This will deliver the next level of production-grade 3D printing solutions".
The Perfactory P4K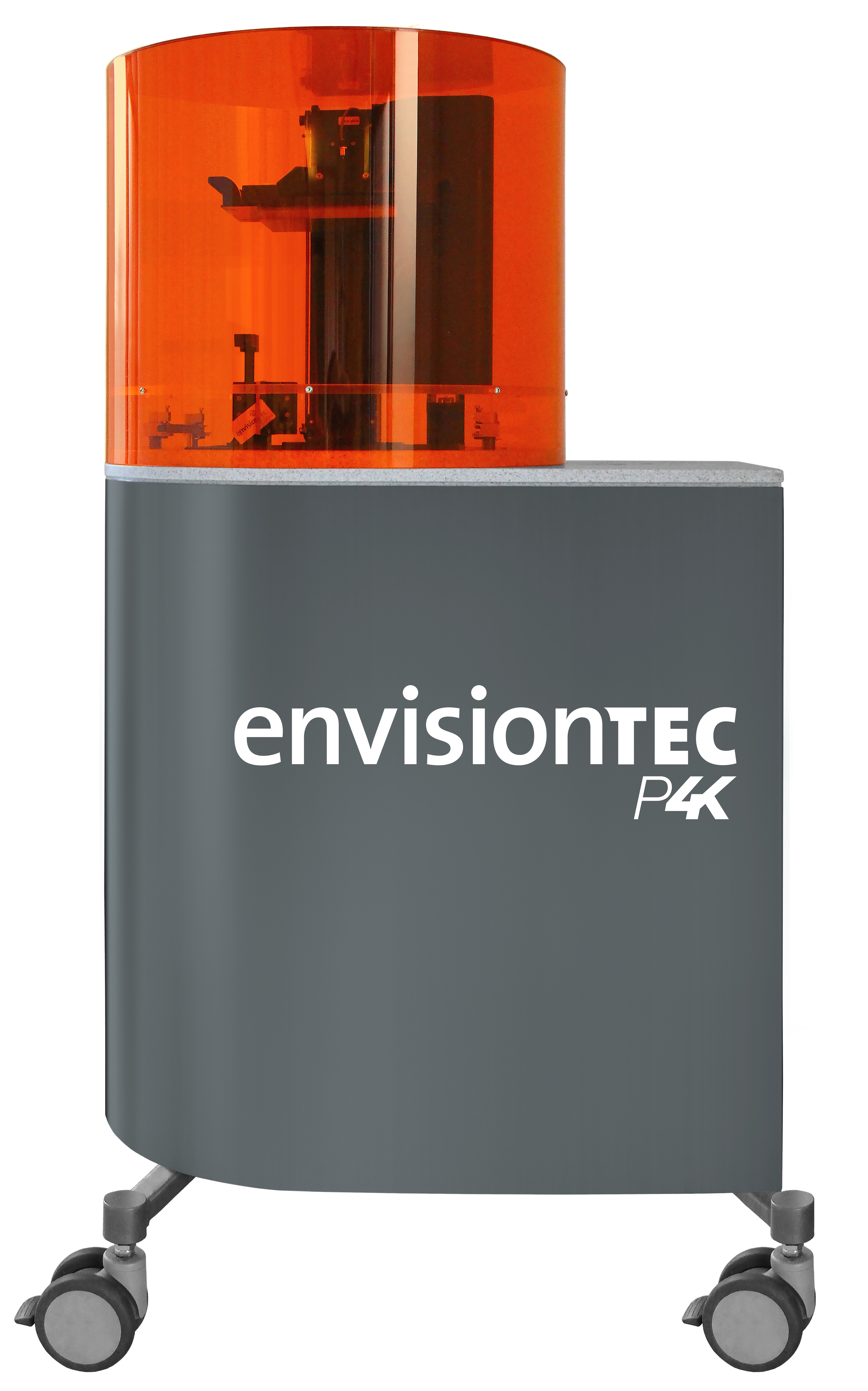 The sleek looking slate gray body houses an impressive projector resolution of 2560 x 1600 pixels. The Perfactory will be a line of 3D printers showcasing one of the most versatile a large portfolio of materials to meet specific needs in a diverse set of environments. EnvisionTEC has already made all of these material formulations ready for use on the P4K in production capacity.
The Perfactory P4K is available in 3 different resolutions. The P4K62, as the name suggests, uses a 62 µm resolution and a build envelope of 160 x 100 x 220 mm. Similarly, the P4K75 uses a 75µm resolution and a build envelope of 192 x 120 x 220 mm, while the P4K 90 employs a 90 µm resolution and a build envelope of 233 x 141.5 x 220 mm.
The P4K systems will serve as a DLP-Based 3D Printer utilizing a true 4K projector with UV optics tuned to 385nm wavelength. They also feature an AI for pixel modulation, delivering the highest accuracy 3D printed parts with ultra-smooth surface finish. With Formnext approaching, we'll be sure to keep an eye out for this game-changer.
Featured image courtesy of EnvisionTEC, retrieved via APnews.