Plastic waste is a huge problem for the world, which is why many companies are looking to reduce their environmental impact by adopting recycled plastics in their manufacturing processes.
There are two main approaches to the option of using recycled thermoplastics in additive manufacturing. You can either buy recycled plastic feedstocks off the shelf, or, you can shred your own plastics into flakes to make your own feedstock.
Thankfully, the huge MAGNUM granule/pellet printer from Swedish printer manufacturer Industry allows for both options thanks to its open material capabilities and highly configurable printer settings.
Read on to know more about this huge granule/pellet printer, built with the circular economy firmly in mind.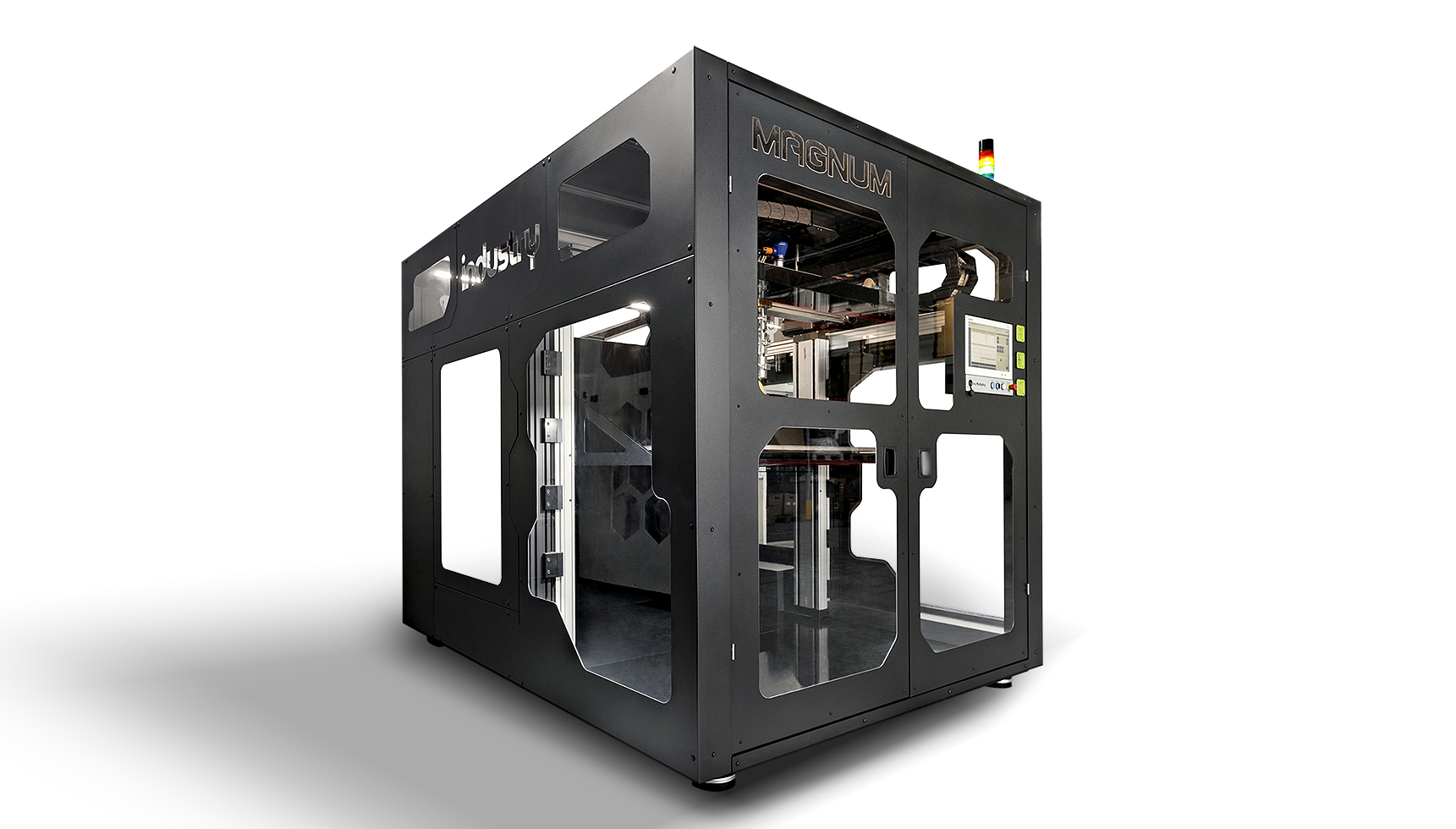 Scale up Your Granule Printing Game
Let's start with the dimensions of the MAGNUM.
Measuring in at a huge 2900 x 2200 x 2350 (mm) and weighing a hefty 2500kg, you can tell from the start that this is sized for industrial applications, and you'll be needing some mechanical handling equipment (and a fair bit of space) to get this beast located in your factory or workplace.
Their patented vacuum print bed measures in at 1500 x 1200 x 1200 (mm) allowing you to print objects up to a volume of print volume of 2.16 cubic meters. The sturdy structure, rigid platen and rugged motion system allows the printing of items weighing in at a substantial 350kg.
The vacuum table heats up to a toasty 165 C°, reducing the warping during printing and allowing consistent quality results.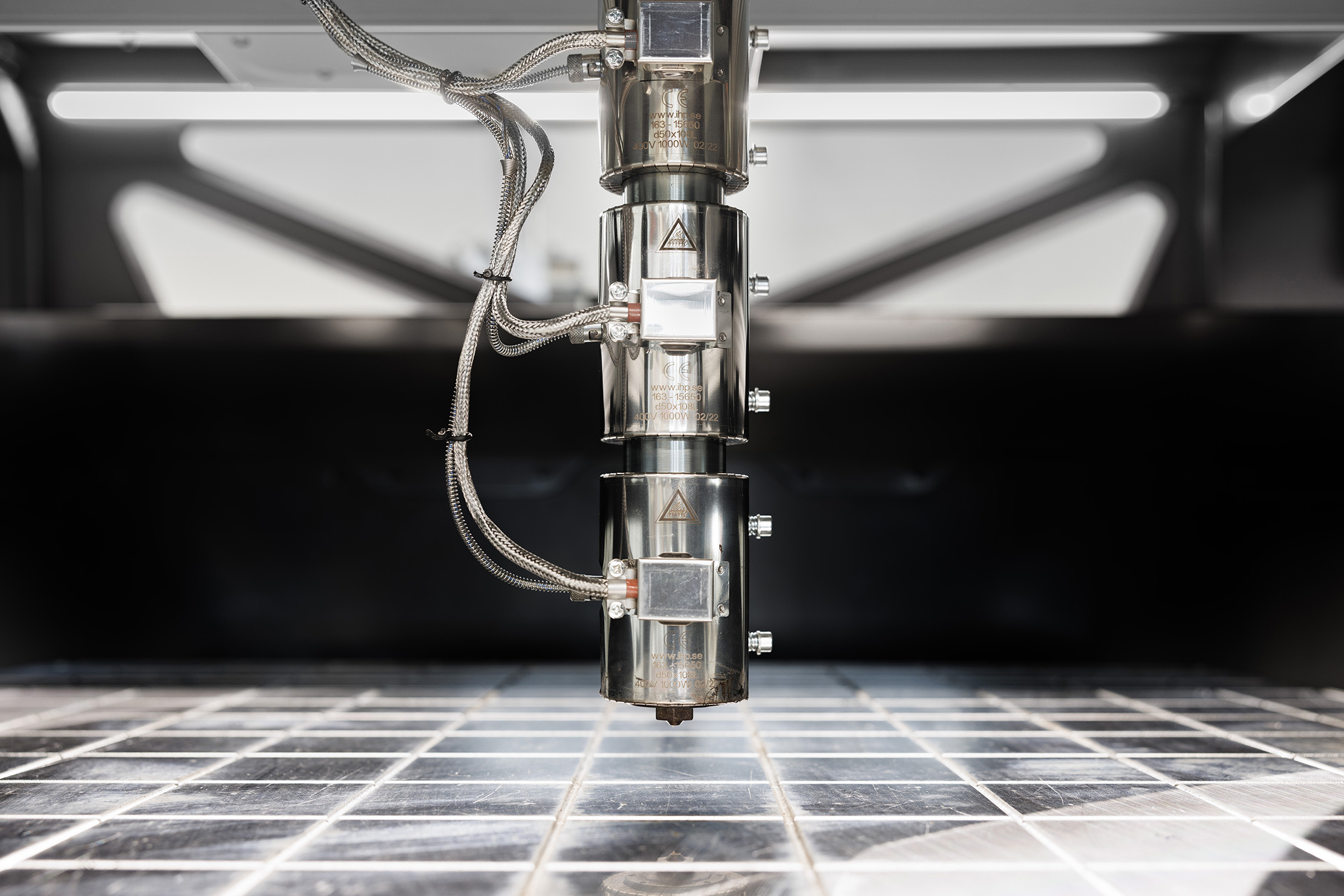 The MAGNUM is not only a gargantuan printer but it has excellent motion qualities also.
Thanks to the Bosch Rexroth MTX controller and high end linear components the MAGNUM has movement speed of up to 850 mm/s allowing print speeds of an eye-watering 600 mm/s.
These speeds are reached while maintaining accuracy of the linear modules of 0.001 mm.
Extruder System
The extruder features an air cooled nozzle, which helps to remove heat from the object to prevent melt and collapse of print. Air cooling can aid with faster printing on certain materials too.
Using granules/pellets instead of filament has many advantages when you want to print large – including cost effectiveness, leading to as much as 10x lower cost compared to filaments.
The MAGNUM handles nozzles between 2-8mm and has an average output between 1-8kg/h.
MAGNUM Material Compatibility
MAGNUM accepts granules, pellets and shredded feedstock to expand and accelerate output, while reducing cost when compared to filament. MAGNUM prints with a variety of open source plastics, including RPP, PETG and RPLA. Filled plastics containing common additives such as wood fibers, glass fibers, carbon fibers and EPDM are also printed with ease.

Using granules/pellets instead of filament has many advantages when you want to print large. It allows higher output, and It can sometimes be as much as ten times cheaper than equivalent filament.
Recycled feedstocks tested with the MAGNUM include Ocean Tide PP, EcoRub tyre rubber, Ekbacken Fishnet Nylon, Reflow PLA, and Addnite P15R.
Yes, it can even print recycled tyres – nice!
100% Circular Mindset
As you can see, the MAGNUM is offering a solution for those who wish to produce large scale parts, with easily available and open source recycled materials.
AM enables on-the-fly innovation and on demand manufacturing not possible in traditional manufacturing chains. Adding the option to use recycled materials to a workflow keeps costs down also, especially if the processing into feedstock can also be done in-house.
You can read more about the MAGNUM in more detail, over at the Industry website at this link.
Formnext 2022
The Industry will attend Formnext Expo in Frankfurt on November 15. Their MAGNUM large scale recycling powerhouse 3D printer will be on display and hyper-active inside their booth.
If you are at Formnext 2022, then check out The Industry at booth 11.1-B68.