Prodways is a company that might be very familiar to those following the developments in AM technologies. Aside from pioneering MOVINGlight printing tech, Prodways has procured many partnerships with various other companies such as Farsoon Technologies and 3DCeram. Now, they appear to have added another feather in their cap. Recently, Prodways has announced the invention of a new metal printing method called Rapid Additive Forging.
Rapid Additive Forging refers to a metal deposition method that makes use of technology that appears similar to directed energy deposition. In DED methods a laser heats a material or wire on top of an existing object, soldering them together. The printer uses robotics fitted with a deposition system that secretes molten metal within an inert gas chamber. The use of a chamber is quite reminiscent of S-Titanium pro by Aurora, which also has a DED mode.
As the molten metals conjoin layer by layer, they form a series of tangles. As a result, the process leaves a net-shaped blanks that the machine can arrange into the final structure. The company is particularly aiming the method at titanium printing for aerospace. As of yet, the company is attempting to increase print sizes and volumes. This 3rd generation of the technology can print 70 cm (27.6 in) in size, while the company wants it to go up to 2m (6.6 ft) in the next generation.
Advantages of Rapid Additive Forging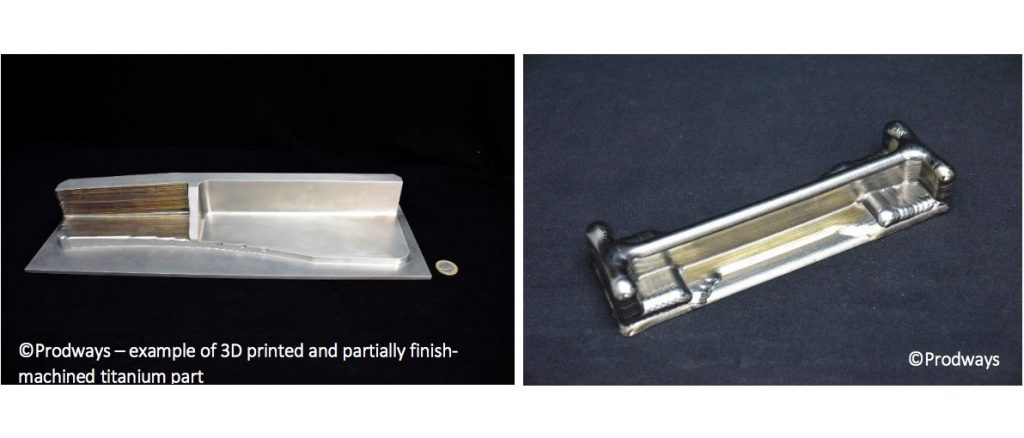 RAF, as the name suggests, is a swift production method. Prodways claims that the method can produce parts within a few hours. As with most DED methods, it provides a significant degree of control and accuracy down to bare millimetres.
Seeing as how they plan to apply this technology to aerospace one can assume that the prints are very durable. The company has noted that the parts they printed have very little porosity as compared to other laser methods. The technology can also be applied to a variety of different high strength metals.
Another advantage is the lack of material waste. According to Prodways' own press release: "Several players in the aeronautical industry believe this technology family could be applied to nearly 50% of the titanium parts used to manufacture an aircraft and generate savings of up to 50% on the cost of parts."
Images courtesy of Prodways' online resources.