A Winona, Minnesota-based foundry called Alliant Castings is using a Cosine Additive AM1 large scale 3D printer to do pattern making for their production fulfillment. The industrial-grade 3D printer enables them to fabricate pattern molds at a fraction of the cost of a traditional pattern maker while saving them time as well.
After acquiring an aftermarket product line, Tom Renk, Owner of Alliant Castings, searched for ways to modernize the tooling process. "To defray the cost of traditional pattern making methods, that's when we looked at 3D printing. We'd literally have a traditional pattern maker here everyday if we hadn't had this capability," he said. "The ability to respond a lot quicker benefited us."
The AM1 is not your standard 3D printer. It can build parts as large as 1,100mm x 850mm x 850mm, and it uses machined ballscrews, an advanced motion controller, and high-end servo motors to achieve 50nm positional accuracy and movement speeds of up to 250mm/s. The extruder can receive spooled filament and plastic pellets, and it can reach 500°C, allowing it to handle every material and polymer mixture. Using filament, dual and tandem extruding is also possible. Using the pellet extruder, the AM1 can output 20 pounds of material per hour, a blistering rate. The aluminum bed heats up to 200°C and the build chamber can be held at 100°C, reducing warping and shrinkage.
All of those features are necessary to keep up with the demands of a foundry. Kevin Kauphusman, a pattern caster at Alliant Castings, commented on using the AM1, "The costs went way down, it saves a ton of time. It's really changed our whole industry with the 3D printers as far as production, prototypes, all kinds of things. It just saves so much time, money – everything, all the way around."
"The machine, from our experience, is built more robustly, much more industrial," said Renk. That's incredibly important in his industry where reliability and precision are equally important. Even the best machines need occasional servicing, though, and Kauphusman feels Cosine has his back, saying "The service from Cosine is definitely one of the best. It really helps to run theses machines, to the best ability we can, if the guys are behind it, a phone call away. It's definitely the best service out of any 3D printer I've ever experienced."
Cosine Additive AM1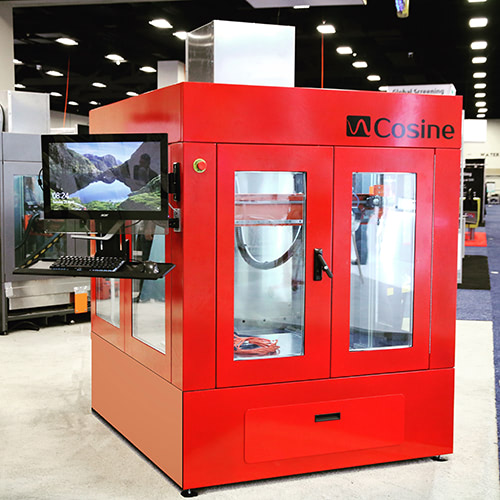 Cosine allows you to choose between multiple extrusion options. The pellet extrusion system offers flexibility and cost savings. Instead of being limited to only 10 - 20 different kinds of plastic in filament, powder or resin form - with pellet extrusion you have the entire market at your disposal. So tens of thousands of different types of plastic from the injection molding and extrusion worlds are all available for you to print.
Features:
- High speed printing: up to 1000 mm/s
- Improved humidity controlled filament spool chamber
- Closed and temperature controlled print chamber and bed
- ACS High Performance Multi-Axis EtherCAT motion control system
Price:
$125,000 - $150,000
Manufacturer:
Cosine Additive
Manufacturer country:
USA
Industry:
Aerospace, Automotive, Boating, Construction, Defense, Sign and graphics
Application:
Mold Making, Production, Prototyping, Research and Development, Tooling
Print size millimeters:
1100 x 850 x 850 mm
Print size inches:
43.3 x 33.4 x 33.4 inches
Printable material(s):
ABS, PLA, PETG, TPU, PC-PBT, Carbon Fiber and Glass composite materials, up to 800+ materials