3D printing has found itself in increasing use in the restoration and renovation field. As it has applications in bringing the past back to life, why not also archaeological replications? Well, that's precisely what Materialise is doing now, with a project for the Belgian Institute of Natural Science. They are lending their 3D printing expertise in helping to recreate a once incomplete Lier Mammoth skeleton. Fittingly, the company is using its "Mammoth Stereolithography" printers to get the job done.
The project will allow the institute to put back up the exhibit and present a 3D printed wonder to its visitors. The original skeleton had been at the institute since 1869, but no longer represents the modern scientific understanding of the anatomy of the Lier Mammoth. For example, the tail is a lot longer in the original than we know it to be now.
It also presents the institute with an opportunity to add certain elements missing from the original, such as the left tusk. Gertjan Brienan, Project Manager at Materialise, explains the process: "We mirrored the right tusk and recreated it in Materialise 3-matic to achieve a more precise replica than the wooden tusk that was used to complete the original skeleton. This means the 3D-printed mammoth will be more scientifically accurate than the original."
Bring the Mammoth Back to Life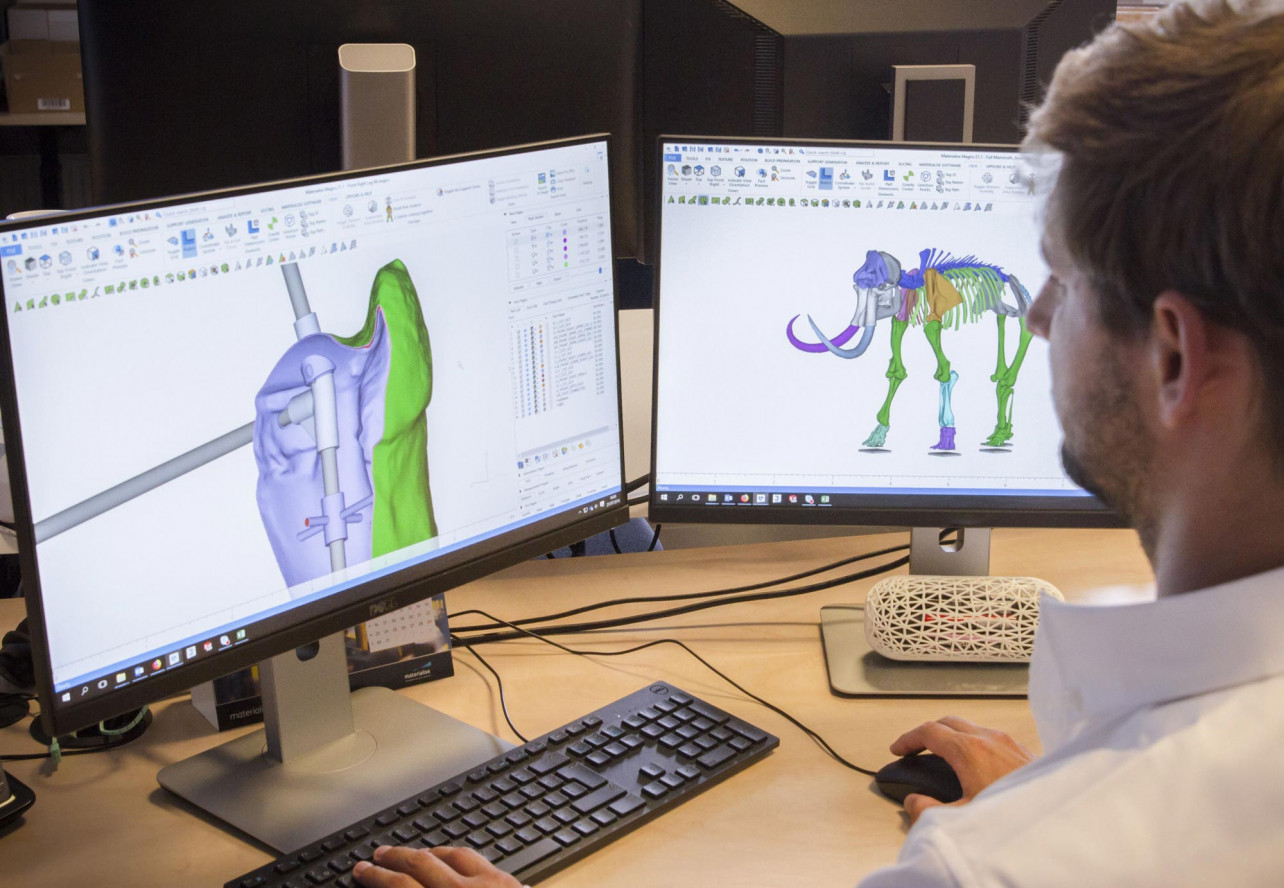 Creating the bone structure for a creature from the distant past is no easy feat. For one thing, the data can be lacking and modern fossils may not be as complete as one wants for reference material. Materialise had to check in with the resident palaeontologist at the institute to brush up on their mammoth anatomy. With the help of experts, they mapped out all 320 bones for this gargantuan creature using the Materialise Magics software.
They then had to update the foundation and support for the original skeleton, built in the 19th century. This is where the update really shines in its innovation. Materialise opted to change things up by using a network of modular carbon tubes that merged with the bones themselves, holding them upright. Materialise subsidiary company, RapidFit, was instrumental in developing this aspect.
The project is already underway but it will take a month to complete fabrication. Even then, the job is only partly complete. The companies will then commence a finishing paint job to make it look like the real thing.
Featured image courtesy of Materialise.