Silicon Valley-based Meta has been in the AR game for quite a while. As a follow-up to their original Meta 1 (in collaboration with Shapeways), the company has released Meta 2. The new addition to their line of AR development kits sports a lot of improvements that make the design process far more efficient. The company is also releasing the Beta app for download. It improves file sharing and lowers design info loss from converting 3D CAD models into AR-ready files.
"The Meta 2 headset and Meta Viewer Beta combination provides our customers with the most immersive, real-time visualization and interaction with 3D designs and models. Utilizing these products drastically changes the product development lifecycle by reducing costs and saving time through quick and easy collaboration," said Joe Mikhail Chief Revenue Officer at Meta, pictured below. "The result is faster time-to-market and decreased customer acquisition cost."
Mikhail showcased the new features of the app and the headset at SWW 2018. The new additions included collaboration and voice command modes. The Meta viewer beta app will soon be available for download.
AR Visualisation with Meta 2 Development Kit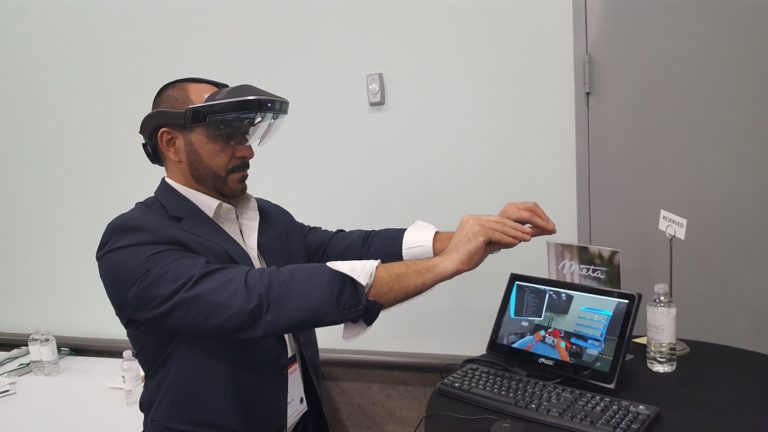 We've previously covered how AR, VR and 3D printing are converging as rising technologies through mutual benefits they provide to each other. The ability to interact with 3D CAD models in an AR environment shaves a lot off of the production time. It also allows for users to view models in a 1:1 scale, providing a better preview of the eventual print-out.
The company has designed the tool and the software to be as accessible to new users as possible. Since it uses the human motor functions as a core mechanic, it is easier to gain a grasp of. Aside from that, it allows for the application of views and animation modes. This also includes various viewing capabilities like an exploded view, scaling and various others. The company has even added display states with for different material and part configurations.
Featured image courtesy of Meta.