For the aspiring manufacturer, 3D printing has often been lacking a certain aspect of the factory floor. Aside from production speed, additive manufacturing companies have been trying to establish continuous infinite build workflows for years now. The newest novel approach appears to be in the form of the Robot Factory Sliding-3D printer. The belt system makes it ideal for creating small series prints and/or longer single items.
Italy-based Robot Factory showcased its Sliding-3D printer at Maker Faire Rome this year. The impressive device can build continuously and move the complete prints forward on the belt as it goes along. Since the printer is not quite factory-size, they call it a "desktop factory". The 3D printer is also time and cost-efficient in comparison to other FDM devices, according to the company.
Conveyor Belt 3D Printers
As the concept is not entirely new, the company had to shake things up, and they did this in many ways. The set-up of the print offers some interesting quirks worth noting. Aside from the belt itself, the Robot Factory Sliding-3D uses a 45° angle extruder. Additionally, while there are many similar devices, it's rare to see one that is both compact and comes with an enclosure. It also comes with an "External Pad" that allows you to manage the printing job even without a computer connection.
Additionally, the bed / belt even comes with a heating feature. Since the extruder can reach 280 °C, the combination with the heated bed and the enclosure gives it a good environment for many specialty materials, as well as many default thermoplastics without the mess of warping and heat loss. The 3D printer provides a standard resolution of 0.15mm thickness per layer but also has 0.4mm, for finer details, and 0.6mm for large, high speed prints.
Specs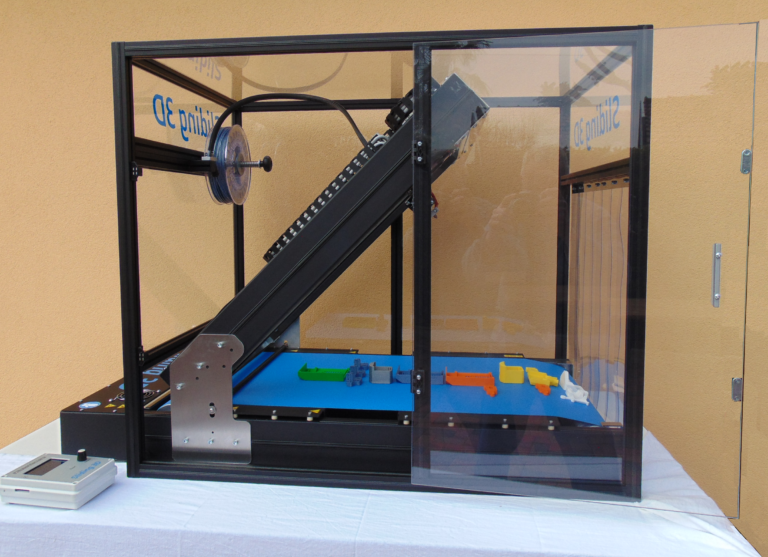 Technical specifications: Robot Factory Sliding-3D
Featured image courtesy of Robot Factory.