The Combat Capabilities Development Command Army Research Laboratory (CCDC ARL) sure loves additive manufacturing, as we have shown in the past.
Their latest venture into AM involves a partnership with Raytheon, Penn State Applied Research Lab, Johns Hopkins University, and Identify3D, and sees the army research department team up with 3D Systems.
Heat Exchangers
This latest project is named the "Research for Virtual Design and Qualification Process for Additively Manufactured Parts Optimized for Multi-Laser Machines" and is focused on not only the topological optimization of heat exchangers, but on the entire design and manufacturing workflow.
Heat exchangers benefit from having a large surface area in contact with the fluid in which the heat is being exchanged to/from. This is why heat sinks have fins: they increase the surface area of the mass from where the heat is interacting with the fluid.
The most optimum topology for heat exchange is not really found with fins, but until recently these complex optimized topologies have been difficult to manufacture.
Enter metal additive manufacturing, which pairs very well with topology optimization.
With the assistance of a custom configured 3D Systems DMP Factory 500, the researchers are aiming to use topology optimization and the large volumes offered by the DMP Factory 500 platform to create highly efficient heat exchangers which can be printed at large scales.
"The migration to larger build envelopes significantly expands the domain of Department of Defense applications addressable by additive manufacturing, yet it brings new challenges for process monitoring and quality control," said Ted Reutzel, associate research professor, Penn State's Applied Research Lab.
"The installation of this system at our Center will enable our team to leverage prior developments—funded by the US Navy, US Air Force, America Makes, and others—to help meet these challenges and rapidly integrate advanced flaw detection technologies."
Do we have a photo of this? Nope, it's military, so it's secret until they publish some pics.
But in the meantime, here is a picture from 3D Systems and ORNL of a previously 3D printed metal heat exchanger, printed with Direct Metal Printing.

Given that the new research will focus on topology optimization, we can expect the new geometry to be considerably more complex than the previous non-optimized versions.
A quick google search of the phrase "topology optimized heat exchanger" should give us some idea of what to expect from the new research. Think three dimensional snowflakes or some kind of organic structure.
Here is an example of topology optimization applied to a traditional heatsink, from South Korean aerospace institute KAIST, that may help with a visualisation of what we could expect a topology optimized heat exchanger component to look like.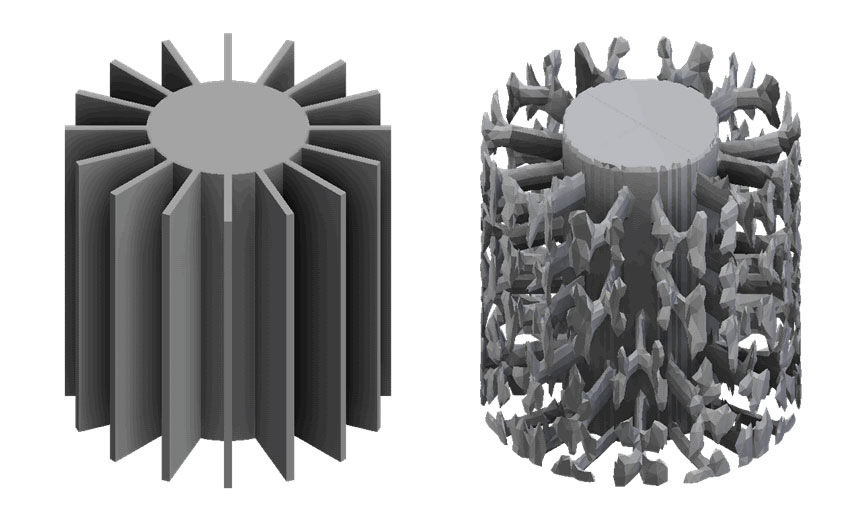 Application
What will the military be using their new super efficient heat exchangers for?
There isn't a lot of detail in exactly what applications the research will apply to.
However, according to Dr. Brandon McWilliams, deputy program manager at the CCDC ARL Weapons and Materials Directorate:
The novel integration and concurrent design of structures, materials, and processes to create topologically optimized heat exchangers will enable disruptive advancements in munitions technology in support of multiple Army Modernization Priorities. Dr. Brandon McWilliams
There are a lot of things that need some form of heat management in munitions, so it is likely that any developments in this area could have broad applications in that field from anything ranging from artillery, to cooling systems for energy weapons. And there are military applications beyond munitions also. This research could be a game changer in terms of thermal management.
"Our work with the Army Research Laboratory is taking 3D Systems' technology in new directions," said Chuck Hull, co-founder and CTO at 3D Systems.
We're able to combine our metal 3D printing innovation with unique advancements in process modeling and monitoring, data security, and topology optimization to deliver an unparalleled solution. ARL is strengthening its position as a leader in technology innovation to improve the capabilities of the warfighter and we look forward to continuing our collaboration with them. Chuck Hull
Whatever it may be, topology optimisation for heat exchangers is definitely an active area of research and can offer efficiencies never before achievable with traditional design and manufacturing.