One of the parts that users most frequently alter on their printers is the nozzle. Testing out various nozzle diameters on machines can yield great results. For this reason, many companies distribute a range of upgrades to accommodate the needs of the nozzle savvy. In keeping with this, 3Dverkstan is releasing a new range of nozzles to its Olsson Ruby line. The original was released 6 months ago to wide critical acclaim. The company has since decided that they need to add a wider range of nozzle sizes to the line.
"We have been overwhelmed with the success of the ruby nozzle, and the different industries and applications where it is used. From aerospace and automotive industry to particle physics and medical applications, we have received incredible feedback" said CEO Daniel Ljungstig.
The new nozzles are larger, sporting diameters of 0.6 and 0.8. Additionally, the company has also announced intentions to release varying geometries for nozzles. As a result, they will make a new high output version of the nozzle as well.
The Olsson Ruby is available through 3DVerkstan's network of global partners and priced at $90 / 80€ (excluding VAT/taxes). The nozzle is available in 20 countries and eventually maybe more through 3DVerkstan's network of sellers.
Applications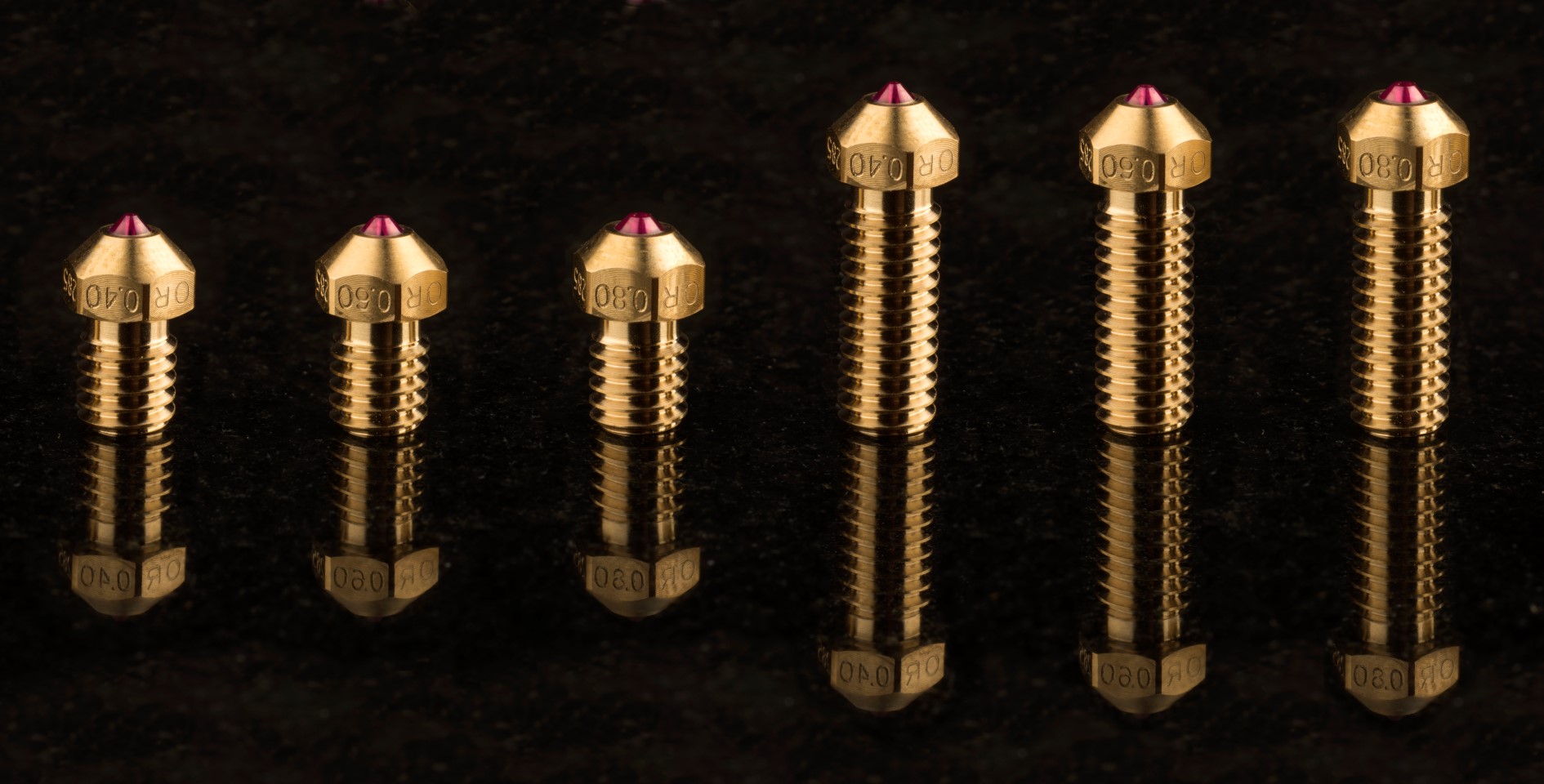 The original nozzles were invented by Anders Olsson as a means to improve the productivity of hard material manufacturing. Since then, Aders Olsson has used them for various purposes including printing more efficient neutron shielding for research at Uppsala university.
The new nozzles will have a better resistance towards abrasive materials. Brooker Smith, CEO of 3LeKtron says:
"For professional printing, it definitely makes sense to go for the Olsson Ruby. I used to go through between 40 to 60 hardened steel nozzles a month on just the machines printing abrasives. Unfortunately, their performance is also sub-par for standard filament due to their poor heat conductance. Currently we use the Olsson Ruby nozzle on five of our desktop-size 3D Printers. One of our machines has printed about 17 kilograms of abrasive materials reliably without any sign of wear. We are much looking forward to using the bigger sizes now being launched. The 0.6 and 0.8 nozzles will help lowering print times and to give even higher tensile strength in large objects." 
It is compatible with E3D Volcano hot-end and the Lulzbot MOAR-struder add-on. The high output nozzle can use a wide range of materials including PLA, ABS, CPE/PET and Nylon. It can also use composites with abrasive additives like Carbon fibre, Steel, Wood, Boron Carbide, Tungsten and Phosphorescent pigment (these are the materials tested so far.
The nozzles also boast improved heat conductivity and speed. The design of the parts ensures high quality. Olivier Michaud, the Founder & CEO of ADDITEC states "After we started using the Olsson Ruby nozzle in our industrial 3D printer, we have increased the quality of our parts printed with fiber reinforced materials. Now, we are able to guarantee to our customers that the printing process will always respect their parts' dimensions and tolerances requirements. We use fiber reinforced materials when parts requires a good-to-high mechanical strength, Kevlar for less electrical conductivity and abrasive environments, and carbon fiber for lighter weight or conductive parts."