Wanhua Chemical Group Co. Ltd. and Chinese athletic footwear firm Peak Sports introduced a new type of 3D printed sneakers at K 2019. The prototype they're calling 'The Next' is a sneak peak at their concept for customizable and recyclable TPU shoes. The manufacturing process also combines prints from both FDM and SLS using Wanhua's polyurethane materials for footwear.
Wanhua displayed their futuristic-looking footwear at its K 2019 booth in Düsseldorf. One of the main innovations in the project is that the running shoes are printed entirely from TPU, thus also making them fully recyclable. Current manufacturing processes often make disposal difficult for old footwear items. This comes down to a a range of materials they often consist of. This can be due to unsustainable plastics or even leathers which releases methane when decomposing. However, Wanhua and Peak have managed to fix this issue using varying grades of TPU together.
Together with Wanhua Chemical, we breached the bottlenecks of the existing 3D printing material solutions and will bring global consumers a sneaker where the bulk of the materials are 3D printed [and] that is stylish, comfortable, customizable and recyclable. Kui Cai, design director for Peak Sports USA Design Center
Additive Manufacturing For Footwear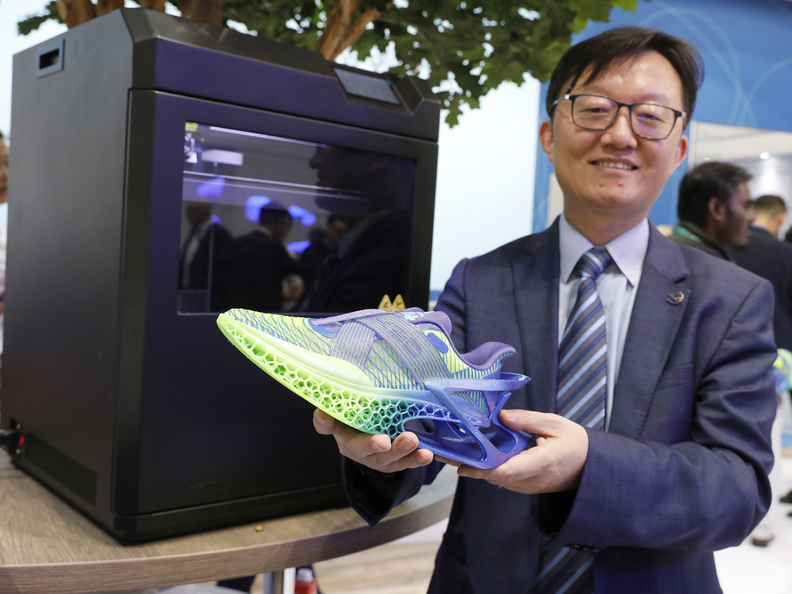 Both companies are deeply involved with 3D printing and state that this collaboration is merely the beginning. Peak introduced the first 3D printed basketball shoe back in 2017, so they clearly have an enduring interest in the technology. They also see the joint-venture as a way of deepening their understanding of materials and manufacturing. As Cai states, they previously saw additive manufacturing as a design tool, but now view it as wider potential.
Wanhua Chemical Group are similarly testing the waters in the industry. They are engaging in a strategy so as to get closer to end customers and to better understand their markets while speeding up development of new materials. "We are trying to cultivate this cooperation and understanding for the downstream industries," said Weiqi Hua, Wanhua's executive vice president and chief technology officer.
It's easy to see why they would want to look into the 3D printed footwear market. Other companies like Ecco and Adidas have have also been experimenting with the form but not on this scale. 'The Next' project, on the other hand, uses different TPUs on different sections, potentially allowing for more customization in terms of shape and form. These shoes require FDM to make the shoe's uppers and SLS technology to make the midsoles, allowing both sections to be tinkered to a much larger degree to fit the customer's needs.
Most importantly, the companies believe this project can be put into mass production. Wanhua states that larger production runs are possible in China due to recent developments in the additive manufacturing industry.
3D Printing Sustainable Sneakers
Wanhua have openly stated that this collaboration is not exclusive. The company will be offering their 3D printing materials and technologies to other shoe manufacturers. They supply three grades of 3D printable TPUs for designing the recyclable shoes: TPU filaments, TPU powders and TPU coatings and adhesives. Together, they cover a wider range of possible additive manufacturing technologies and allow for more diverse shapes.
TPU can be a fairly versatile material and Wanhua's design employs various forms of it, both flexible and less flexible versions. The shoe also showcases the range of colors that the process can achieve, with glowing hues and transitioning fades. It also uses stronger lattice structures in the sole, allowing for less material and better weight distribution (a concept Adidas employed with the Futurecraft 4D). This also gives it a futuristic looking design with multiple gaps and design flourishes. It poses not just a new, sustainable model but also aesthetic and design possibilities that only 3D printing can offer.
Featured images courtesy of Wanhua and Peak Sports.