3D printing is seeing a lot of technologies that mix and match multiple methods to achieve novel results. While hyrbid-CNC printing might be the most popular of these combinations, other companies have experimented with adding lasers and photopolymerisation to the mix. Fraunhofer ILT are now looking into developing a new device that can merge stereolithography or other light-based methods with multiphoton polymerization. Although the technology is not yet complete, according to Fraunhofer their HoPro-3D technology will allow for the faster production of polymer structures.
There are quite a few advantages to mixing together these two processes. Firstly, the company details how it would create high-precision, cost-effective 3D constructions. In conjunction, both methods combine the larger scale capabilities of SLA/DLP with the finer resolution of two-photon polymerisation. The project partners are thus combining processes with two diverse, selectable exposure systems allowing for either high build rates or high precision.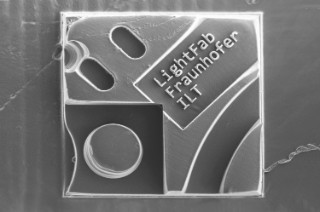 "The advantage lies in the interplay between the two procedures: Depending on the need, we intend to switch between the exposure systems in the process," explains Dr. Martin Wehner, HoPro-3D project manager at Fraunhofer ILT. "The challenge we face is in process control. The concept has been developed, currently an appropriate machine is being built."
The HoPro-3D System
The Fraunhofer Institute for Laser Technology ILT have been on the cutting edge of laser technology for quite a while. Their previous work makes clear that they do know their laser printing methods.  November 1, 2018, Fraunhofer ILT and the project with their partners. They call it "High Productivity and Detail in Additive Manufacturing through the Combination of UV Polymerization and Multi-Photon Polymerization – HoPro-3D".
They've already procured funding through European Union and the state of North Rhine-Westphalia. Their partners include LightFab GmbH from Aachen, Bartels Mikrotechnik GmbH from Dortmund and Miltenyi Biotec GmbH from Bergisch Gladbach. Currently, they're all looking into also developing a software backing to handle the process switching for HoPro machines.
The combination of processes can be useful in optical goods such as lenses or prisms for overall larger components. The eventual machine should prove most interesting for the production of components used in biomedical analysis technology. However, the fields of application outside of medicine and lenses are numerous as well. Support scaffolds for 3D tissue models, micromechanical components or complete microfluidic systems could all benefit from the potential results of the research into HoPro.
Featured image courtesy of Fraunhofer ILT.