The French startup XtreeE that specializes in large-scale 3D printing has announced that they're installing one of their systems in Dubai. The construction 3D printer will be operated by Concreative, a concrete 3D printing firm in the United Arab Emirates.
XtreeE's concrete system is the world's largest 6-axis 3D printing arm, which is capable of creating objects 3 meters high and 5 meters long without having to reposition the arm. Using a specially-developed formula of concrete for 3D printing, they achieve compressive strength that's over 80 MPa. It takes only 20 hours for their concrete to cure compared to 20 days for traditional concrete, and it experiences almost no shrinkage due to its low W/C (water-to-cement) ratio. They can also add pigment to customize the colors of a printed object.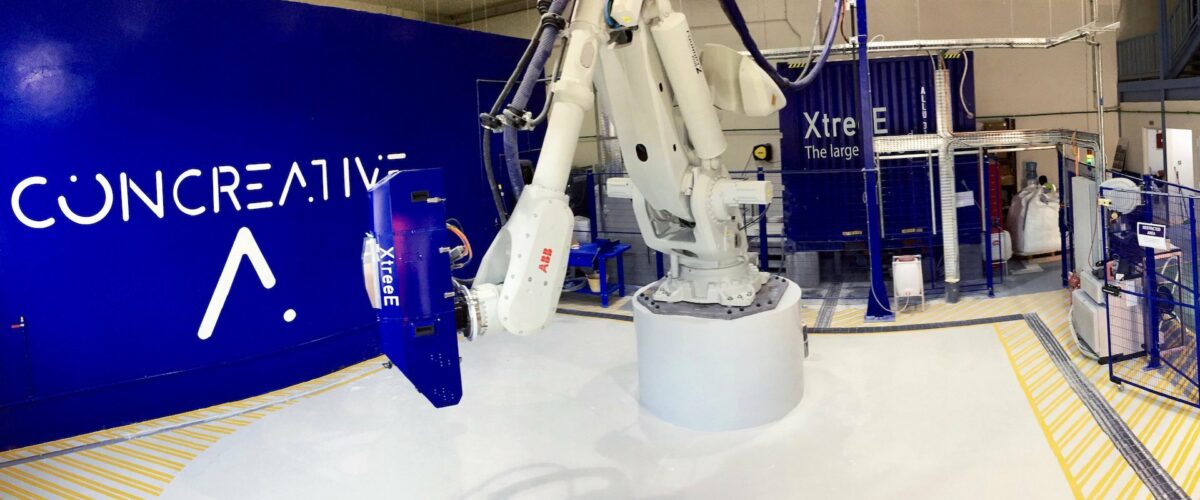 Founded in 2015, XtreeE was spun out of a research collaboration between the Paris-Malaquais School of Architecture and the Engineering School Arts et Metiers ParisTech. They currently have a system installed in Paris and plan to have 50 connected around the world by 2025. By using only as much concrete as is needed for any given job, XtreeE expects that clients will use up to 70% less concrete with their system. They hope to demonstrate the reduced carbon emissions of building with their system next year by 3D printing five houses with Plurial Novilia, Coste Architectures, and Vicat, a French cement manufacturer.
"XTreeE's ambition is, above all, environmental," said Alban Mallet, CEO of XTreeE. "Through these innovations, it is possible to build better and design new products meeting the major challenges today and tomorrow. While 3D printing makes it possible to reduce both the costs and the overall impact of construction processes, it also makes it possible to manufacture rather unexpected objects to restore biodiversity."