When a 3D printing company really wants to demonstrate that their manufacturing capabilities can keep up with (or outperform) the best of the best, it's common to put those capabilities in the hands of a military. Metal 3D printing company SPEE3D is headquartered in Melbourne, Australia, so their WarpSPEE3D printer was put to the test by the Australian Army in their own backyard, the Northern Territory.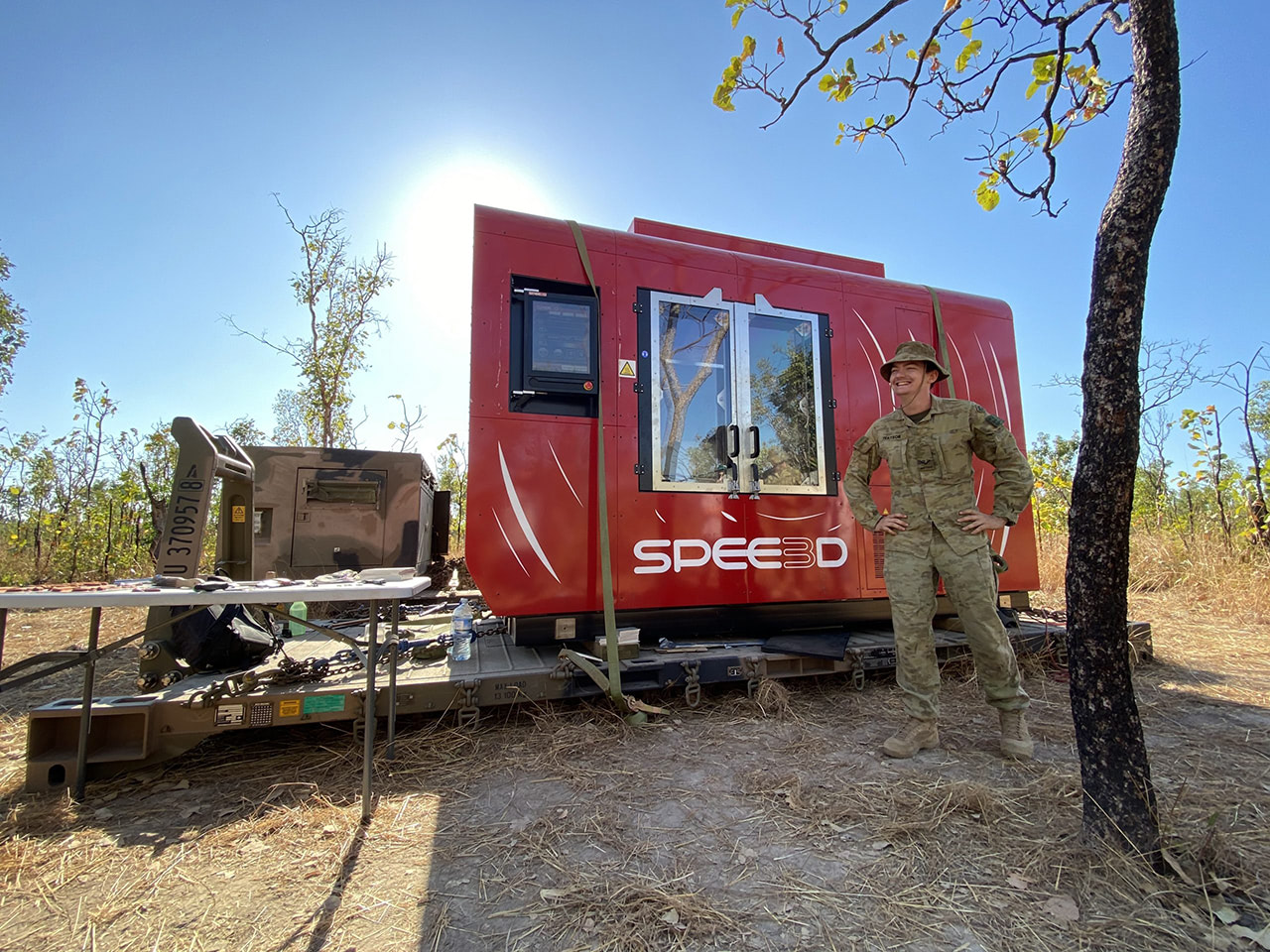 SPEE3D's patented Supersonic 3D Deposition technology is ideal for mobile deployment because it excels at printing quickly. It uses a stream of air that's traveling three times the speed of sound to blast metal powder so hard that the particles fuse together on impact due to the sheer amount of kinetic force. Their WarpSPEE3D printer can deposit up to 100 grams of metal per minute, fabricating components that weigh 40kg in just a few hours. And they can be as large as 1,000mm in diameter by 700mm tall. Many metal printers would need a couple of days to do the same job.
The first field deployment of WarpSPEE3D was an important milestone for SPEE3D. While our equipment was initially designed for industrial use, this trial proved that our equipment is actually very robust and can endure harsh conditions and rough handling very well. We look forward to future exercises and continuing to learn how we best serve the Australian Army and defence industry. Byron Kennedy, SPEE3D CEO
The Australian 1st Combat Service Support Battalion was tasked with assessing the manoeuvrability and functionality of the large-format metal 3D printing unit in the field. They packed up the printer that had been previously installed at the Robertson Barracks in Darwin and took it by truck into the bush. Over three days, the soldiers moved the 3D printer around the Mount Bundey field training area and unpacked it on various terrains. Even in the harsh outdoor conditions, the soldiers were able to get the printer operating in only 30 minutes. 
The trial confirmed that the printer could increase the accessibility of hard-to-find parts to Army personnel and that components could be printed in the field to reduce spare part inventories. Additionally, they see promise for rapid repairs. "The ability to print repair parts in an environment like this has the potential to significantly reduce our footprint and repair damaged equipment – on the spot – to get us back to our main priority," reported Lieutenant Colonel Wright.
The outstanding results are the culmination of several years of AM research investments made by the Australian military. After a successful AUD $1.5 million, two-year pilot run of the WarpSPEE3D technology, SPEE3D was awarded another AUD $1.5 million project by the Australian Defence Industry in February 2020.