SLS-printer company Farsoon has officially endorsed Mechnano's laser sintering material, PK ESD for Farsoon's 252P Series and Flight 403P Series machines. Mechnano is best known as the company first to fabricate parts with discrete carbon nanotubes using vat photopolymerization systems.
PK ESD, the result of a collaboration between Mechnano and Jabil, merges the proprietary PK 5000 engineered powder with Mechnano's cutting-edge technology, D'Func. This blend introduces uniform electrostatic dissipative properties at the nanoscale to laser-sintered components, ensuring they maintain optimal performance while addressing static-related concerns.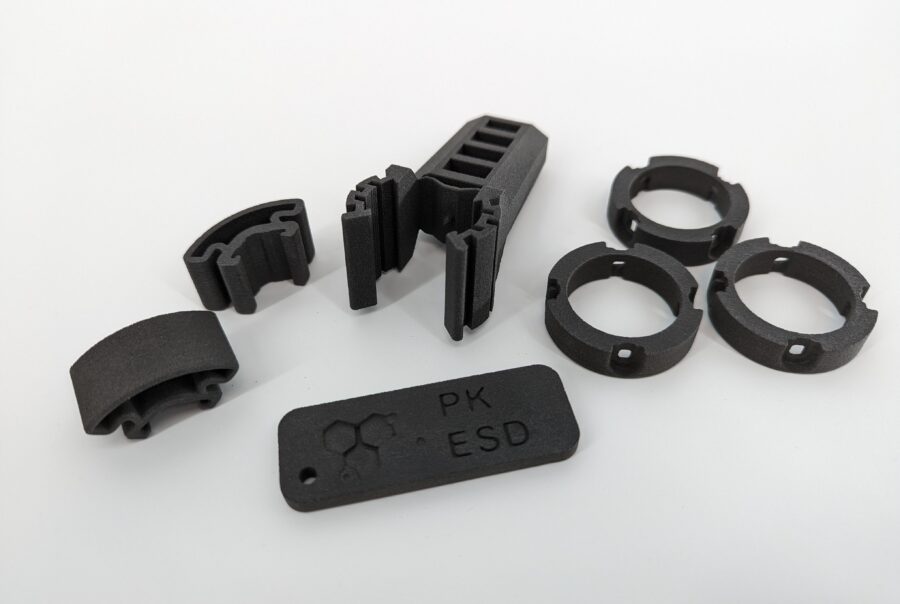 A standout feature of PK ESD is its remarkable combination of sustainability and durability. It inherits PK 5000's eco-friendly characteristics, high impact strength, and chemical resistance, making it ideal for rigorous functional testing and real-world applications. Also, the integration of D'Func brings forth other enhancements, including a 25% increase in impact resistance and a 20% boost in elongation at break.
"PK ESD's nano uniformity is the answer to alternative ESD powder and filament solutions with unpredictable ESD performance." said Mechnano President Bryce Keeler.
"With Farsoon, we're enabling the AM market by eliminating expensive and time-consuming requirements to test and validate static-dissipative performance for each part. And the fact we are doing this with a high-performance and eco-friendly material makes it even more compelling."
Don Xu, Managing Director of Farsoon Americas Corp, echoes the excitement surrounding this collaboration. He notes that the application of D'Func coating to materials like PK5000 could open doors to novel additive manufacturing possibilities.
PK ESD's versatility shines through in various end-use applications, such as drones, fuel systems, and ESD tooling. Its high impact resistance, fuel compatibility, and static-dissipative properties make it a preferred choice for these demanding applications where static discharges are an unwanted guest.
Source: mechnano.com
Come and let us know your thoughts on our Facebook, Twitter, and LinkedIn pages, and don't forget to sign up for our weekly additive manufacturing newsletter to get all the latest stories delivered right to your inbox.