Bicycle helmet manufacturer Hexr has developed a 3D printed inner shell that offers better safety using honeycomb structures instead of foam. As a structure, the honeycomb has a far greater crush strength to weight ratio than other designs. Hexr's designs are also customizable and employ 3D scanning, so they provide a far better fit to the customer, incorporating their precise anatomy into the helmet.
The company's co-founder Jamie Cook was looking at various shapes and structures before he arrived at the honeycomb. Scientifically, this type of structure recurs in nature because it offers a lot of strength and durability to designs. In fact, honeycomb structures have some of the highest crush strength to weight ratios possible. However, reproducing such a geometry in the interior of a helmet proves difficult with traditional manufacturing, but not with 3D printing.
We need to design for the head's unique curvature. The only way to make a curved honeycomb structure without distorting the mechanical properties is
by 3D printing. Jamie Cook, co-founder of Hexr
Safety Testing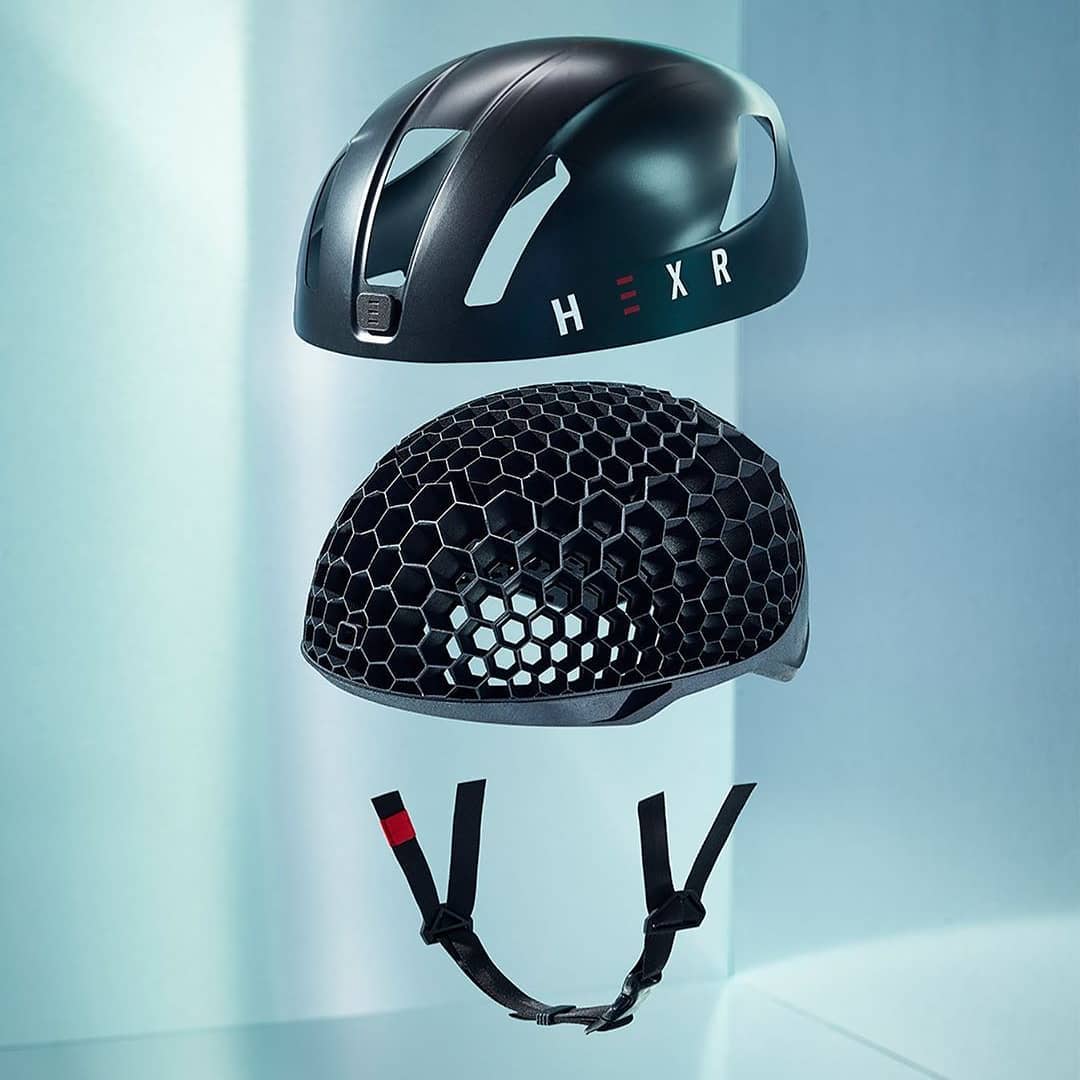 The company tested the custom bicycle helmets for safety and they appear to have passed with aplomb. Further testing from the University of Strasbourg and Professor Rémy Willinger, a global authority on helmet impact testing, showed that Hexr accomplished the best aggregate score from a total of 32 helmets tested. Their design marked a 26% improvement on other helmets within the sample they looked at. The helmet displays this level of crush strength all while weighing about 240 grams.
The linked hexagonal cells that are part of interior aid in dividing up the impact when the helmet makes contact with a surface. Those cells soften on impact by buckling, increasing the head-to-core contact area and thus spreading the impact energy across a wide area. Since they largely consist of open space, they are also far lighter than other, more full geometries.
The idea is very similar to Carbon's work with Ridell helmets, which incorporated their resin-based DLS technology. Ridell's helmets use a wider variety of lattice cell structures and sizes, and are customized to suit the individual player, much like Hexr's work with the honeycomb patterns.
Hexr's inner shell is 3D printed using Powder Bed Fusion with Polyamide 11. PA 11 is said to conduct heat eight times better than traditional expanded polystyrene (EPS). This choice of material is not just durable but also helps insulate heat while riding. Instead of storing up the heat, this new design vents it out with air that's channelled beneath the helmet's Polycarbonate outer shell (the part of the helmet that isn't 3D printed). Additionally, while EPS consists of petroleum, Polyamide 11 is made from 100-percent renewable castor oil, making it a far more sustainable option as well.
Customizable Helmet Design
Customers can either go to the Hexr offices or scan themselves at home with a little help from the company. For the latter option, Hexr sends out an iPad featuring their 3D scanning software to a customer anywhere in Europe. Once they receive this data, the helmet can be printed from the digital model and personalized to the user's taste.  The company has studied over 3,200 cyclists to ensure that its process offers the perfect helmet fit for all riders. This helps in producing the 30,000-point 3D mesh of their head.
On top of this, they received additional help from from TotalSim, British Cycling's aerodynamics partner for the 2008 and 2012 Olympic Games. With their help, they were able to sculpt an outer shell with superior aerodynamics as well. In a 40km time trial they noted that the Hexr helmet helped complete the course seven seconds faster than than its competitors.
Aside from the precise fitting and the speed, the helmet is also practical in terms of part replacement. The design is interchangeable, so users can replace the shell, the padding or the chin-straps if they wear out. The design also offers optional custom engraving, an inbuilt sunglasses holder and a removable lid. According to the company, all these options draw in customers to an otherwise tough market to enter.
Featured image courtesy of Hexr.