There are few things as refreshing as orange juice, though one contender may be this "Feel the Peel" machine that both delivers fresh-squeezed orange juice and provides a biodegradable 3D printed cup made from the discarded orange peels. Design firm Carlo Ratti Associati created the machine in collaboration with the energy company Eni to investigate and bring attention to zero-waste circular systems.
The principle of circularity is a must for today's objects. Working with Eni, we tried to show circularity in a very tangible way, by developing a machine that helps us to understand how oranges can be used well beyond their juice. The next iterations of Feel the Peel might include new functions, such as printing fabric for clothing from orange peels. Carlo Ratti
Circular Juice Bar
When an order is placed, oranges are automatically sliced and squeezed before their peels are deposited in a lower receptacle where they'll dry and later be milled. The milled peels are mixed with PLA, a bioplastic derived from plant sugars, to create the filament that used to print the cups on the spot. The circular juice bar is quite an installation, standing three meters tall and holding 1,500 oranges.
Carlo Ratti was smart to choose 3D printing to demonstrate circular systems because even without the oranges, the technology can be circular as failed prints can be reprocessed into plastic that can be printed again. And when 3D printing is integrated into interactive parts of the public sphere, it exposes more people to the possibilities that can be achieved with AM. They'll say things like "Oh wow, I didn't know they could do that!" For some, that could be the moment they decide to become an engineer, just so they can make their own fantastic machines in the future.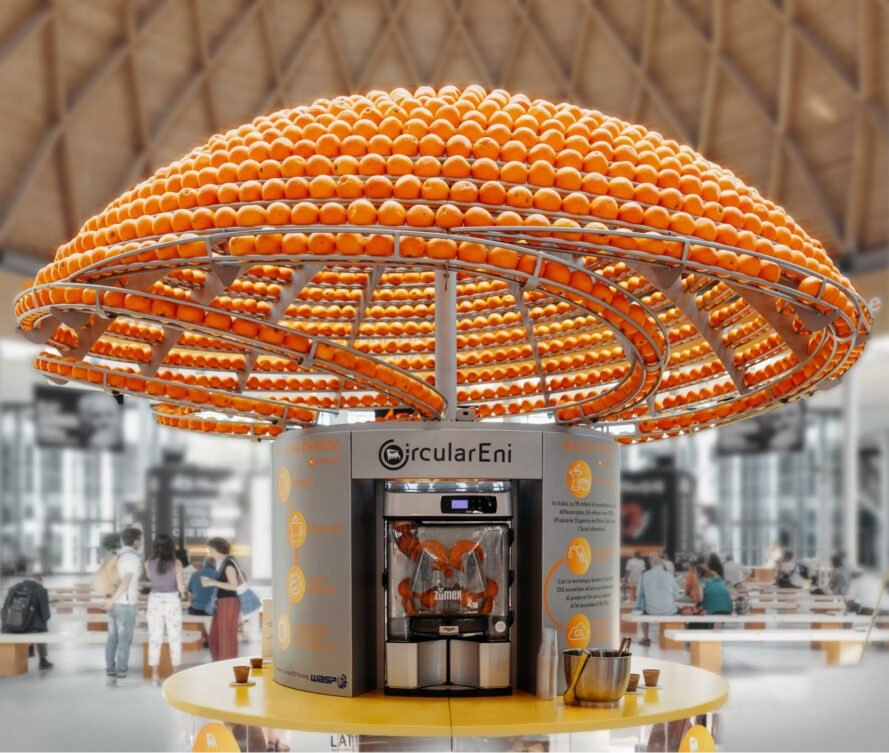 It's possible that this concept could be applied to other consumables as everything from refrigerators to cannabis packaging can be turned into 3D printing material. The installation debuted in Rimini, Italy this summer and will be touring over the next few months, landing in Milan in October for the Singularity University Summit.