Bollard is a strange word and is not widely used outside of the UK and America. So just to clarify, a bollard is a small vertical post made out of some heavy material (normally wood, metal or concrete). Generally they are found at quaysides for mooring boats, or at the roadside, for preventing road vehicles from entering areas where vehicles are unwanted
In this case, we are talking about the maritime-type bollard, which are used to tie watercraft to.
The Port of Rotterdam Authority (Netherlands), has recently unveiled their shiny new additively manufactured steel bollards (pictured below) as part of the Port's infrastructure innovation program at the Sleepboothaven.
The program aims to improve and increase sustainability in the manufacture and use of quayside hardware and the Port sees AM playing a large role in the localization of manufacturing.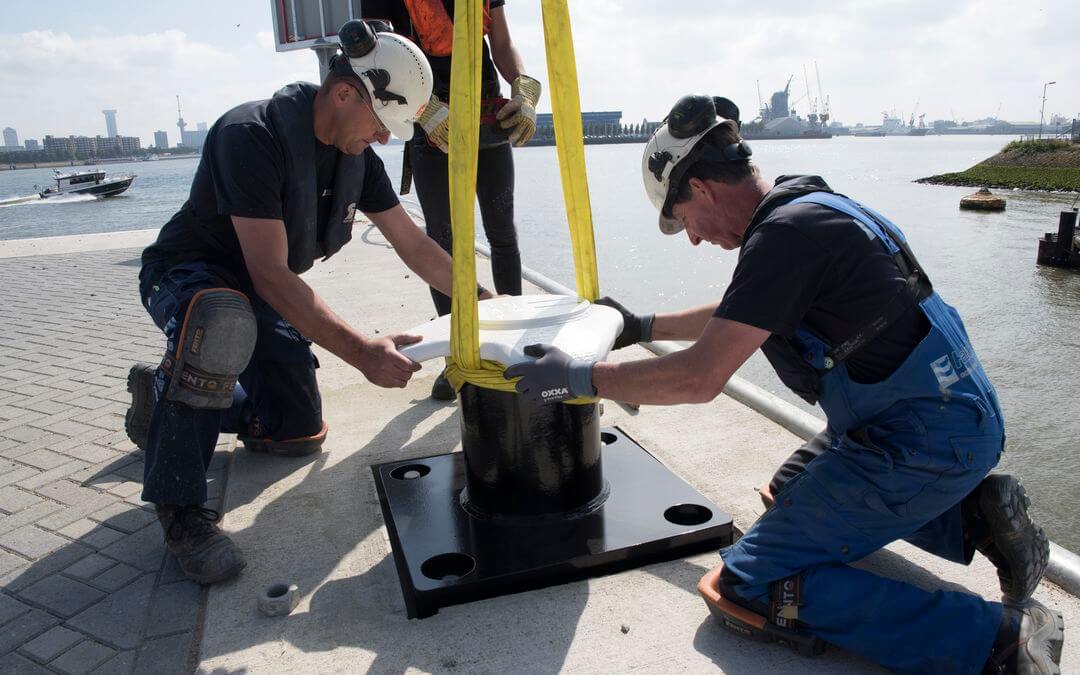 Looking at the shape and function of a bollard, you may well wonder why the Port opted to use additive manufacturing rather than use metal casting.
It seems that at this scale of production, it is more cost effective and faster to use a large metal printer to create the net-shape part of the bollard rather than go through the rigmarole of setting up sand casts and hauling molten metal around the place.
Specifically, to print these bollards, the Port has teamed up with local company RAMLAB and utilized WAAM printing in order to churn these hefty lumps of steel out at rates faster than casting would economically allow.
"3D printing allows us to produce parts locally and on demand," said Vincent Wegener, Managing Director at RAMLAB.
"For example, in 2017 RAMLAB produced the first 3D-printed and certified marine propeller. This year we are printing the first bollards, which is a useful test case that shows that you can produce small series relatively quickly when compared to casting and importing the parts from China."
RAMLAB specialize in control systems and software for WAAM robotic systems that ensure high quality, repeatable metal parts. RAMLAB has been in the news before for manufacturing the first certified marine propeller, so they have a good pedigree where it comes to nautical 3D printing.
According to the Port of Rotterdam Authority, the next step is to see how AM can be applied to hydraulic engineering and also to the repair of quayside objects such as mooring posts and bollards.
"We are working with other companies based here in the port on developing and testing the possibilities offered by emerging technologies. This will create an innovation and research incubator, in which together we can build the port of tomorrow," said Joppe Burgers, Project Engineer at the Port of Rotterdam Authority.
So far, six of the AM bollards have been installed at the Sleepboothaven with the remaining five to be installed at a later date.