Use Case
BOA: Dialed In
Additive manufacturing has long been used for prototyping sneakers and sports equipment, and has even been seeping into the mainstream for production models.
Colorado-based company BOA have also been making use of rapid prototyping for their BOA Fit System, and have recently upped their game in terms of the materials they use, thanks to their use of a 3D Systems Figure 4 standalone printer.
BOA are famous for their dial fastener system, hence the slogan "BOA: Dialed In". You can see the little black dial in the image below.
BOA Fit System
BOA was formed in 2001 by snowboarder and entrepreneur Gary Hammerslag. He previously had some experience working for a medical company, working with catheters for angioplasty.
Turning some of that medical engineering knowledge to his passion, he came up with a system for fastening snowboard boots, and after several prototypes, the product that we know as the BOA Fit System was born. It is now used in products ranging from sports shoes to medical braces.
The BOA Fit System offers a freedom to customise the fit of the shoe far beyond what a normal lace can offer. It achieves this by use of three main components within the system.
These components are, a micro-adjustable dial, super strong lightweight laces, and low friction lace guides.
As the dial is tightened, it pulls the lace through the guides and tensions the shoe to the foot, more snugly and evenly than a standard lace. It is also a lot quicker than tying laces up, which is perfect if your fingers are frozen on a snowboarding trip up a mountain somewhere.
Naturally, given the tension in the system, it requires a sturdy material for functional prototyping. This is where the 3D Systems resins come into play.
"We've been really hamstrung by the materials available to us," said Daniel Hipwood, senior design engineer at BOA, referring to the old materials they used previously.
"We'd have a concept and three days later, if the part fell off a desk in a meeting, it would just shatter into a million pieces. It's been a real challenge to find thermoplastic-like performance at the resolutions we need, and to actually 3D print parts that function at our scale and can still hold those properties."
In particular, the engineers at BOA have been making use of the materials for their Figure 4 standalone machine.
These materials include Figure 4 PRO-BLK 10 and Figure 4 TOUGH-GRY 15 for the heavy work, and Figure 4 ELAST-BLK 10 for elastomeric functionality.
You can see the dial system printed in the PRO-BLK 10 material in the image below.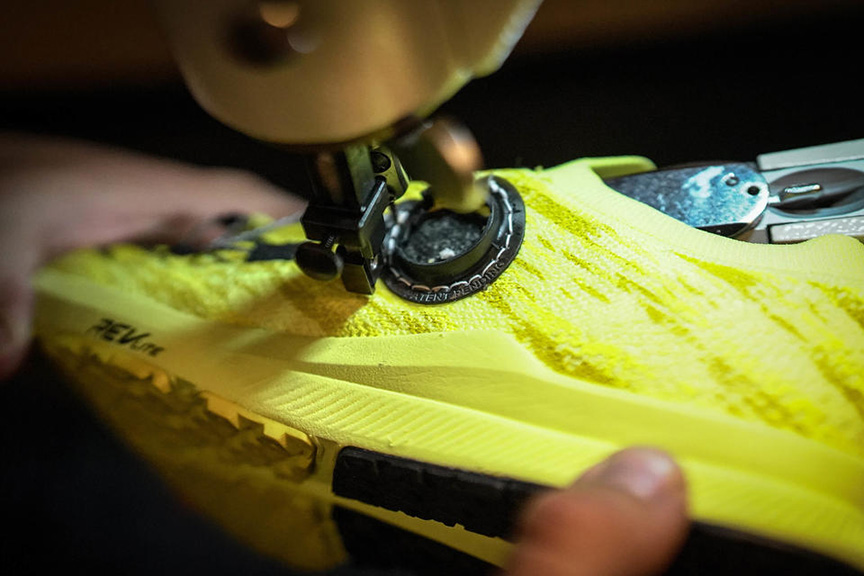 One aspect of prototyping that BOA has benefited from by using the 3D Systems materials, is the stitchability of plastics.
During prototyping, engineers must often stitch the dial into an early model shoe. Traditionally the shoes will have moulded holes for the dials to fit inside during production runs, but in the early stages of development, these molded holes are not always present. So, the dial must be stitched into the early model shoe.
"Punching a needle through plastic is a toughness problem," said Hipwood.
"You need a material that is resilient, but still maintains enough stiffness to carry out its other uses. Part count reduction is key, so that stitched component may have other important functions that require a stiff plastic material."
It seems that BOA are very happy with the flexibility and accelerated development that the new materials have allowed them.
But it doesn't end there. The company also uses their Figure 4 machine for printing aesthetic, non-functional prototypes as well, to display aesthetics, form and fit without needing to commit to the tooling requirements of a full production run.
If you'd like to know more about BOA's system, then you can read more over at this link.
3D Systems Figure 4 Standalone
The Figure 4 Standalone is perfect for low-volume production and same-day prototyping with high accuracy and industrial-grade durability. Print parts and get results within hours instead of days.
View Details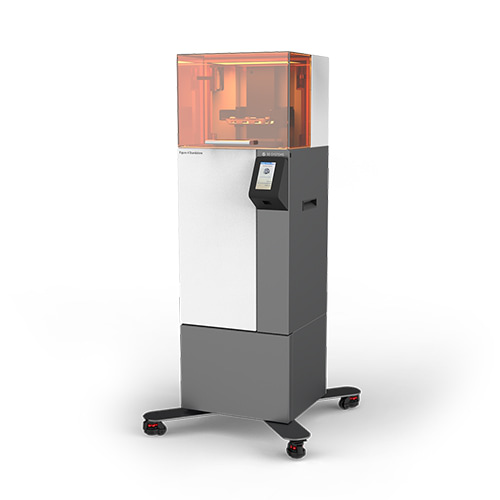 - Print 500 parts per month
- Industrial-grade materials
- Accurate
- Affordable
Elastomeric Parts, Medical Applications, Investment Casting, Mold Making, Production, Prototyping, Tooling