Neenah Foundry worked with Hoosier Pattern Inc to convert an 11-piece, laser cut welded swing frame assembly into a single-piece design using an ExOne 3D printer. The new swing frame weighs less than the original and took significantly less time to fabricate.
The swing frame is a utility tractor component made by Amerequip Corporation, a design and engineering company that serves OEM customers; they were concerned about lead times for the swing frame so they sought an alternative solution from Neenah Foundry, who contracted Hoosier Pattern Inc to fabricate the casting core.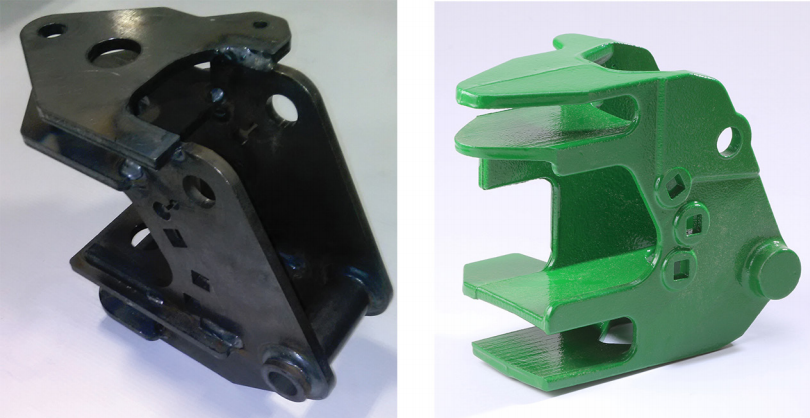 Traditional Casting Meets Modern 3D Printing
A silica sand binder jetting ExOne S-MAX system was employed to 3D print the ductile iron casting mold. The entire process took only two weeks to complete compared to the six weeks it would have taken to build a core box using traditional tooling techniques. They saved $5,000 by not having to build the core box, and the cast swing arm also weighs 2.2 pounds less than the old welded version.
There are plenty of metal 3D printers out there are still applications where it's more appropriate to fabricate a metal part with casting. ExOne's sand-based S-MAX 3D printer is ideal for creating complex and hollow casting cores directly from CAD files without having to break designs down into different tooling operations. It can build parts as large as 80 x 39 x 27 inches at a rate of up to 3 cubic feet per hour, and it's accurate to 0.3mm.
After Amerequip completes testing of the swing arm, it will be used on the final product in 2020. The casted swing arm was innovative enough to earn Neenah Foundry the 2019 Casting of the Year award from the American Foundry Society.